Hey y'all it's Tiffany from Creme de la Crumb and  I've got an amazing recipe for you today! I love snickerdoodle cookies but I have to say that pumpkin snickerdoodles have to be my favorite. These ones are soft and chewy and the best part is that they are stuffed with caramely chocolatey goodness. These are so easy to make, I've made two batches for my family and I think my husband inhaled the majority of them. If you love pumpkin, snickerdoodles, chocolate, and caramel then you've GOT TO MAKE THESE!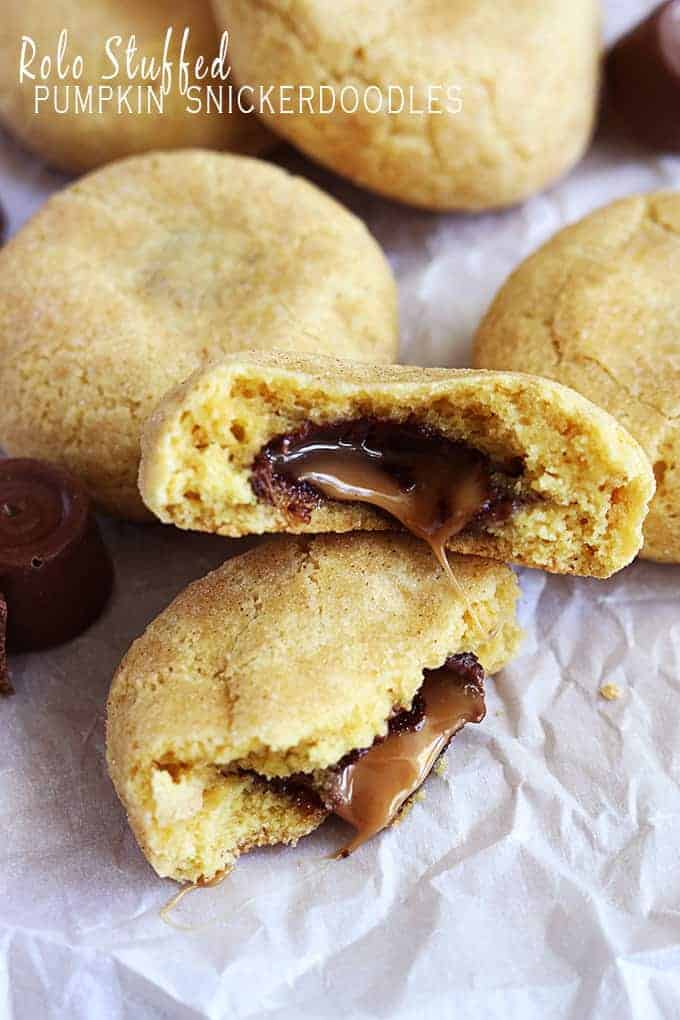 Rolo Stuffed Pumpkin Snickerdoodles
Soft and chewy pumpkin snickerdoodle cookies stuffed with ooey gooey melty Rolo candies!
Ingredients
½ cup butter, softened
⅓ cup brown sugar
⅔ cup sugar
1 teaspoon vanilla
⅓ cup canned pumpkin puree
½ teaspoon pumpkin pie spice
3 cups flour
pinch of salt
1½ teaspoons baking powder
¼ cup sugar + 1 tablespoon cinnamon
24 Rolo candies, unwrapped
Instructions
In a large bowl cream together butter, brown sugar, and ⅔ cup sugar. Add vanilla, and pumpkin puree and mix until smooth.
In a medium bowl whisk together flour, pumpkin pie spice, salt, and baking powder.
Add dry ingredients to wet ingredients and mix until combined. Chill dough for 30 minutes.
Roll dough into 1 inch balls. Gently push 1 Rolo candy into one of the dough balls. Press a second ball on top of the Rolo candy and roll the whole thing into one ball. Repeat with remaining dough and Rolo candies.
Whisk together remaining ¼ cup sugar and cinnamon. Roll dough balls in cinnamon sugar mixture. Place on a greased baking sheet and gently press to flatten slightly.
Bake at 375 for 8-10 minutes until very lightly browned. Allow to cool at least slightly before serving ( caramel centers will be hot). Store in airtight container.
Check out more of my popular cookie recipes!
MY OTHER RECIPES