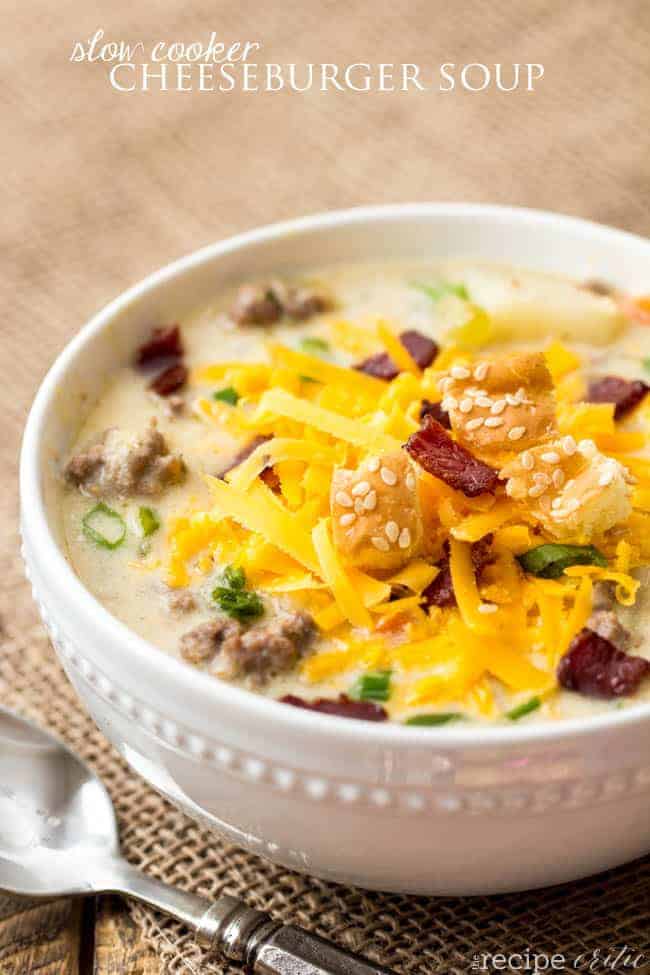 This Cheeseburger Soup is my favorite soup on the blog.  It is also very popular and gets rave reviews every single time.  I don't think I have ever had a bad comment about this delicious soup.  But I do get a lot of comments asking me if it can be made in the slow cooker.  I had to test it our for myself!
Me and my slow cooker are BFF's.  Especially when it is busy around the holidays.  Who am I kidding.  It is always busy.  That is why I love using my slow cooker year round.  It was so nice to just throw all of the veggies and potatoes in this soup right in the slow cooker.  Let it cook all day and have a delicious hearty cheeseburger soup for dinner.  This soup was just as incredible in the slow cooker.  And I love making it because I am reminded why this soup is so good!  All of the goodness of a cheeseburger is packed right inside this soup and it is incredible.  Whether you make it in the slow cooker or on the stovetop, you have to experience all of the goodness of this soup for yourself!

Slow Cooker Cheeseburger Soup
All of the goodness of a cheeseburger packed into an amazing hearty soup!
Ingredients
1 pound ground beef
¾ cup chopped onion
¾ cup shredded carrots
¾ cup diced celery
1 teaspoon dried basil
1 teaspoon dried parsley flakes
4 tablespoons butter, divided
3 cups chicken broth
4 cups peeled and diced potatoes
¼ cup all purpose flour
2 cups shredded cheddar cheese
1½ cups milk
¾ teaspoon salt
¼ to ½ teaspoon pepper
¼ cup sour cream
Optional toppings:
green onions
bacon bits
Instructions
In your slow cooker, add diced potatoes, chopped onion, diced celery, carrots, parsley and basil. Add chicken broth. Cook on low 6-8 hours or high 4-6 hours or until potatoes and veggies are tender.
About 30 minutes before it is done, cook the ground beef in a medium saucepan about 4-5 minutes until brown. Remove and set aside.
In the same pan, add the butter. Melt the butter and add flour and cook until bubbly. Add the salt, pepper, milk and sour cream.
Add cream mixture, cheese, and ground beef to the crockpot. Stir and and continue to cook until the cheese is melted. Serve with optional toppings.