Slow Cooker Honey Sriracha Chicken – Moist and tender shredded chicken in an out-of-this world spicy and sweet sauce! Perfect for tacos, salads, or even sandwiches!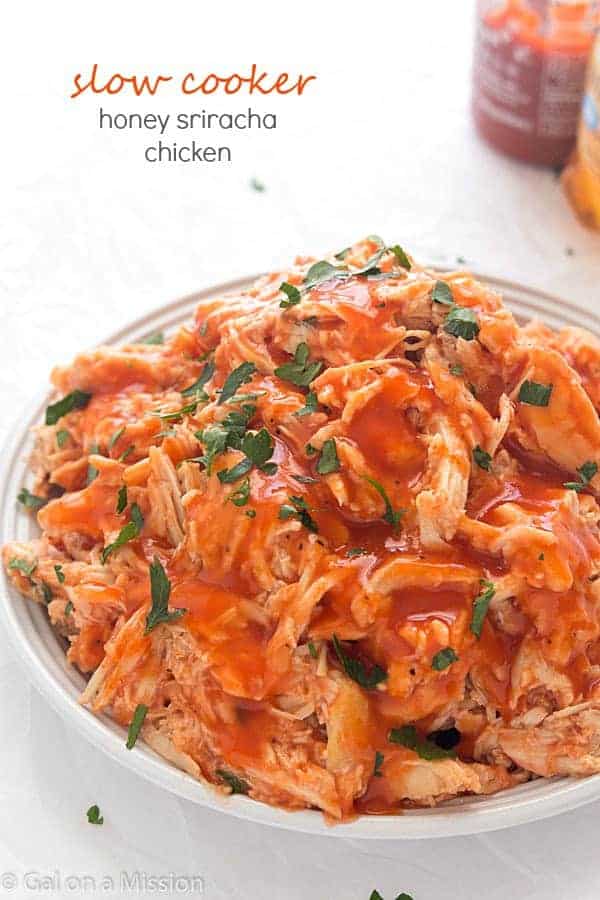 I am constantly using my slow cooker for all kinds of meals. You can find it on the counter cooking something delicious every season, especially in the summer.
With our small house, the oven heats the house up A LOT. Now that isn't a problem in the winter because it means the heat isn't kicking on all the time. A completely different story in the summer. The only downside is smelling mouthwatering food. Not a bad compromise because you can enjoy it when it's done.
It's a win-win in my book.
Hi there again! It's Chelsea from Gal on a Mission sharing a mouthwatering recipe!
My husband's new favorite condiment is sriracha, and I have to be honest with you. It's mine, too! Most hot sauces are lacking in the flavor department and sriracha most definitely isn't.
With this recipe, you have two different options on how you make it. If you are anything like me and you forget to thaw your chicken breasts out ahead of time, you can follow the first method. Now if you do not ever forget to thaw out your chicken breasts, you can follow the second method. Almost the same, just a little less cooking time.
You can easily shred the chicken breasts to make delicious tacos, fajitas, pulled chicken sandwich, or even on top of a salad.

Slow Cooker Honey Sriracha Chicken
Ingredients
3 large chicken breasts*
1 and ½ cups water
½ tablespoon olive oil
¼ cup honey
2 tablespoons sriracha, or more if needed for extra spiciness
1 tablespoon ketchup
salt and pepper, to taste
½ tablespoon flour
Instructions
Spray non-stick cooking spray all around the slow cooker. Place the chicken breasts into the slow cooker.
In a medium-sized bowl; together the water, olive oil, honey, sriracha, and flour. Taste and season with salt and pepper. Pour the sauce on top of the chicken breasts.
Cook on low for 8 hours or on high for 4 hours.
Notes
*If you are using frozen chicken breasts, please cook the chicken breasts on low for 8 hours. Add the sauce once the chicken breasts are done and cook on high for 1 hour.
Here are more delicious dessert options from Gal on a Mission! 
The BEST Butter and Garlic Chicken Wings
Broccoli with Caramelized Shallots