Slow Cooker Lemon Chicken Piccata is creamy lemony sauce-coated noodles with juicy lightly breaded chicken with a hint of garlic, all topped with savory capers!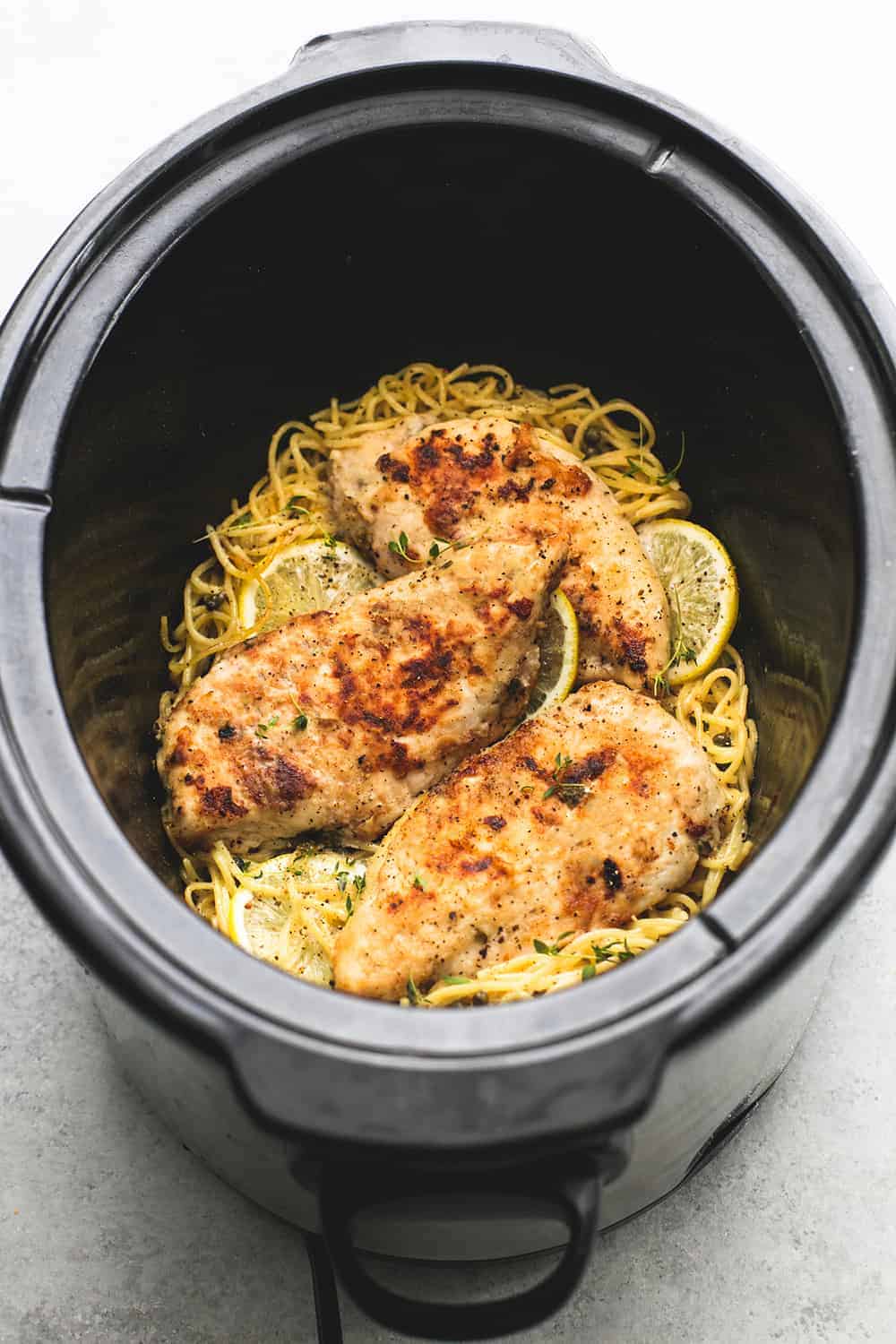 Hey guys it's Tiffany from Creme de la Crumb!! Are you enjoying spring? It's been pretty wet and dreary around here. We got a couple weeks at the beginning of March with gorgeous sunny 70 degree weather and then it evaporated into April showers. I'll take it over the snow any day though! And rain or shine, a good crockpot dinner is always a good idea.
This slow cooker lemon chicken piccata is one of my family's favorites! Creamy lemony sauce-coated noodles (linguine or spaghetti – take our pick!) with juicy lightly breaded chicken with a hint of garlic, all topped with savory capers! This dish is so easy to make, and even the noodles are cooked in the crockpot!  Your family will fall in love with this delicious dinner!
Slow Cooker Lemon Chicken Piccata
Ingredients
2 large boneless skinless chicken breasts, cut in half lengthwise
¼ cup flour
1 teaspoon garlic powder
½ teaspoon salt
¼ teaspoon pepper
6 ounces linguine noodles or thin spaghetti noodles
2 cups chicken broth
½ cup heavy cream
salt and pepper, to taste
juice of 1 lemon (about 4 tablespoons)
¼ cup capers
Instructions
Whisk together flour, garlic powder, salt, and pepper. Dredge chicken in the flour mixture to coat on both sides.
Drizzle a large skillet with oil, cook chicken over medium-high heat for 1-2 minutes on each side to brown (it won't be cooked through.)
Grease a slow cooker, place chicken in a single layer in the slow cooker, cover and cook on low for 4 hours. Transfer chicken to a plate and cover.
Add linguine to slow cooker, pour chicken broth over the top, cover and cook on high for 15 minutes. Uncover, stir in lemon juice, heavy cream, and salt and pepper to taste. Cook another 10 minutes on high. Add chicken back to slow cooker until hot throughout.
Serve hot additional lemon slices and fresh thyme if desired. Enjoy!