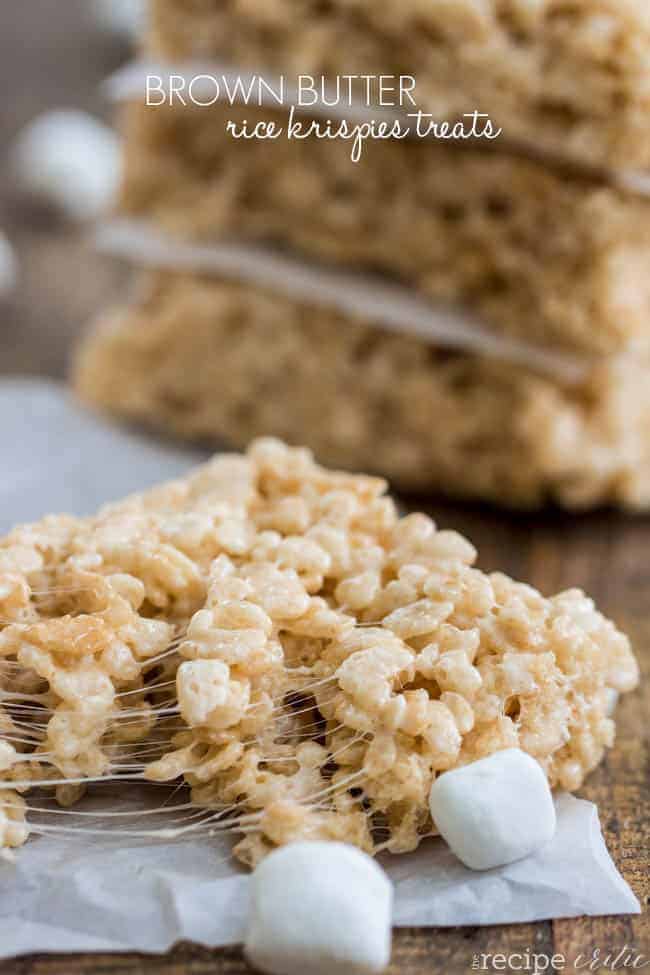 Oh my.  It is amazing how one extra step in making the classic rice krispies treat can blow your mind.  I am always down to make rice krispies.  They are so simple yet amazing.  I probably could down an entire pan if I let myself.  I am obsessed with anything brown butter so I couldn't wait to try it on rice krispies!
As soon as I had an ooey gooey bite I was hooked.  The brown butter instantly gave this the amazing nutty flavor.  How come I didn't think of browning the butter before?  These are hands down the best way to make them and became an instant favorite.  I will never go back to making them any other way!  They are the absolute best!

Brown Butter Rice Krispies Treats
Ingredients
5 to 6 cups rice krispies treat cereal
½ cup butter
10 ounce bag marshmallows
Instructions
Prepare a 9x13 inch pan by lightly greasing the bottom and sides. Set aside.
In a large pot, melt the butter over medium high heat. Continue to stir until the butter starts to froth and turns brown and has a nutty aroma. Add in the marshmallows and stir until melted.
Remove from heat and add in the rice krispies treat cereal. I like 5 cups so they are extra gooey but you can add 6 if desired.
Press the rice krispies firmly into the bottom of your 9x13 inch pan. Allow to cool. Cut into squares and enjoy!