Super Easy Hoisin Shrimp that can be made in only 10 minutes!
Hi guys! It's Kelley back from Chef Savvy! Today I am sharing with you this Easy Hoisin Shrimp.
Hoisin sauce is one of my favorite ingredients to use in Asian dishes. It's thick and sweet and is perfect for marinades and stir frys. You can find hoisin sauce at most grocery stores in the Asian isle.
This Hoisin Shrimp is ready in under 10 minutes and requires only 4 ingredients. Simply pan fry the shrimp and toss with the sauce. Serve as an appetizers or over rice or noodles to make it a meal.
MY OTHER RECIPES
Serve with a sprinkle of sesame seeds, green onions and enjoy!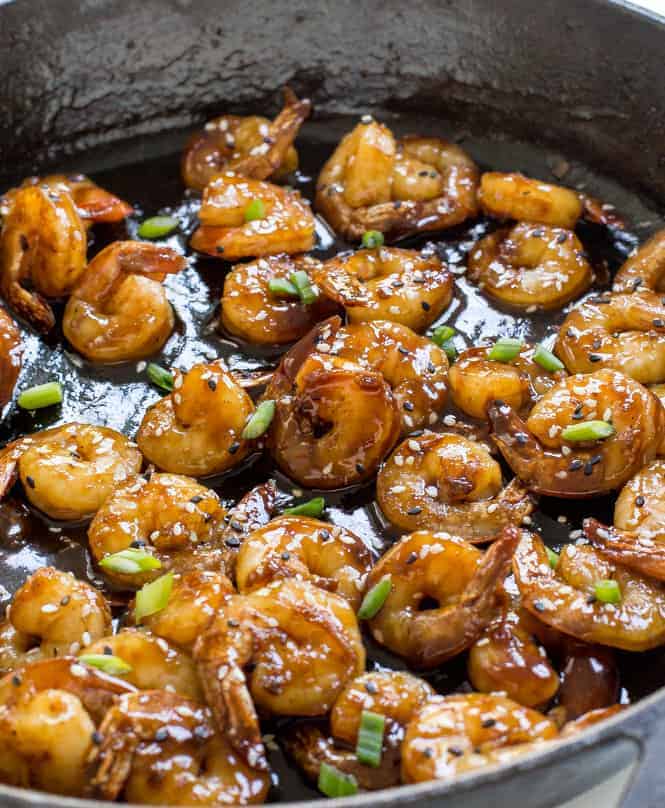 Easy Hoisin Shrimp
Ingredients
1 tablespoon oil
1 pound shrimp, deveined and tails left on (if desired)
¼ cup hoisin sauce
1 tablespoon low sodium soy sauce
green onions for garnish, if desired
sesame seeds for garnish, if desired
Instructions
Heat oil in a large skillet.
Add shrimp and saute until shrimp is fully cooked and shrimp is no longer translucent, 4-5 minutes.
Meanwhile in a medium bowl mix together hoisin sauce and soy sauce.
When shrimp is done cooking pour the sauce on top and toss to coat the shrimp.
Cook for an additional 1-2 minutes to heat the sauce.
Serve immediately with green onions and sesame seeds for garnish, if desired.
Love this Easy Hoisin Shrimp? Here are some more Seafood Recipes from Chef Savvy to try!
2. Kung Pao Shrimp
3. Hoisin Salmon and Veggies in Foil