BBQ Chicken Stromboli is full of melty provolone cheese, chicken, caramelized red onions and sweet and tangy bbq sauce.  This makes an amazing quick and easy meal or appetizer!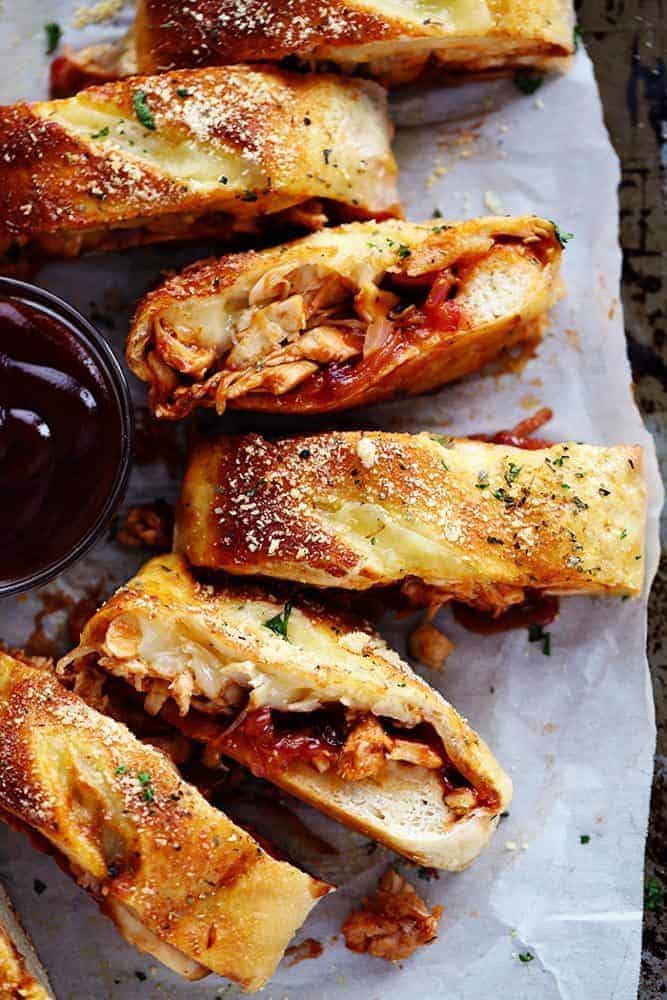 I am starting to learn what it is like to be the "soccer mom".  Running errands all day and then running kids everywhere and basically living out of your car.  If I would just give into getting a mini van and putting the stick figure family on the back of my car I would be set.  😉
Most of our days are on the go as soon as school gets out.  But I absolutely hate getting fast food and really made it a goal to have a meal for them each night.  No matter how busy our days are.  So that is why I love quick and easy meals.  And our family has been loving strombolis lately.  This BBQ Chicken Stromboli became an instant favorite.
We are all about the BBQ chicken combination at our house!  We love the tender chicken smothered in a sweet and tangy bbq sauce.  So I knew that I wanted to combine our love for it in a stromboli.
There are a lot of shortcuts in this recipe that help to make it come together quickly and easily.   A premade pizza dough crust and rotisserie chicken help it to come together in no time at all.
The result is unbelievable.  The melty provolone cheese, tender rotisserie chicken, caramelized onions, and sweet and tangy BBQ sauce come together to make it an incredible meal or appetizer.  It was loved by our entire family and I know that you will love it too!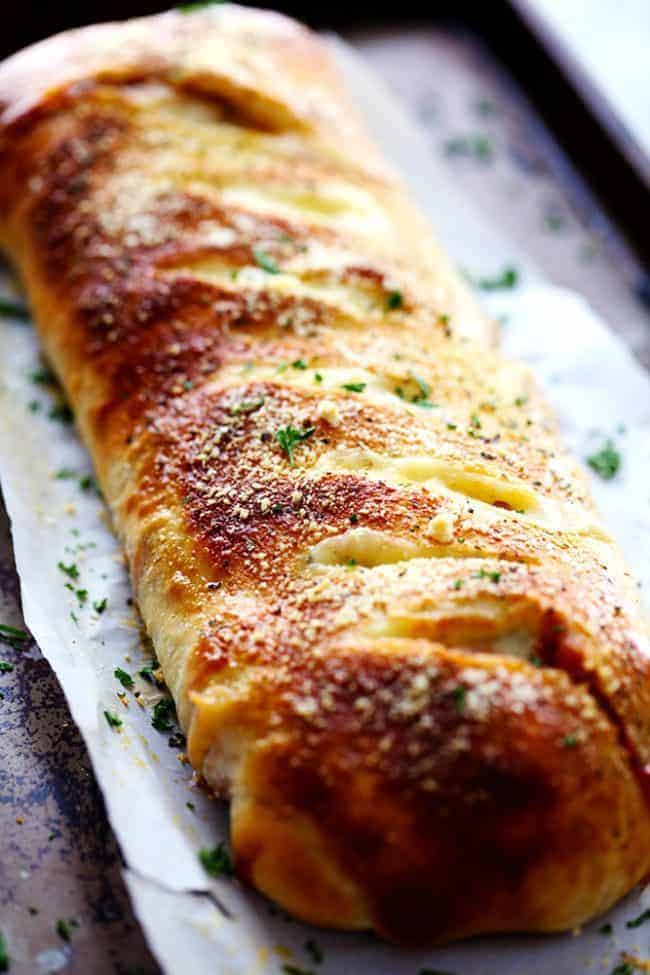 BBQ Chicken Stromboli
Ingredients
1 tablespoon butter
1 small red onion, julienned
1 tube Pillsbury thin crust refrigerated pizza dough
6 slices provolone cheese
2 cups shredded rotisserie chicken
½ cup Barbecue sauce (We love Sweet Baby Ray's)
1 egg, beaten
1 teaspoon italian seasoning
1 teaspoon grated parmesan cheese
Instructions
Preheat oven to 375 degrees. In a small skillet over medium high heat add the butter and melt. Add the onions and saute until tender. Set aside.
Roll the dough out and stretch it out on a piece of parchment paper. In the center line up the provolone cheese in a row. Top with chicken, onions, and barbecue sauce.
Fold the longer sides in first, one at a time, and pinch the edges to seal. Cut off any excess dough and pinch together. 
 Flip it over and apply an egg wash to the outside of the dough. 
 Top with italian seasoning and parmesan.
Bake for 20-25 minutes or until golden brown on top. Serve with barbecue sauce.