Chicken and Apple Salad with a Honey Dijon Vinaigrette is the perfect fall salad full of crisp apples, cranberries, crunchy pecans and bleu cheese.  This salad is easy to put together and so mouthwatering!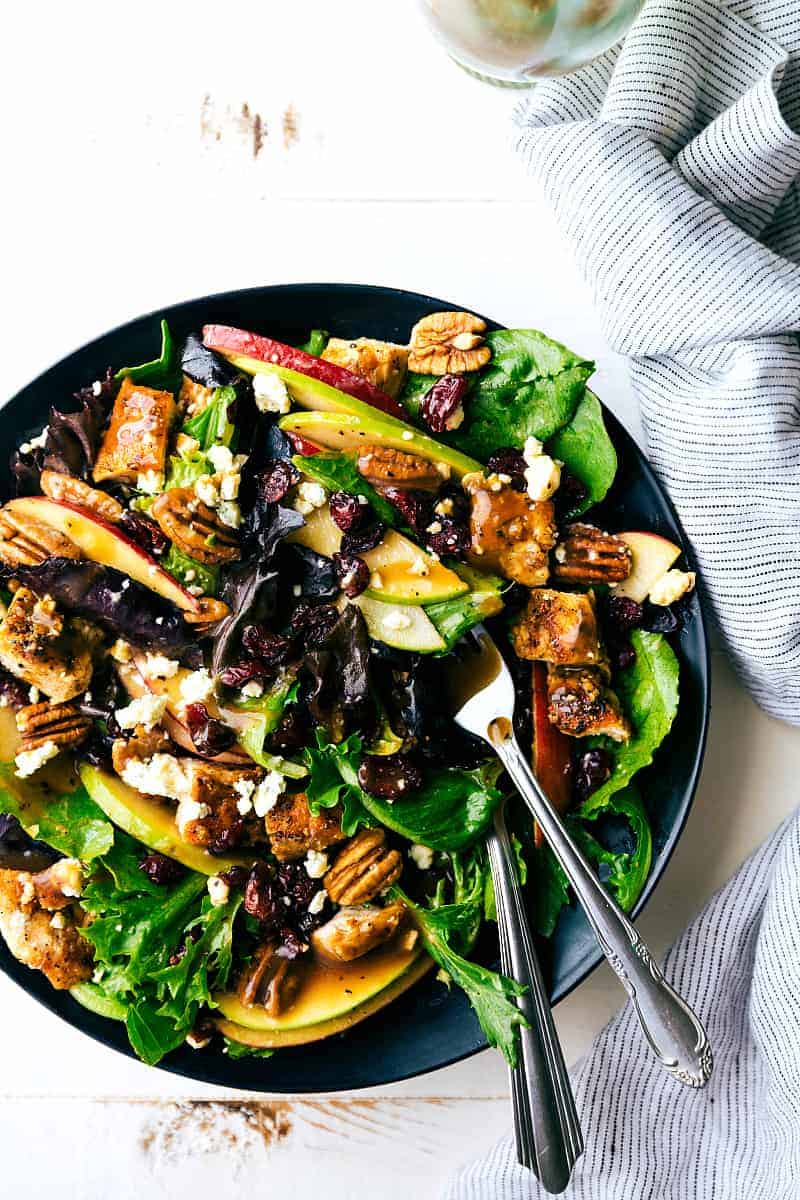 Hey everyone! Chelsea back from Chelsea's Messy Apron! I've got a delicious Fall salad for you all chuck full of delicious ingredients! You'll be craving this ALL fall and winter long 🙂
And the best part is its super easy! I use rotisserie chicken to cut down on effort and add a mega boost of flavor. The dressing is just shaking a few ingredients together in a jar and that's it. This salad can be ready super quick and yet present an impressive dish!
If you want to add more pizzaz to this salad you can easily candy the pecans. I roast them, but candied pecans are admittedly my favorite way to top this salad.
MY LATEST VIDEOS
MY LATEST VIDEOS
Chicken and Apple Salad
Ingredients
8 ounces Spring lettuce mix
2-3 small apples, I use 3 different varieties
⅓ cup roasted pecans
⅓ cup dried cranberries
¼ cup crumbled bleu cheese
Cooked and diced seasoned chicken*
1 lemon
Dressing
½ cup olive oil
¼ cup balsamic vinegar
1 and ½ teaspoon honey
1 teaspoon Dijon mustard
1 shallot
1 clove garlic
S&P
Instructions
Prepare the chicken for the salad by chopping into bite sized pieces.
Roast or candy the pecans. I roast them by lining a tray with parchment paper and placing the pecans in a single layer. Toast them for about 4-5 minutes at 350 degrees F watching carefully to avoid burning. Remove from the tray as soon as its out of the oven. Allow to cool.
Place the lettuce in a large bowl. Top with pecans, cranberries, and bleu cheese. Add the prepared chicken.
Slice the apples (peel if that is your preference). into very thin slices. Toss the slices with 1-2 teaspoons freshly squeezed lemon juice.
Add to the salad.
For the dressing: finely mince the garlic and shallot. Combine all the ingredients in a jar with a lid. Shake until well combined. Add salt and pepper to taste.
Top the salad with dressing right before serving and enjoy.
Do not toss the salad with dressing if you plan on having leftovers as it makes it soggy!
Notes
*I like using a pre-made rotisserie chicken best -- great flavor and easy!
More delicious salad recipes from Chelsea's Messy Apron:
Roasted Sweet Potato and Wild Rice Salad