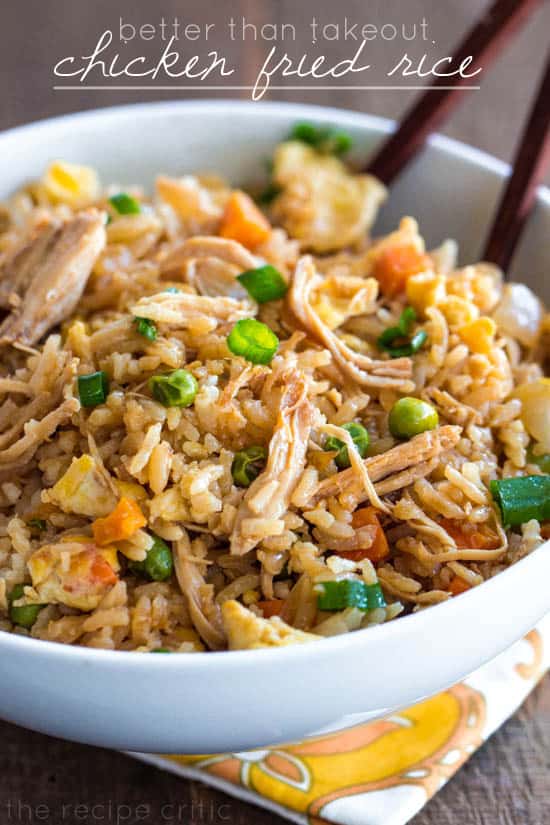 I mean really.  Who doesn't like fried rice?  Ok maybe my six year old doesn't because of the veggies inside, but I am pretty sure he is the only one out there.  🙂 For my birthday dinner with my family I chose to go to our favorite little chinese restaurant.  And it was the bomb.  But their fried rice was excellent.   But I kept thinking, I can make this just as good at home and I have been craving it ever since!
Since I learned a few awesome tricks on how to get the perfect fried rice in my recipe here, I wanted to make a big old batch for myself for lunch.  The baby was craving it that day.  But I thought, why don't I add in some protein and make a meal out of it.  You guys.   The chicken gave it such amazing flavor!  I really couldn't believe how good it turned out.  I promise that you can stay at home and have this better than take out chicken fried rice.  You will really be impressed with yourself. 🙂

Better than Takeout Chicken Fried Rice
Amazing chicken fried rice that is better than take out!
Ingredients
1 pound chicken, about 2-3 chicken breasts, cooked and shredded
3 cups cooked rice *
2 Tbs sesame oil
1 small white onion, chopped
1 cup frozen peas and carrots, thawed
2-3 Tablespoons soy sauce (more or less to taste)
2 eggs, lightly beaten
2 Tbsp chopped green onions (optional)
Instructions
Cook and shred the chicken. I highly recommend cooking it in a slow cooker in this teryiaki sauce. (see notes below)
Preheat a large skillet or wok to medium heat. Pour sesame oil in the bottom. Add white onion and peas and carrots and fry until tender.
Slide the onion, peas and carrots to the side, and pour the beaten eggs onto the other side. Using a spatula, scramble the eggs. Once cooked, mix the eggs with the vegetable mix.
Add the rice and chicken to the veggie and egg mixture. Pour the soy sauce on top. Stir and fry the rice and veggie mixture until heated through and combined. Add chopped green onions if desired.
Make sure to enter in our $550 Cash Giveaway!
a Rafflecopter giveaway

* I cooked my chicken in this teriyaki sauce recipe here.  It added amazing flavor to the chicken and it just shredded apart.  Other wise, you can boil your chicken, or even cook it in a medium skillet until no longer pink.
I adapted this recipe from my fried rice recipe here
More better than take out recipes!
 Baked Sweet and Sour Chicken