To keep this as short and simple as possible…you NEED to make this Sweet and Sour Chicken recipe. This became our number one favorite meal last night! I love Chinese food and this baked sweet and sour chicken blew my mind.
The breading on the chicken was exactly the same as from an amazing restaurant. I usually use flour to bread my chicken, but I think the difference in this one was cornstarch and eggs. The flavor of the sauce was incredible and it was even thick on top of the chicken.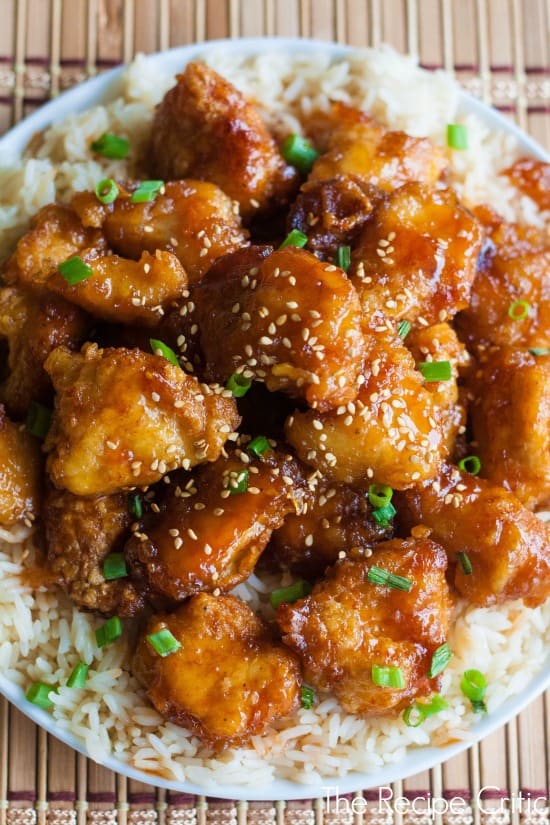 One of the best parts of this meal is the picky eater asked for seconds! We all couldn't get enough of it. Including the 5 guys that came over to eat later that night. They said it was even better than a restaurant. We decided that this has to be made weekly. We now have Chinese Wednesdays and this will be made every week! It is just that amazing!
I have created a video for you with Ashlee Marie of the cooking process!  You can skip to the Sweet and Sour sauce at :39 or straight to the baked chicken technique at 6:52!"
How To Make Sweet And Sour Chicken
Baked Sweet and Sour Chicken
Amazing restaurant quality sweet and sour chicken that you can make from home!
Ingredients
3-4 boneless, skinless chicken breasts
Salt and pepper to taste
1½ cup cornstarch
3 eggs, beaten
¼ cup canola oil
1 cup granulated sugar
4 tablespoons ketchup
¼ cup white vinegar
¼ cup apple cider vinegar
1 tablespoon low sodium soy sauce
1 teaspoon garlic salt
Instructions
Preheat oven to 325 degrees. Cut chicken breasts into bite-sized pieces and season with salt and pepper.
In separate bowls, place cornstarch and slightly beaten eggs. Dip chicken into cornstarch then coat in egg mixture.
Heat canola oil in a large skillet over medium-high heat and cook chicken until browned. Place the chicken in a 9 x 13 greased baking dish.
In a medium sized mixing bowl, combine sugar, ketchup, apple cider vinegar, white vinegar, soy sauce, and garlic salt. Pour over chicken and bake for 1 hour.
I stirred the chicken every 15 minutes so that it coated them in the sauce.
MY OTHER RECIPES
MY LATEST VIDEOS
Save