There are recipes that I make that I hope that everyone tries.  This is one of those recipes.  It all began with my sweet and sour chicken that changed my life.  It is actually possible to make the same quality chinese food as P.F. Chang's at home.  Then came a spicy version of this delicious chicken, my firecracker chicken.  I had died and gone to chinese food heaven with these recipes.  I didn't think that it could get any better than this.  Since I love chinese food so much my life was complete.  But then I created honey sesame chicken.  Let me tell you this.  This is the best of them all!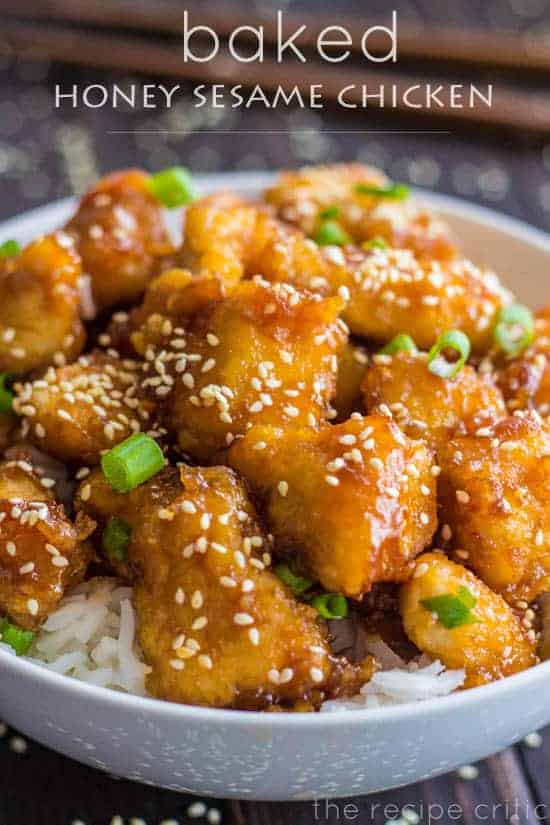 It first starts with the breading.  The cornstarch and egg combo makes it taste straight from a restaurant.  Then there is something about baking this chicken that makes the sauce thicken, the chicken brown and absolutely blow your mind.  Seriously I could hardly believe how amazing this was while I was eating it.  The sauce has a sweet honey flavor to it and is absolute honey sesame perfection.  If you love chinese and make one thing from my blog, make this!
I have created a video for you with Ashlee Marie of the cooking process!  You can skip to the Honey Sesame sauce at 3:06 or straight to the baked chicken technique at 6:52!
Baked Honey Sesame Chicken
Ingredients
4 chicken breasts
1 cup cornstarch
3 eggs
salt and pepper
¼ cup canola oil
Sauce:
¾ cup honey
¾ cup soy sauce
½ cup ketchup
½ cup brown sugar
½ cup rice wine vinegar
1 t sesame oil
1 t minced garlic
1 T cornstarch
additional sesame seeds for garnish
Instructions
Preheat oven to 325 degrees. Cut chicken breasts into bite-sized pieces and season with salt and pepper.
In separate bowls, place cornstarch and slightly beaten eggs. Dip chicken into cornstarch then coat in egg mixture. I have also found that you can put the chicken pieces in a gallon size bag and shake to coat.
Heat canola oil in a large skillet over medium-high heat and cook chicken until browned. Place the chicken in a 9 x 13 greased baking dish.
In a medium sized mixing bowl, combine honey, soy sauce, ketchup, brown sugar, rice wine vinegar, sesame oil, minced garlic, and 1 T cornstarch. Pour over chicken and bake for 45 minutes or until chicken is cooked through.
I stirred the chicken every 15 minutes so that it coated them in the sauce.
 More amazing recipes to try!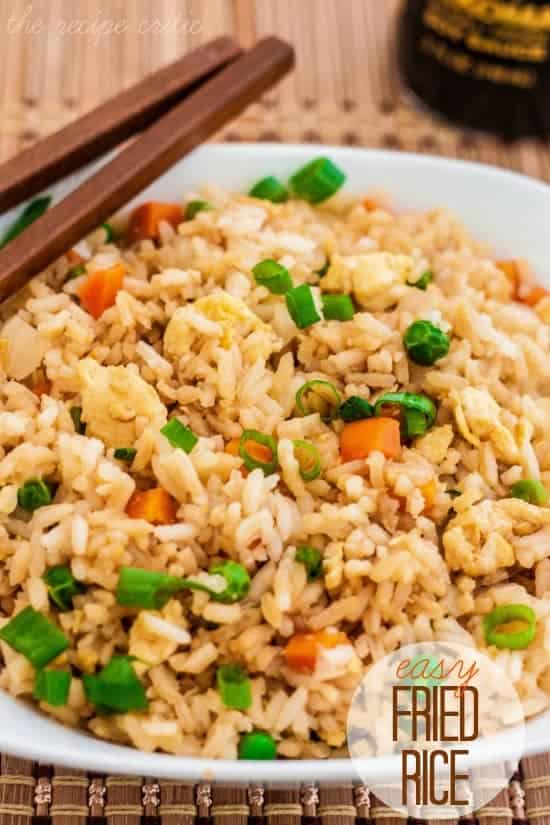 Firecracker Chicken
Baked Sweet and Sour Chicken
Save