This website may contain affiliate links and advertising so that we can provide recipes to you. Read my disclosure policy.
Egg Roll lovers, this Air Fryer Egg Roll Recipe is for you! Crispy, crunchy outside, tender filling inside, without the extra fat of frying or drying out from oven cooking. These are what you have been waiting for!
Air frying egg rolls is going to rock your world and be a total game changer. Try air frying these other delicious egg roll recipes for more appetizer wonders like this Philly Cheesesteak , southwest and this Avocado Egg Rolls.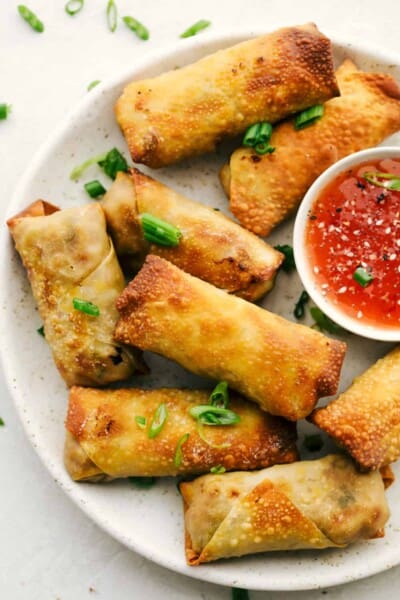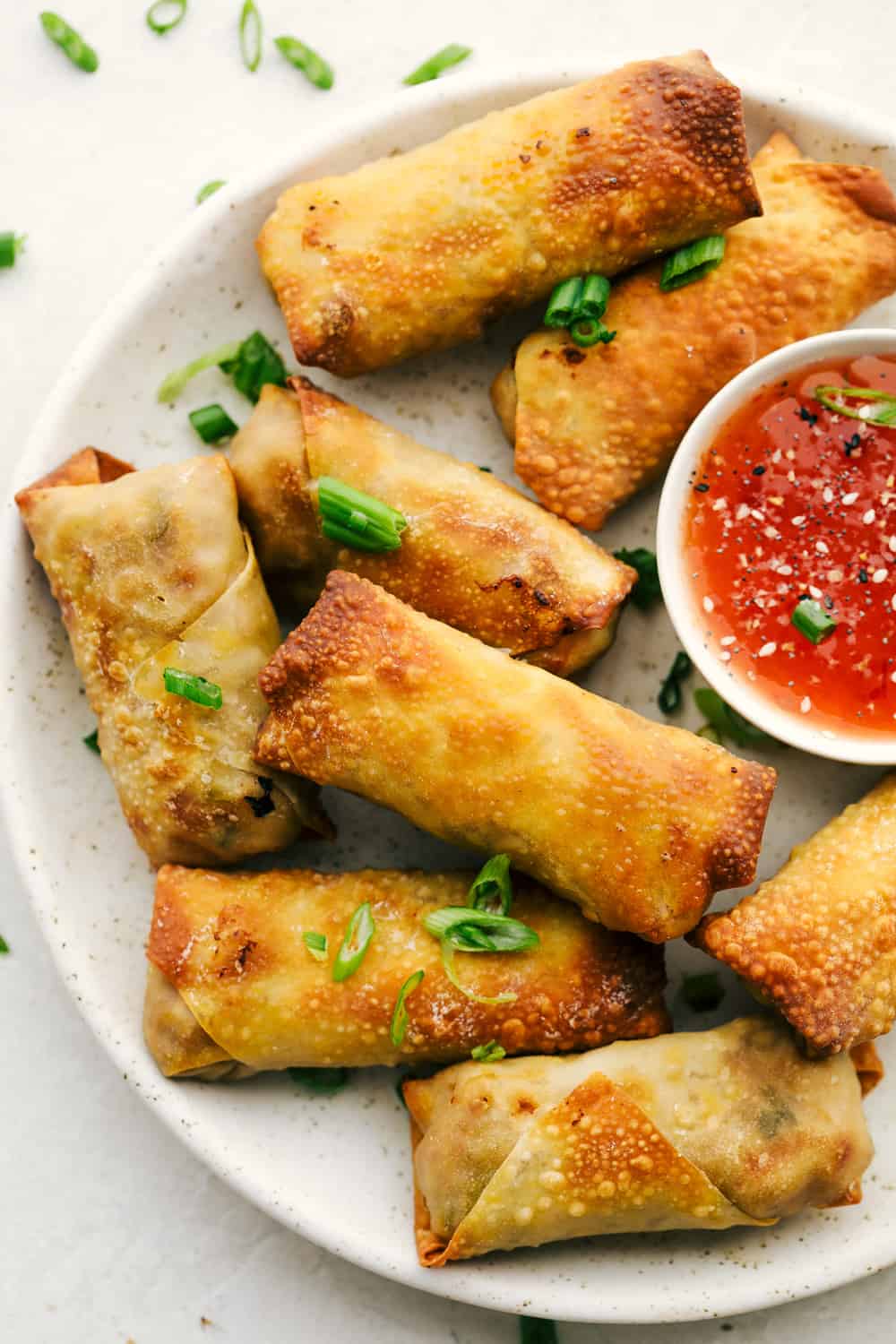 Perfect Air Fryer Egg Rolls
Forget take out! These are so dynamite, you may never need to order out again. Combine these air fryer egg rolls with my other Chinese favorites like this Asian Glazed Chicken, Easy Fried Rice, Cream Cheese Wontons and 20 Minute Garlic Beef and Broccoli for a restaurant quality meal, only better. Now dinner is ready! Your family is going to love these! Serve them as appetizers a light dinner or party side dish and you will win everyone over.
It is a beautiful thing when a recipe and an appliance comes together to create such delicious meal. Using the air fryer creates that intense crispy outside. With tender, perfectly cooked insides. Air fryers are mini convection ovens, using circulating air to cook the food creates the unique method and outcome. It becomes a favorite way to cook for me and if you haven't gotten on the bandwagon yet, it's time. They are a healthier and usually faster way to cook your favorites.
Ingredients for Chicken Egg Rolls
Yes, this has a long ingredient list, but you will need it for these egg rolls. They all combine to create that amazing restaurant worthy taste. All of these ingredients can usually be found at your local grocery store in their asian aisle and produce sections.
Vegetable Oil: For sautéing
Garlic: Minced fresh garlic
Ginger: Fresh minced
Celery: Chopped
Coleslaw Mix: Look for this near the packaged salads
Ground Chicken: You can find ground chicken near the ground beef.
Oyster Sauce: Adds incredible authentic flavor.
Soy Sauce:  Helps create a umami flavor.
Toasted Sesame Oil: Adds richness
Sriracha: Adds that spicy kick.
Green Onions: Thinly sliced
Egg Roll Wrappers: You can find these in the produce section with the tofu.
Olive Oil Spray: This is just to help crisp the egg rolls.
Making Crispy Egg Rolls
With all those spectacular flavors these actually come together easily. The hardest part might be rolling the egg rolls themselves, but check out the pictures for step by step instructions. It's actually super easy.
Sauté: Heat oil in a pan and stir fry garlic, ginger, celery till fragrant.
Cook:  Pour in the coleslaw mix and cook till the cabbage is wilted.
Stir Fry: Add the ground chicken, oyster sauce, soy sauce, sesame oil and sriracha. Stir fry the chicken while breaking it up for 3-4 minutes.
Remove: Once the chicken is cooked and there is no liquid left in the pan, stir in the green onions and remove from stove.
Wrap: To wrap the egg rolls, place the egg roll wrapper so that one corner is towards you. Place a tablespoon of filling in the bottom half (towards you) and wrap that corner over the filling. Turn both sides over the wrapper and then continue rolling away from you (like a burrito), till you reach the end. Seal the edges with some water or a beaten egg. Repeat till all the wrappers are made.
Air Fry: Spray the basket of the air fryer with olive oil spray.  Place the egg rolls in the basket and lightly spray the tops of the egg rolls with the olive oil spray.  Cook at 400 degrees for 6 minutes.  Then flip the egg rolls and cook for an additional 6 minutes.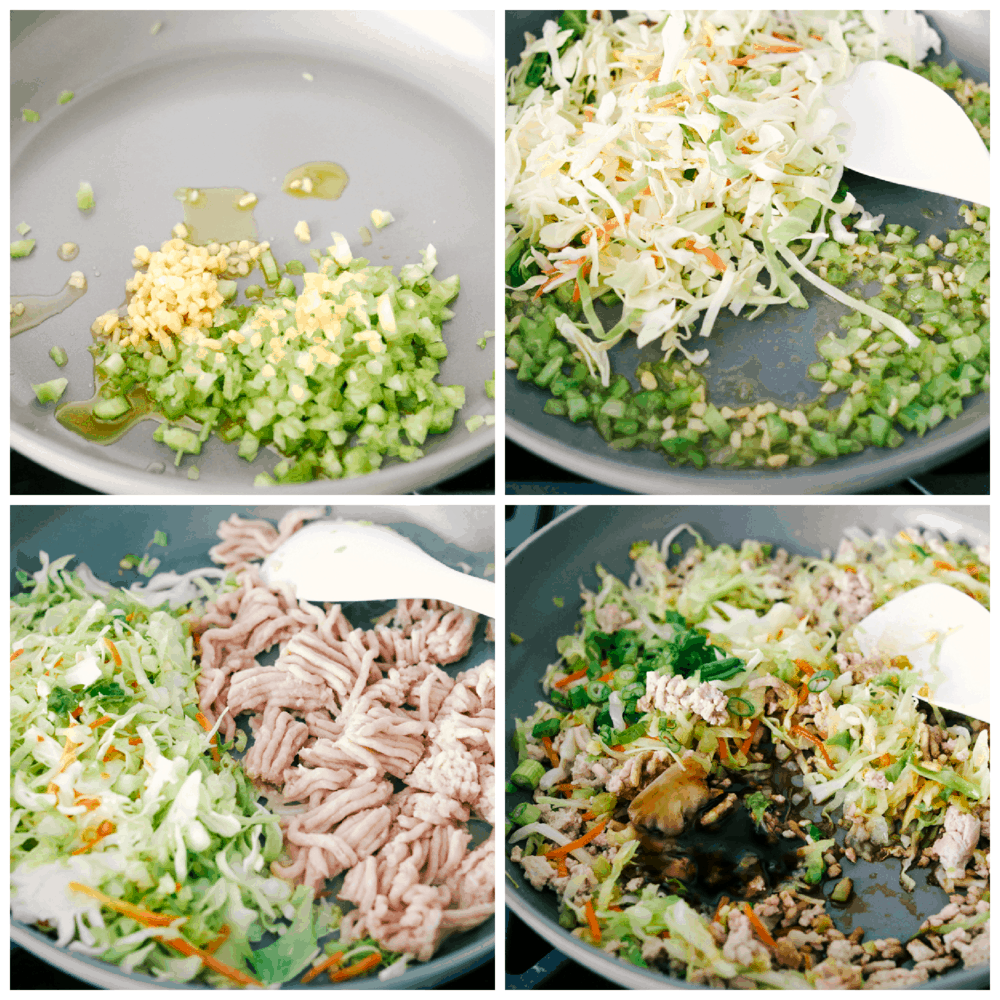 Why Should you Cook Egg Rolls in the Air Fryer?
EASY: If for no other reason, you should cook these egg rolls in the air fryer because it's easy. Besides flipping them halfway through, you don't have to babysit them. You will be free to do other things, it's so nice, you can multitask!
Less Mess: Usually to get a good crispy outside and that authentic flavor you had to deep fat fry these babies. That usually leads to a hot oily splattered kitchen in the end. It's a mess. In the air fryer everything is self contained and there is no extra oil.
It is Healthier:   If you go to all the trouble of sautéing vegetables and chicken and creating the best filling ever, you should be able to eat as many as you want without the guilt. With air frying you can. No bathing these egg rolls in grease and fat. It's such a healthier way to cook egg rolls and get all the flavor and texture you adore. So eat them all if you wish. I won't tell.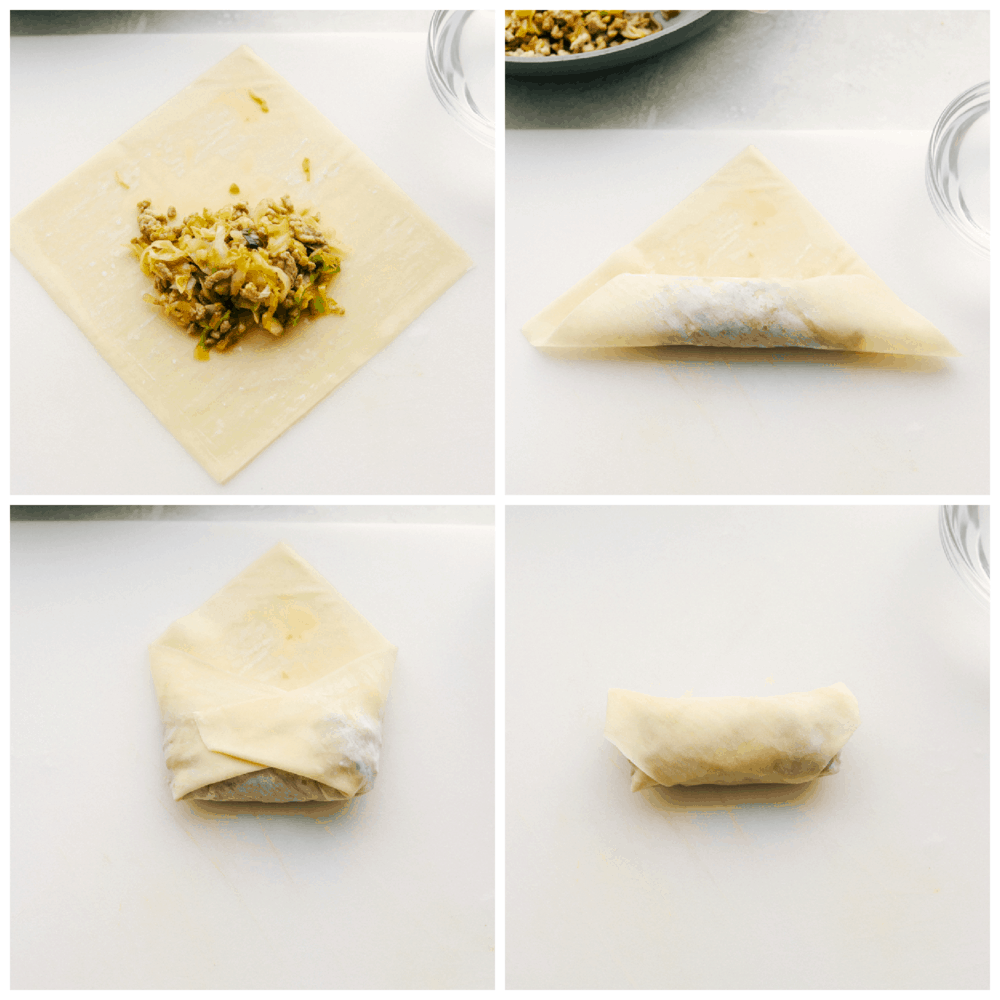 Tips for the Best Air Fryer Chinese Egg Rolls
Air Fryer Egg Rolls are pretty dang amazing and hard to mess up. That being said here are a few tips to help you on the way.
Seal it: Make sure you seal up your egg rolls so the filling doesn't spill out. Use either water or egg wash to dampen the edges so they stick together. I like to use a brush to dampen the edges, that way my fingers don't get sticky.
Don't Overcrowd: For the air fryer to optimally cook your egg rolls make sure there is space between them. This way the air can circulate around the egg rolls, cooking them evenly. Cook them in batches if you need to and keep them warm in a 200 degree oven on a cookie sheet.
Flip and Spray: When you flip your egg rolls half way through, you can spray the other side with olive oil if you think it needs it. It may not.
Keep them Damp: To prevent your egg roll wrappers from drying out cover the ones you are not using with a damp paper towel. This will keep them pliable and fresh.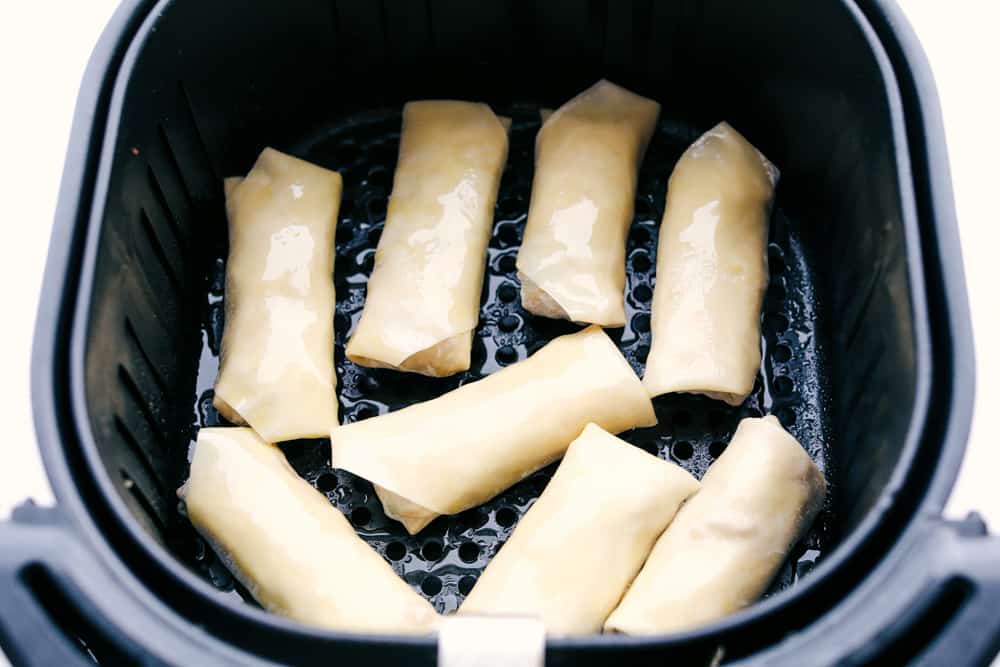 What Sauce Should I Use?
We like a good sweet chili sauce with these air fryer egg rolls. You can also use hoisin sauce, soy sauce, sweet and sour or a spicy orange sauce. Pick a favorite or try something new.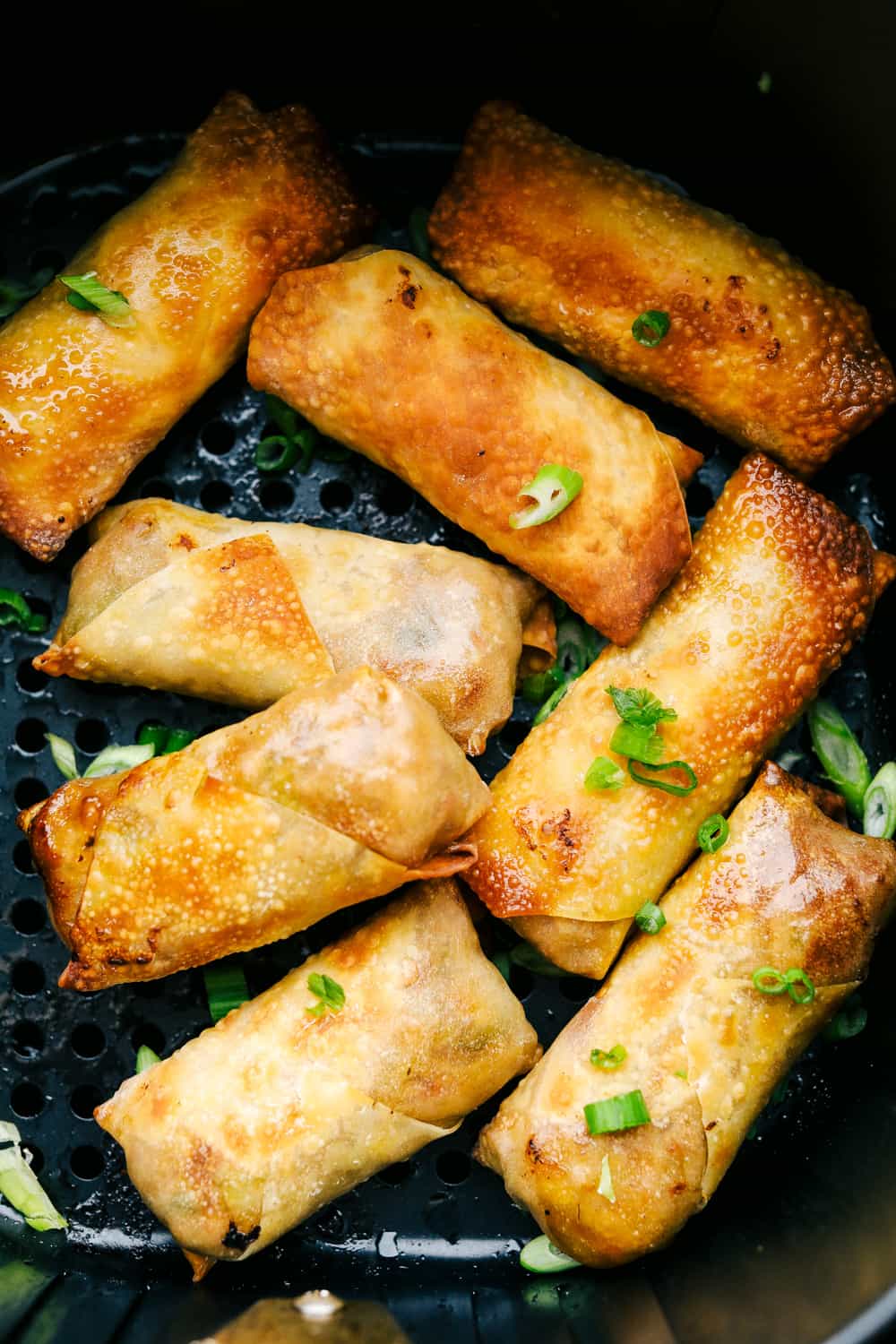 Make Ahead and Freezing Homemade Air Fryer Egg Rolls
This air fryer egg roll recipe is ideal for making ahead of time and freezing for those times when you need egg rolls fast.
Make a double batch of the filling and roll the egg rolls as directed.
Place the egg rolls on a cookie sheet to flash freeze for about an hour to an hour and a half. This will prevent the egg rolls from sticking together in the freezer
Transfer the egg rolls to a freezer safe ziplock bag or container and store in the freezer for up to 3 months.
To cook, remove the egg rolls from the freezer and place in the air fryer, coating the outsides with oil. Cook at 400 degrees and add 1-2 minutes per a side till heated through.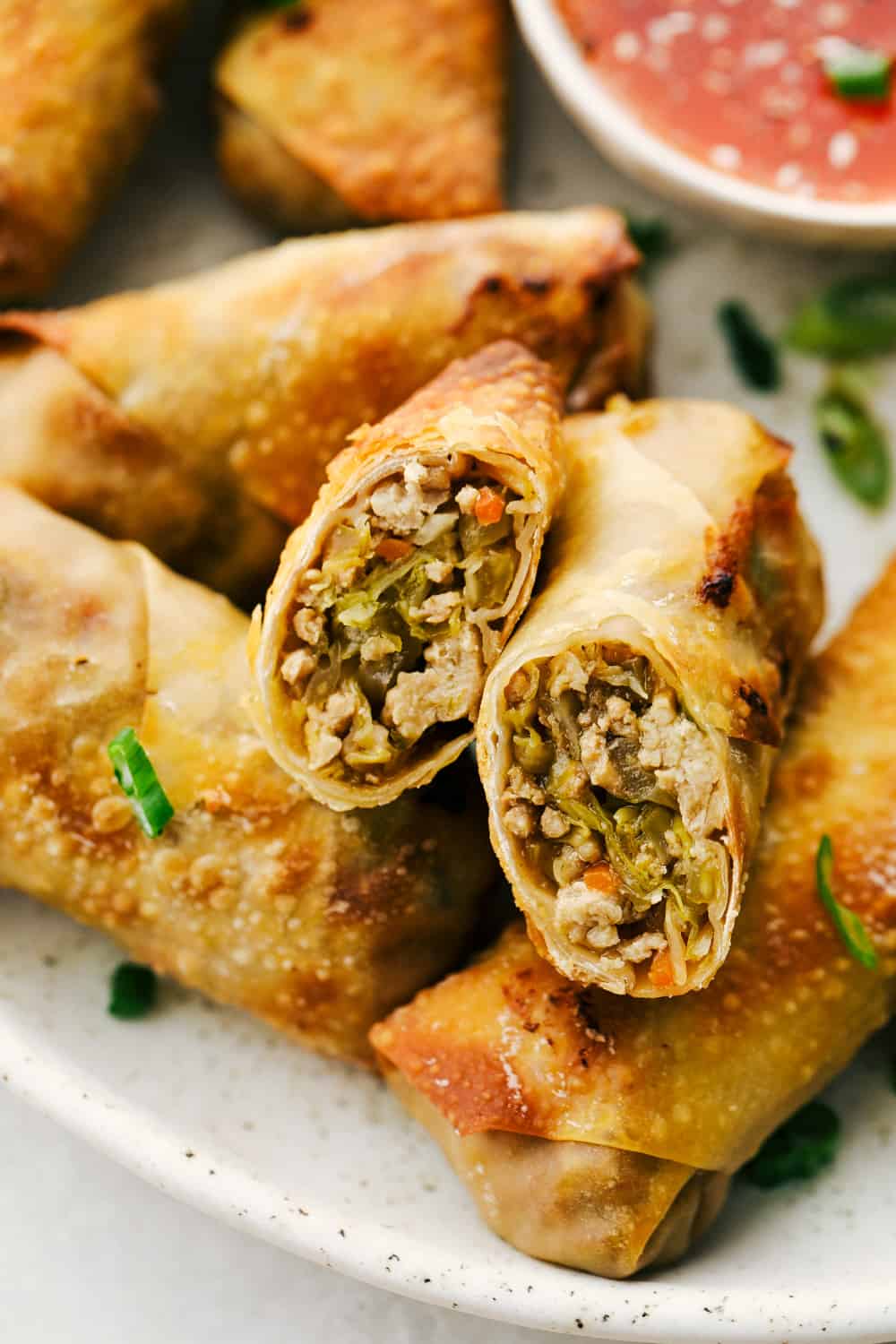 More Air Frying Loving Recipes to Try
Air frying is just the thing to do these days. It's healthier, it's faster, it's just plain better. Air frying doesn't heat up your oven but it can still produce exquisite dishes. You've got to try these other Air fryer recipes. They are so delicious.
Pin this now to find it later
Pin It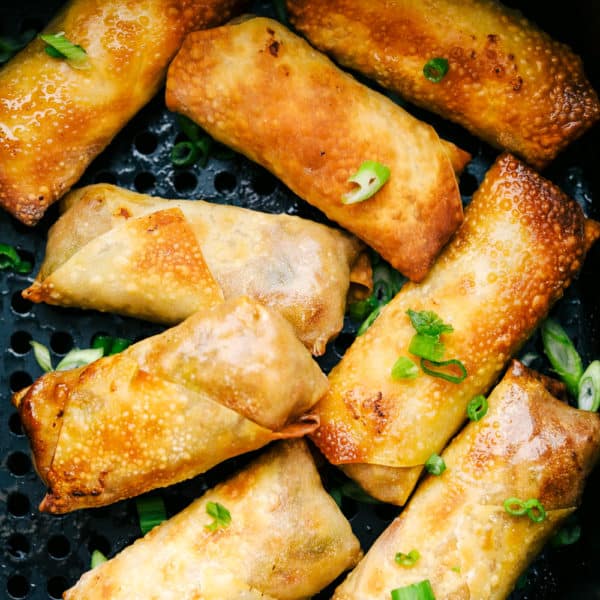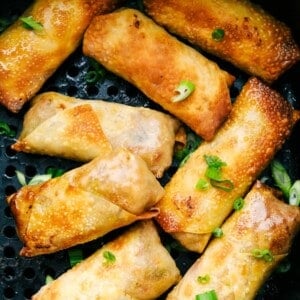 Air Fryer Egg Rolls
Egg Roll lovers, this Crispy Air Fryer Egg Roll Recipe is for you! Crispy, crunchy outside, tender filling inside, without the extra fat of frying or drying out from oven cooking. These are what you have been waiting for!
Nutrition
Calories:
97
kcal
Carbohydrates:
9
g
Protein:
5
g
Fat:
4
g
Saturated Fat:
2
g
Cholesterol:
17
mg
Sodium:
327
mg
Potassium:
155
mg
Fiber:
1
g
Sugar:
1
g
Vitamin A:
72
IU
Vitamin C:
6
mg
Calcium:
18
mg
Iron:
1
mg
Nutrition information is automatically calculated, so should only be used as an approximation.