This website may contain affiliate links and advertising so that we can provide recipes to you. Read my disclosure policy.
Perfect Air Fryer Baked Potatoes are crispy on the outside and tender fluffy on the inside. Perfect addition to any meal, or a meal all on its own!
Whenever I think of baked potatoes, my mind automatically also thinks steak! It's a classic combo, steak and baked potatoes. Try these amazing air fryer potatoes with any of these favorites. Perfect Air Fryer Steak with Garlic Herb Butter, Amazingly Delicious Skillet Salisbury Steak or use this World's Best Steak Marinade on any steak for the most amazing meal.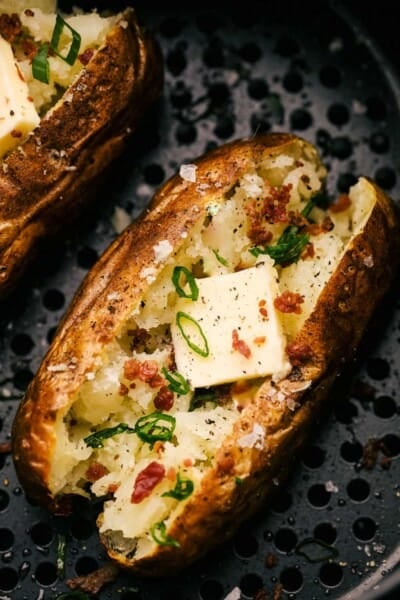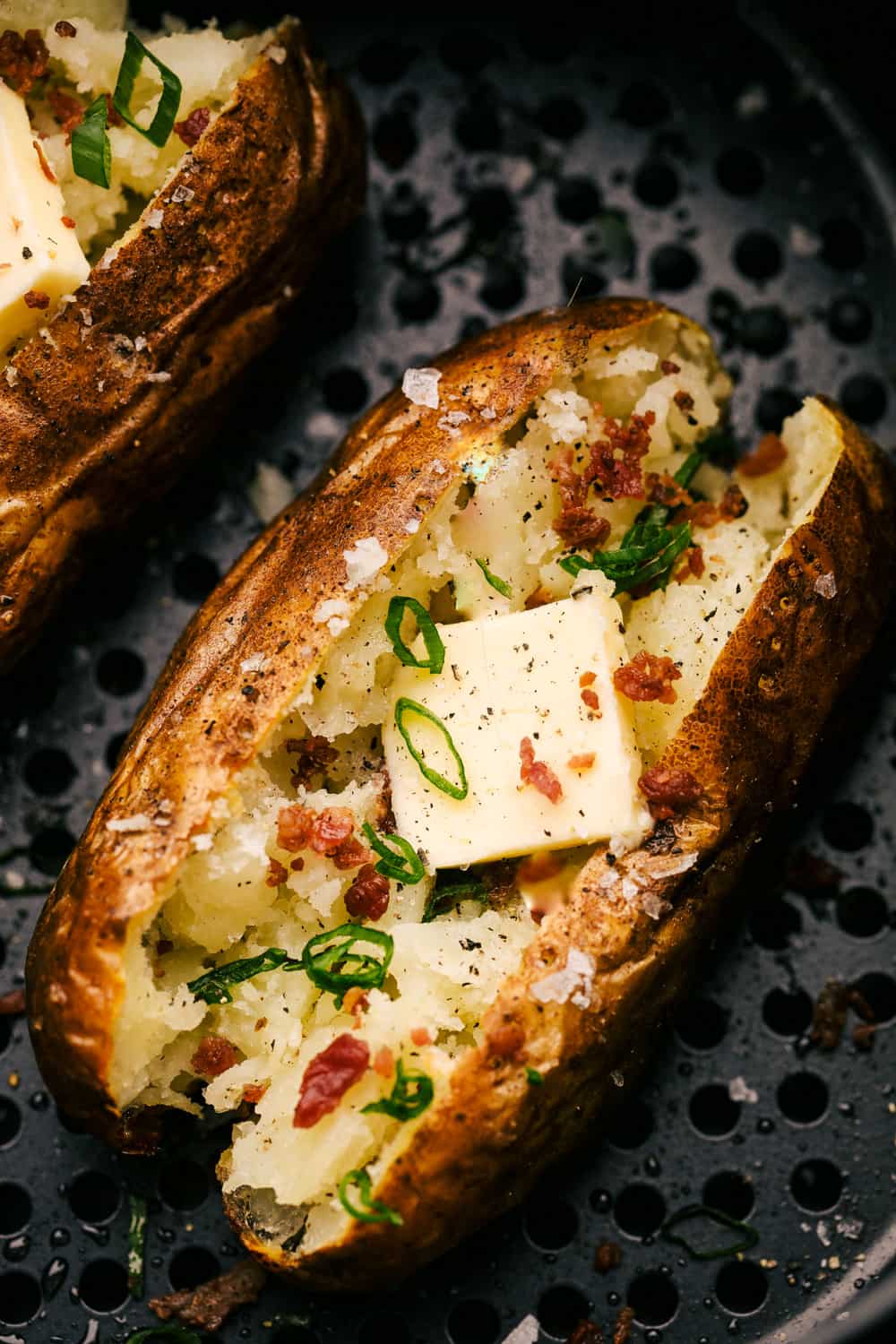 Air Fryer Baked Potato
These are truly the best baked potatoes EVER! I don't think I'll ever be able to eat potatoes any other way. You and your family are going to fall in love with these potatoes. For those who never like to eat the skin, you're going to want to eat the skin of these beauties! It's salty, crunchy and heavenly. The inside is fluffy, light and tender. Perfect for any toppings you may wish, and the possibilities are endless! These are for sure to become a new family favorite.
Cooking them in the air fryer saves you time. And that means you can have more time with family. Instead of heating up the oven to bake potatoes that usually take up to an hour and half. Using the air fryer takes 40-45 minutes and leaves you the oven for other things. It's the most ideal way to bake potatoes. If it's been a while since you have baked a potato, I'm giving you the best excuse to try them again, for the very first time!
Why you Should Eat Potatoes
Potatoes are extremely good for you. They are high in potassium and vitamin B6 and a whole slew of minerals and antioxidants. Yes, they are starchy, but it's the good kind, resistant starch! Resistant starch is great for helping maintain blood sugars, and improve your overall digestive health. Take note however, most of the vitamins and nutrients are in the skins, so you want to leave them on. It's a good thing this recipe makes them irresistible!
Potatoes are one of the highest ranking foods for filling you up, and keeping you full longer. Potatoes contain a protein that can actually curb your appetite!
Ingredients for Air Fryer Potatoes
With only 3 ingredients, these air fryer baked potatoes can't get any easier! Simple, delicious and perfect! What's not to love about these scrumptious baked potatoes?
How to Cook Easy Baked Potatoes in an Air Fryer
Done in under an hour you can have dinner on the table in no time. Biggest advantage to the air fryer! It's faster than conventional methods, usually!
Wash: Scrub and wash potatoes and pat dry
Pierce: With a fork pierce all over.
Oil: Rub olive oil on the potatoes.
Cook: Place in air fryer and sprinkle with salt. Cook at 400 for 40 min or till fork tender.
Tips for the Best Air Fried Baked Potatoes
You can't go wrong with air fried baked potatoes. The air fryer uses circulating air to cook the potato evenly so there are no hard spots, cold spots or tough skin. It crisps the skins to a crunchy golden brown. The skins are almost better than the insides!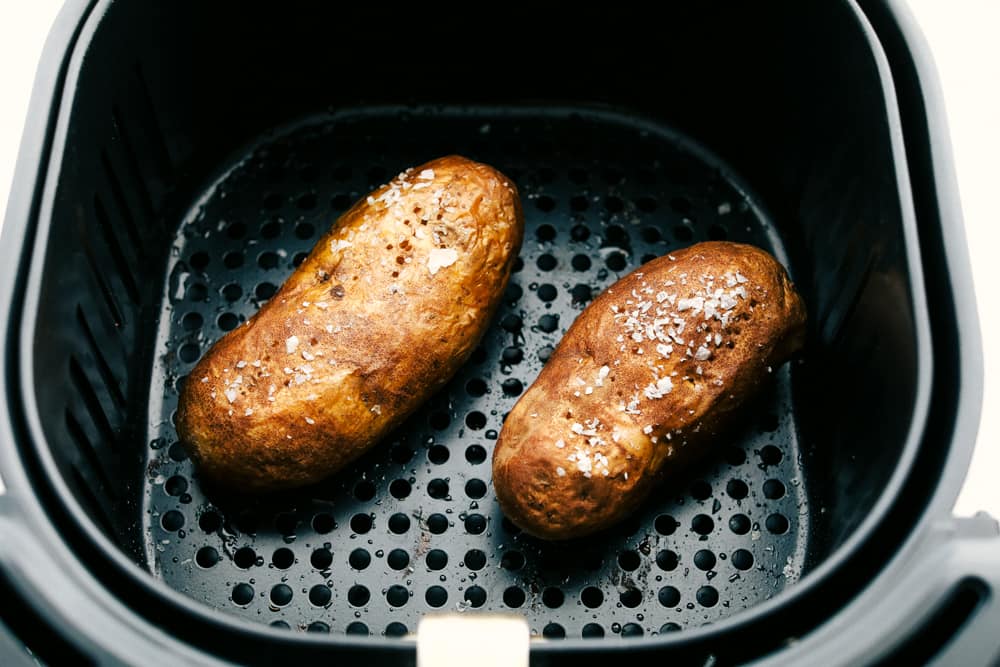 Add All the Toppings for Baked Potatoes
One of the best things about baked potatoes is that they are so versatile. You can customize them so easily and they go with just about anything. Because of their light fluffy texture and mild flavor, they are the perfect vehicle for some flavor.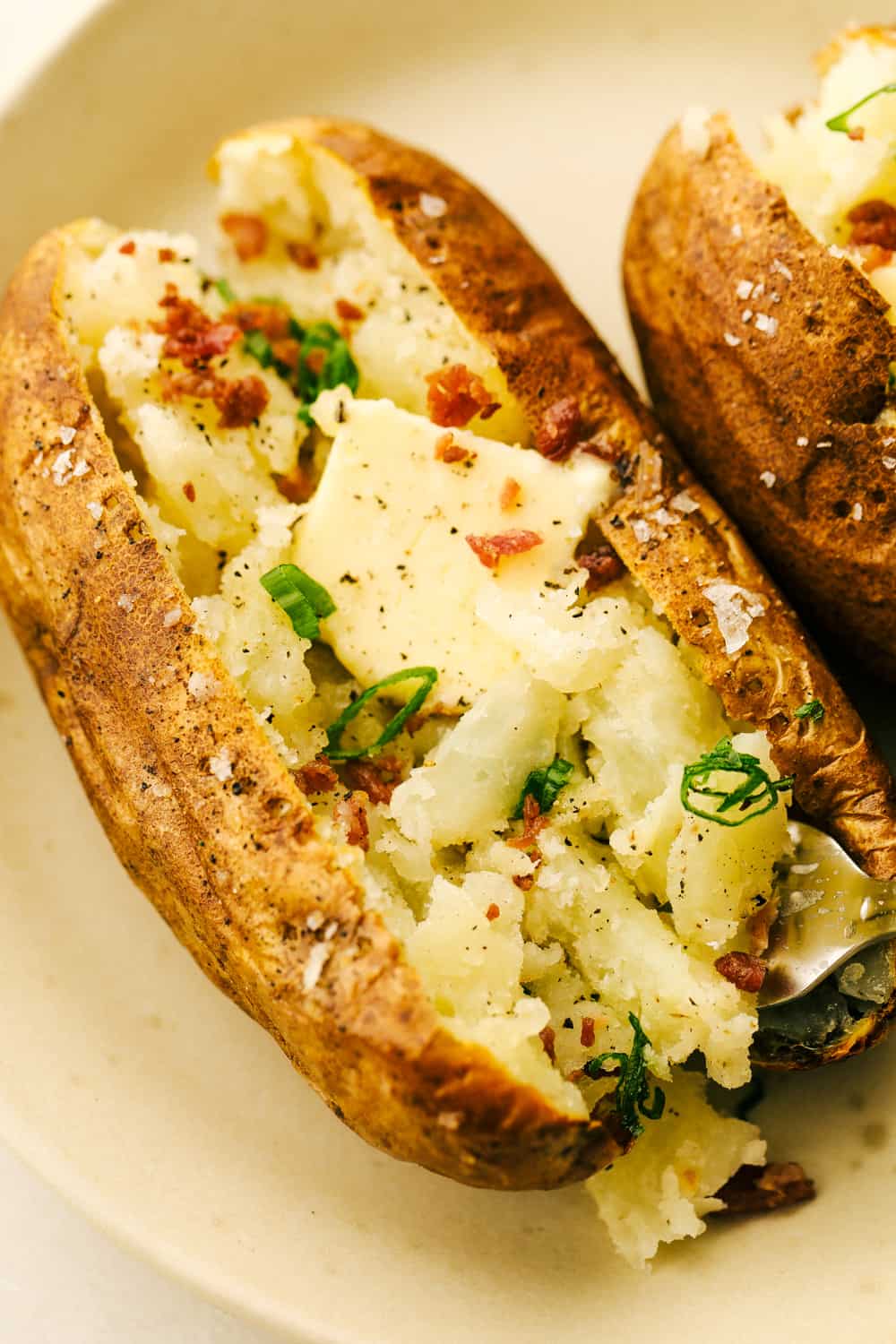 More Potato Loving Recipes
Potatoes can take so many forms and be so dang good! Whether you love them mashed, fried, hashed or any other way, I have a recipe for you. Here are a few of my favorites.
Pin this now to find it later
Pin It
Air Fryer Baked Potatoes
Perfect Air Fryer Baked Potatoes are crispy on the outside and tender fluffy on the inside. Perfect addition to any meal, or a meal all on it's own!
Ingredients
Optional Toppings:
Instructions
Nutrition information is automatically calculated, so should only be used as an approximation.