This website may contain affiliate links and advertising so that we can provide recipes to you. Read my disclosure policy.
Perfect Air Fryer Bacon is crisp, full of flavor and ready in 10 minutes! No more waiting forever for bacon to cook or getting half of it raw, the other half burnt. It's just perfect every time.
Pair this super crispy, easy bacon with Incredible Blueberry Buttermilk Breakfast Cake, Quick 45 Minute Cinnamon Rolls, or The Best Ever German Oven Pancake for a divine breakfast in no time!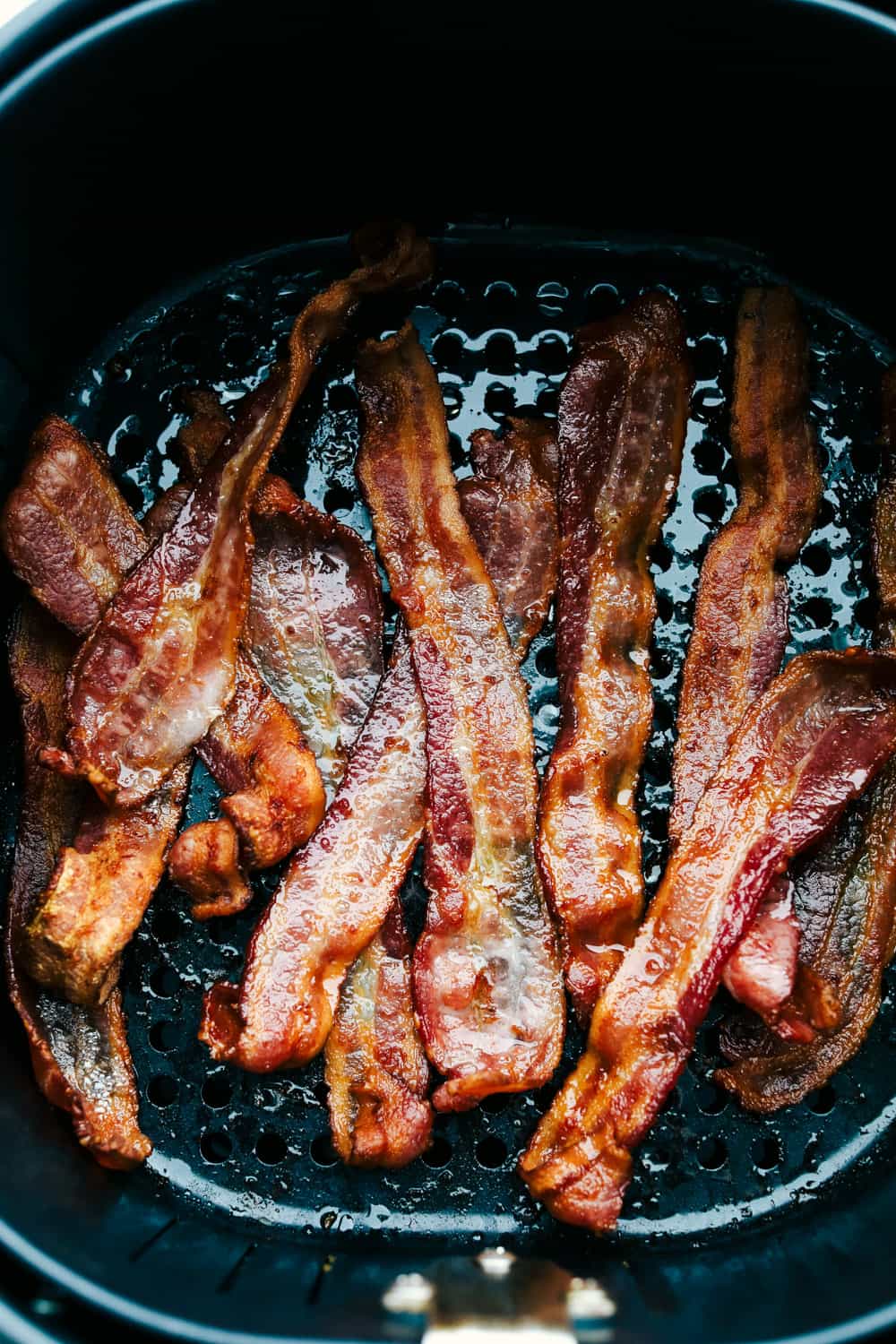 Quick and Easy Air Fryer Bacon
Okay, first thing first. Even though cooking food in the air fryer usually makes it healthier, that will not be the case with bacon. Bacon is not going to be healthier for you cooked this way. As much as I wish I could say load it up and eat your heart out, that still probably isn't a good idea. But I can promise it will be cooked better this way. It's an easy hands off way of baking bacon that could be life changing.  Bacon tastes amazing, as always, but it's so easy to get it perfect in an air fryer. They're evenly cooked, tender or crisp. You can control how done they get. If you like it a bit on the tender side or the crisp side, either way it's going to be scrumptious.
I love finding new ways to use my air fryer and all the ways it can make life easier and taste incredible. From Shrimp to Brussel Sprouts air frying is just fabulous. If you haven't gotten on the bandwagon yet, it's time. It's effortless cooking and easy clean up. And with bacon it's a life saver. I love being able to bacon in a matter of minutes, with little effort. Give this a try today. You won't regret it!
Only One Ingredient!
So this couldn't be any simpler. It's one ingredient! That's it! Nothing fancy, no special tools, unless you count the air fryer as your special tool. But really it's not a tool, it's an appliance. A magical appliance. You are going to love this way of cooking!
Bacon: That's it! Just find your favorite kind.
How to Cook Bacon in an Air Fryer
If you can load the fryer and turn it on, then you can make this bacon. It's so simple! I love that it's done so quickly! No more hunched over a splattering pan of grease waiting for bacon to fry up and constantly readjusting it so that it's cooked evenly. Just put it in and turn it on and check it. Let the air fryer do the rest. You may never cook bacon any other way again.
Lay: Take 5 slices of bacon and place in the bottom of the air fryer basket in a single layer.
Cook: Turn fryer on to 360 degrees and fry for 8-10 minutes. Check halfway through and rearrange if necessary. Continue cooking till desired crispness.
Drain: Remove the bacon and place on a paper towel lined plate. Serve immediately.
The Best Air Fryer Bacon Tips
Air frying bacon is perfect for when you want small batches of bacon fast for a quick breakfast or for a recipe like this Slow Cooker Crack Chicken or Slow Cooker Cheesy Bacon Ranch Potatoes. When you want a large amount of bacon done all at the same time, try baking it in the oven. It takes a little longer than frying it on the stove top, but the clean up is a breeze! And the bacon is crispy and evenly cooked. I love using the air fryer in a pinch. It's such a life saver. Here are tips for even better experience.
Bacon:  The air fryer uses circulating air to cook the food inside, so sometimes the bacon can get flung around a bit. I have found using a thick cut bacon helps it stay in place better. The great thing is that you can use whatever kind of bacon you want. Even turkey bacon works in this recipe.
Size: Make sure your bacon slices are as even as possible. That way you can ensure even cooking.
Check it: Don't be afraid to check it half way through and rearrange the bacon if necessary. You can also check it at that time for doneness and adjust your time accordingly.
How to Prevent your Air Fryer From Smoking
When you cook foods in the air fryer that are already fatty, like bacon, they can cause your air fryer to smoke quite a bit. This is because the grease or fat drips down and causes the it smoke. It can seem like quite a lot of smoke depending on your air fryer. If this is the case there are a few things you can do to help prevent that.
Instructions: Be sure to check your air fryers instructions and procedures for proper cooking of foods that have high fat content. Every air fryer is a little bit different so follow the recommendations of your air fryer.
Lower:  You can lower the temperature that you cook your bacon at, however I wouldn't go lower than 345 degrees. It'll take too long to cook. But if you have time you certainly can try.
Dump: Dump out and wipe out the bottom tray where the grease collects between each batch. This will help reduce the smoking.
Bread: It may sound a bit weird but placing large pieces of bread in the bottom tray to soak up the grease drippings can help a ton. Make sure the bread pieces are good sized but not so big that they keep from allowing the air to circulate properly.
Water:  Adding a bit of water to the bottom tray can also reduce the smoking. Again, be sure to follow manufacturer's recommendations. Mixing grease and water can cause it to pop so handle with care.
Turkey Bacon: Using turkey bacon has less fat so it will  automatically smoke less.
Placement: You can place your air fryer under your oven vent or near a window if you find it smoking excessively.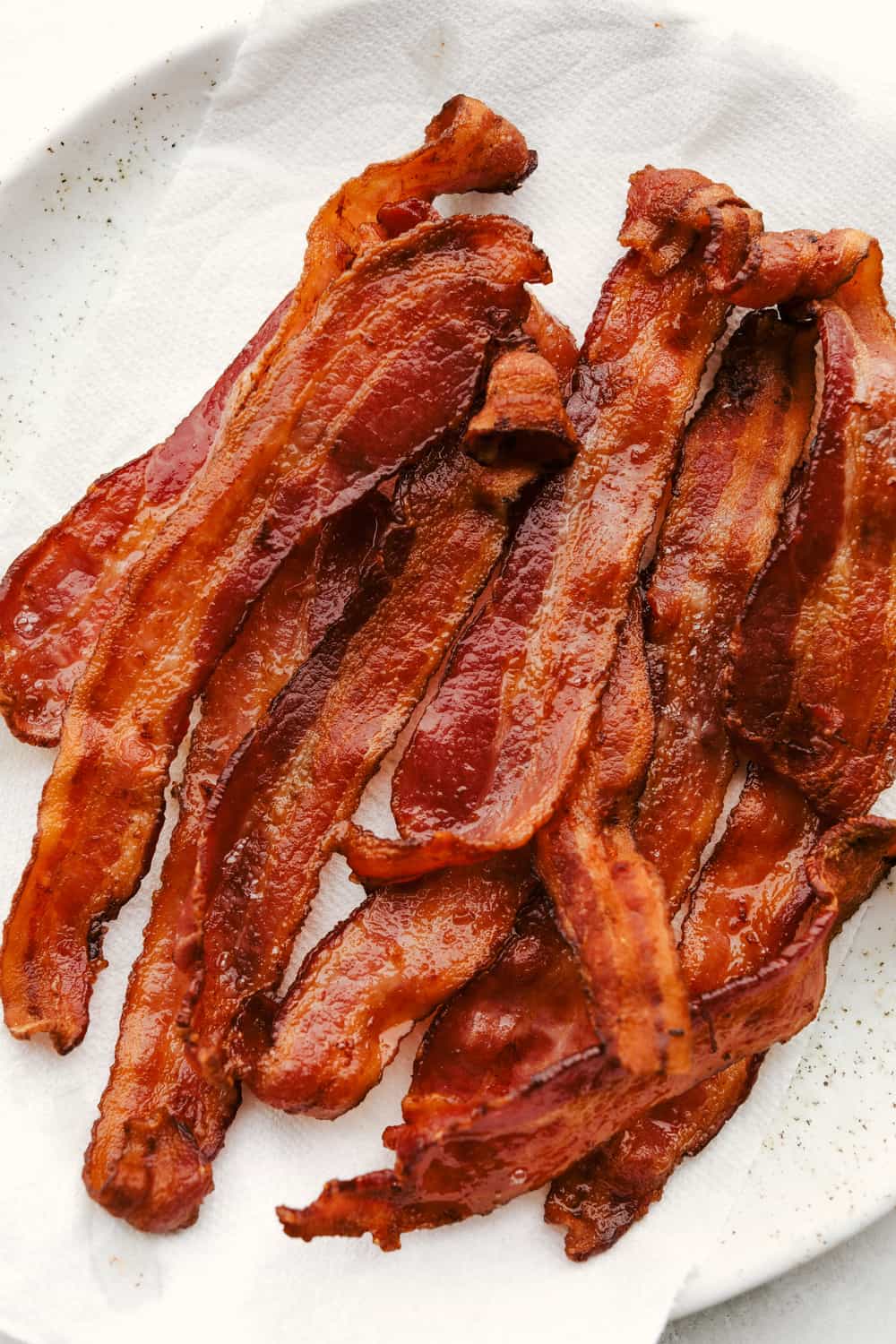 More Air Fryer Recipes to Love
Cooking food in the air fryer will change everything! It's quicker, everything is crispier, healthier, juicer, and just plain better. Try these recipes and see for yourself.
Pin this now to find it later
Pin It
Perfect Air Fryer Bacon
Perfect Air Fryer Bacon is crisp, full of flavor and ready in 10 minutes! No more waiting forever for bacon to cook or getting half of it raw, the other half burnt. It's just perfect every time.
Instructions
Take 5 strips of bacon and place in a single layer in the air fryer basket.

Turn air fryer to 360 degrees and cook the bacon for 8-10 minutes. Check the bacon at 5 minutes and rearrange if needed. Continue to cook until desired crispiness.

Remove the bacon from the air fryer and place it on a paper towel lined plate.
Nutrition
Calories:
92
kcal
Carbohydrates:
1
g
Protein:
3
g
Fat:
9
g
Saturated Fat:
3
g
Cholesterol:
15
mg
Sodium:
146
mg
Potassium:
44
mg
Vitamin A:
8
IU
Calcium:
1
mg
Iron:
1
mg
Nutrition information is automatically calculated, so should only be used as an approximation.