This website may contain affiliate links and advertising so that we can provide recipes to you. Read my disclosure policy.
Quick 45 Minute Cinnamon Rolls are made with homemade dough filled with ground cinnamon, and a brown sugar mixture rolled and baked in less than an hour. Drizzle a sweet glaze over the top, making this the VERY BEST breakfast!
Fluffy and soft cinnamon rolls taste even better than Cinnabon and are ready in just 45 minutes! Try these strawberry cinnamon rolls, these delicious overnight cinnamon rolls, and of course, these tasty caramel apple cinnamon rolls. There are so many delicious ones to try!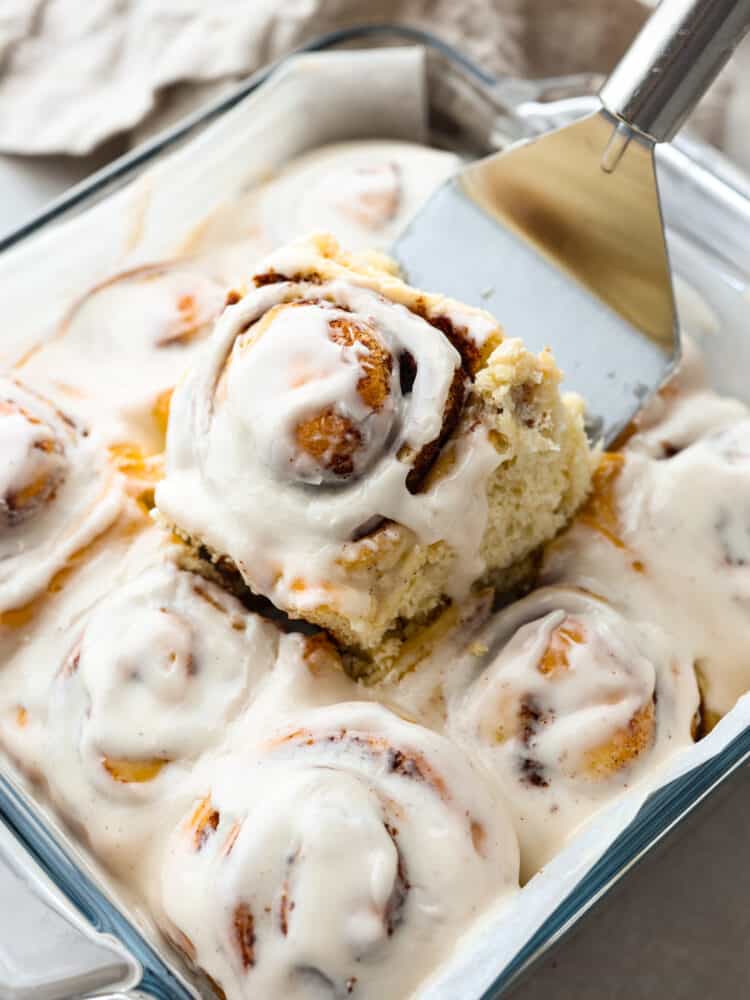 A Reader's Review
Thank you for sharing this recipe. Just tried it. First time I've ever made cinnamon rolls from scratch. Very easy and quick to make. These rolls taste sooo goood!
-Tim
Quick 45-Minute Cinnamon Rolls Recipe
This is the only cinnamon bun recipe you will ever need! These cinnamon rolls are Incredibly soft, fluffy, and ready in just 45 minutes. And no, they are not made with pre-made or canned dough. The dough is made entirely from scratch and rises super fast, thanks to my oven-proofing method. You basically make the dough and let it rest for just 5 minutes. Then, you roll and cut the cinnamon rolls and let them rise in a warm, preheated 200-degree Fahrenheit oven.
They will rise in just 20 minutes and are then ready for baking. You then turn on the oven to 375F and bake for 15 minutes, and that's pretty much it! The result is soft and fluffy cinnamon rolls that are out of this world. Top with my easy glaze, and enjoy these warm rolls right out of the oven!
What you need to make Quick 45 Minute Cinnamon Rolls
Don't let the ingredient list scare you! Most of the ingredients are right in your refrigerator and pantry. These cinnamon rolls come together quickly and easily in just a few simple steps.
Dough
Flour: This adds thickness and combines it all together.
Sugar: You need sugar for a sweet taste.
Salt: The salt adds just enough to help the yeast rise.
Instant Yeast: This makes it so that your dough can rise at a quicker pace.
Water: Water softens the dough and creates a sticky, gooey texture.
Milk: You can use whatever milk you have on hand. I used one percent milk, which gave these a creamy and smooth texture with a hint of flavor.
Butter:

I used unsalted butter in this recipe.

Large Egg: The egg will combine it all together.
Filling
Butter: The butter is melted and used to combine the cinnamon and brown sugar tougher.
Cinnamon: You can't have a cinnamon roll without cinnamon!
Brown Sugar: I love how this brings a little sweetness to the cinnamon rolls.
Glaze
Powdered Sugar: It dissolves quickly and makes this icing glaze come together.
Vanilla Extract: A splash of vanilla makes the perfect blend of icing and tastes SO good!
Milk: This combines with

powdered sugar to form the glaze.
How to Make Quick 45-Minute Cinnamon Rolls
These cinnamon rolls are SO good and melt in your mouth. Trust me! These cinnamon rolls will not last long and are always a huge hit! Watch the glaze fall into the cracks and in-between the cinnamon rolls getting ooey-gooey.
Dough
Mix and knead: In a large bowl, mix the flour, sugar, salt, and yeast until evenly dispersed. Set aside. In a small microwavable bowl, heat the water, milk, and butter together in the microwave until the butter is melted (about 30-45 seconds). Stir the butter mixture into the flour mixture. Add the egg and knead with a hand or stand mixer for 3-4 minutes or until the dough is no longer sticky. Place in a lightly greased bowl and let rest for about 5 minutes.
Preheat oven: Preheat the oven to 200 degrees and turn it off after 10 minutes or just before placing rolls in the oven.
Filling
Roll and add to pan: After the dough has rested for 5 minutes, roll it out in a 15×9 inch rectangle. Spread the softened butter on top. Mix the cinnamon and sugar and sprinkle it all over the dough. Roll up the dough tightly and cut it into 9 (large) even pieces. Place in a lightly greased 9-inch or square pan (or cut into 12 small pieces and place in a 9×13 pan) and lightly cover with aluminum foil or plastic wrap.
Let the roll rise in the oven, then bake: TURN OFF the oven and place the cinnamon buns in the oven to rise for 20 minutes. Keep the buns in the oven (REMOVE THE FOIL OR PLASTIC) and turn on the oven to 375F. Bake the cinnamon rolls for 15-20 minutes or until golden. Remove from oven and top with glaze.
Glaze
Combine and Drizzle: Mix the powdered sugar, vanilla, and 2 Tablespoons milk together until smooth and lump-free. Drizzle over warm rolls.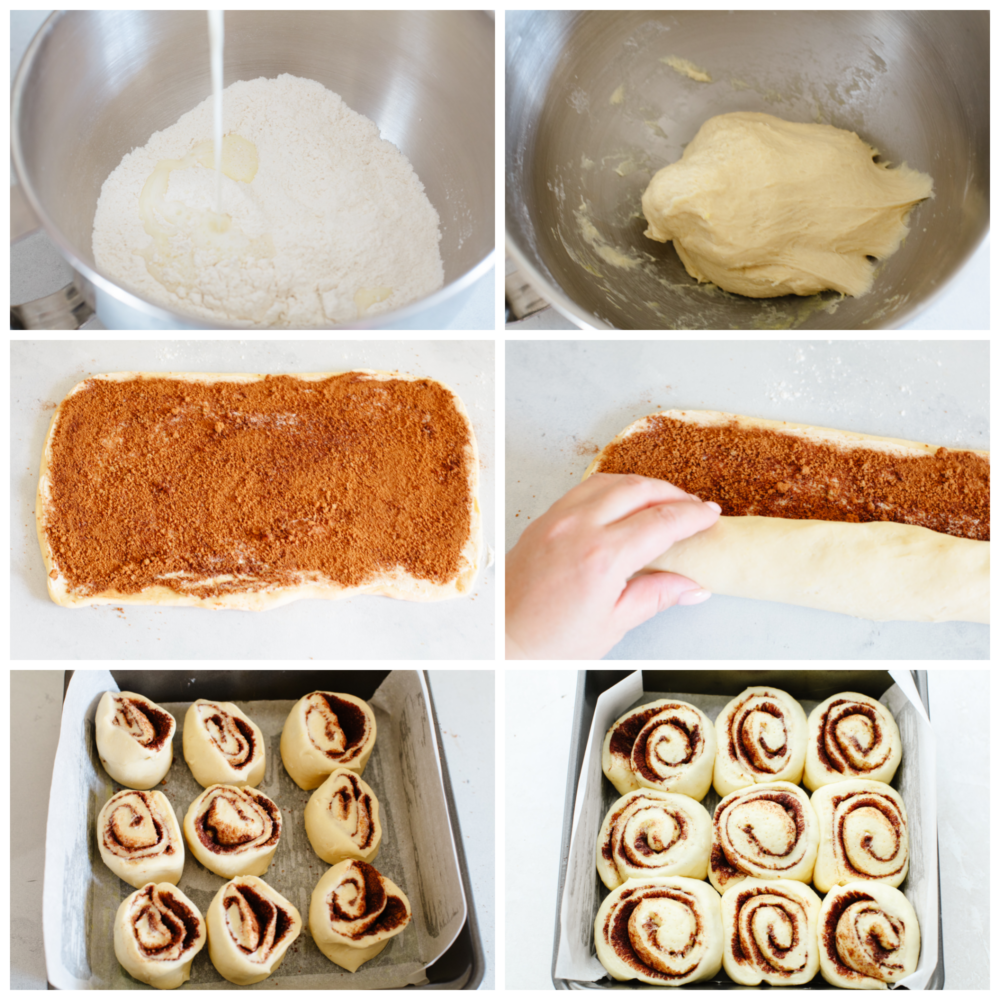 Tips for Making Quick 45-Minute Cinnamon Rolls
There are several tips for making quick 45-minute cinnamon rolls, but simply following the recipe is straightforward and will help make the best of the best cinnamon rolls! Watch how easily these cinnamon rolls come together.
Dough:
Liquids: Any liquid, like water or milk, should all be warm to keep the yeast active.
Rising the dough: For a quicker rise, turn the oven to 200 degrees Fahrenheit. Once it reaches 200 degrees Fahrenheit then turn the oven off and let the dough rise in the oven.
Yeast: It is best to use active dry yeast. You will want to make sure it is fresh too. If it is old, it doesn't work as well, and your cinnamon rolls may turn out flat.
Proof the yeast: You can proof the yeast by simply adding water, yeast, and sugar to it. You can tell good yeast by it being foamy after dissolving in the mixture. If it is not foaming, discard that yeast mixture. Your cinnamon rolls will not rise.
Rolls:
Rolling out the Dough: The thinner you roll out your dough, the more layers and rings it will have rolled up.
Rolled Dough: After the dough is rolled into a log shape, use non-flavored dental floss to help you cut the cinnamon rolls. The dental floss is a clean cut and helps the rolled dough from flattening and squishing.
Spray your wrap: When letting your cinnamon rolls raise or anytime they are covered, spray the aluminum foil or plastic wrap before covering your cinnamon rolls. This will avoid the covering from sticking to the cinnamon rolls.
Filling Variations: Try pumpkin pie spice to the mixture or use fruit fillings to add a little more flavoring.
Using a Bread Machine: This will work in a bread machine too! Simply add all dough ingredients into the bread machine. Set the bread machine on the dough cycle. Once it is done, let the dough rise for another 10 to 15 minutes.
Glaze:
Storing the Icing: go ahead and make the icing ahead of time if you need to. Just keep it covered in the refrigerator for up to 3 days.
Icing Variations: Change the flavoring on the icing by adding either almond extract or cinnamon to add a little different flavor to your cinnamon rolls.
Frosting: Let your cinnamon rolls cool for a couple of minutes, but it is best to frost while they are hot, and the frosting can melt on them into each of the layers.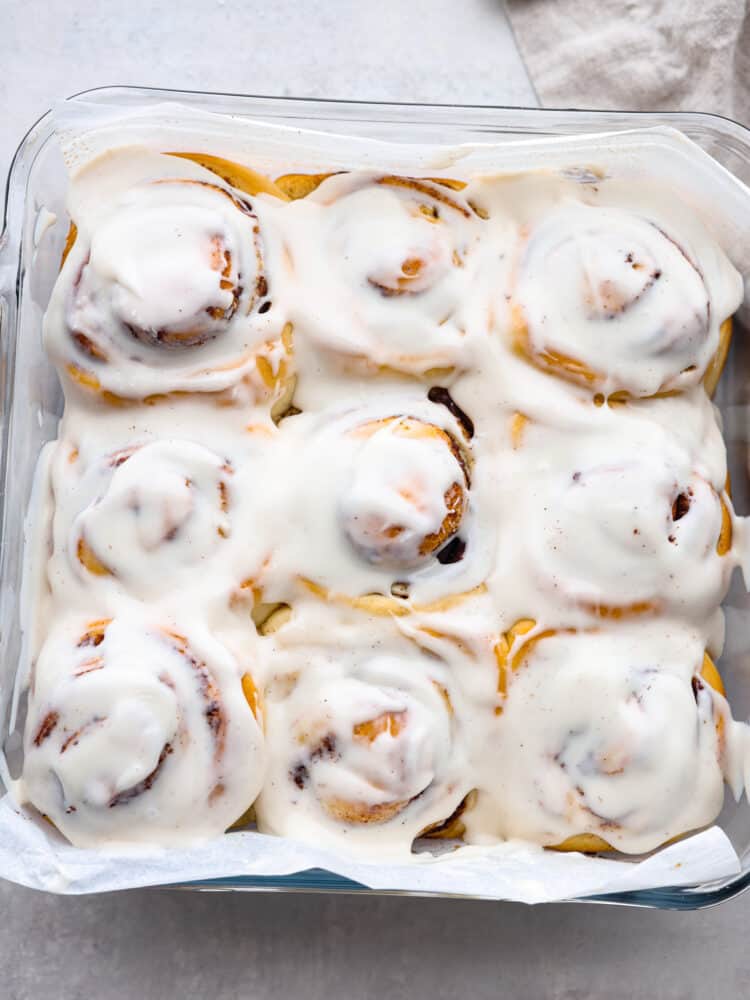 45 Minute Cinnamon Rolls FAQs
Here are a few questions that you may have when making cinnamon rolls. Hopefully, these frequently asked questions and answers can help make these cinnamon rolls easier for you.
What type of yeast should I use? It is best to use high active yeast when making cinnamon rolls. Traditional yeast does not rise quickly enough compared to the high active yeast.
What flour is best? All-Purpose flour is best for baking. If you need to use bread flour or gluten-free flour, that will work as well. The texture and taste may be altered a bit using anything besides All-Purpose flour.
Why didn't my cinnamon rolls rise? There are a lot of variables on this question. To start, it could simply be your yeast. It may be old and expired and not functioning properly for yeast. If your liquids were not hot when combining could also dilute and kill the yeast. There may not have been enough time for them to rise. If you are baking in the wintertime, you may need a little more time to rise the dough since it is colder than normal. To help, place them in the oven, by a window with sunlight, or simply give them a little more time than an hour.
Sticky Dough: Add a tablespoon of flour until it is no longer sticky on your fingers.
Why do my cinnamon rolls seem to fall after baking? Kneading too much can cause the cinnamon rolls to fall apart after baking. I like to use a mixer to do most of the work and prevent me from over-kneading the dough.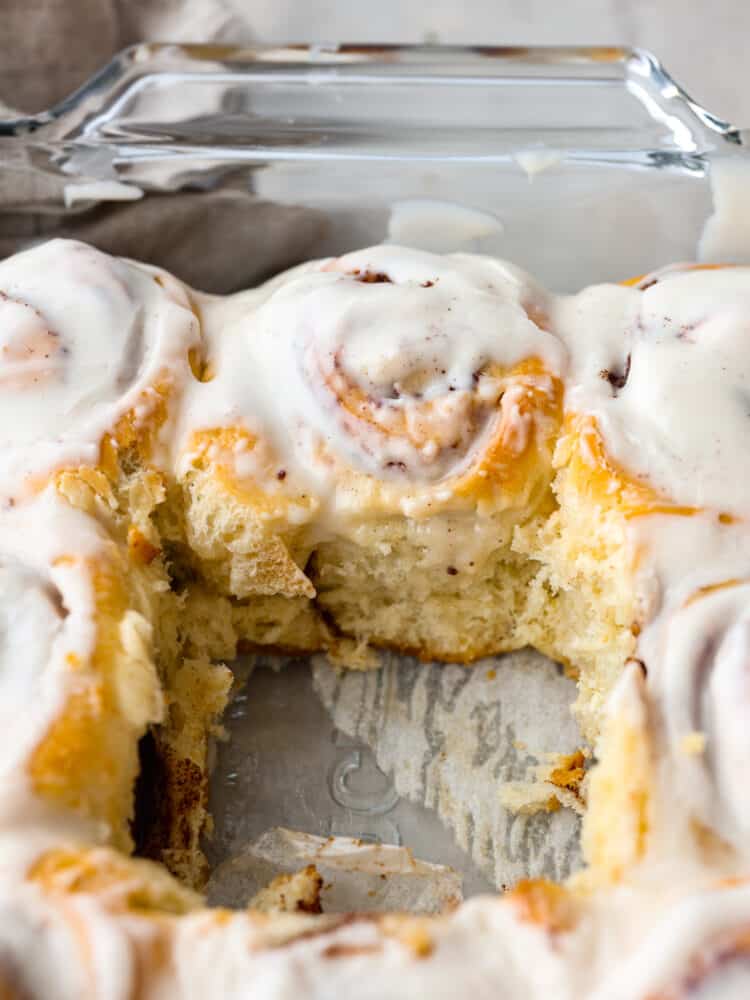 How to Store Leftover Cinnamon Rolls
Quick 45-minute cinnamon rolls don't last long! I haven't had a chance to even freeze these or store more than 24 hours. They are that good and always a family favorite.
Bake Ahead of Time: This is always a great idea when making the next day for breakfast. Simply follow the instructions before baking your cinnamon rolls. Once sliced and in a pan to rise. After they have risen, make sure they are covered and placed in the refrigerator for up to 24 hours. Before baking your cinnamon rolls, remove them from the refrigerator and let rise once again for about one hour. Then follow the instructions and bake accordingly.
To Freeze: These are great for freezing. The glaze can either be left off until warming up or leave it on while it is in the freezer. Following the cinnamon roll instructions, bake, frost, or freeze your glaze separately. Then let cool, cover, and place as a pan or individually wrapped cinnamon rolls in the freezer for up to 1 month. When ready to eat, let your cinnamon rolls thaw overnight on the countertop or refrigerator.
To Reheat: When ready to warm up, place in the oven for best results and warm up on low until the frosting has melted through, or use a microwave to warm up in 15 to 30-second intervals. Try not to overheat in the microwave, leaving these overcooked and dry.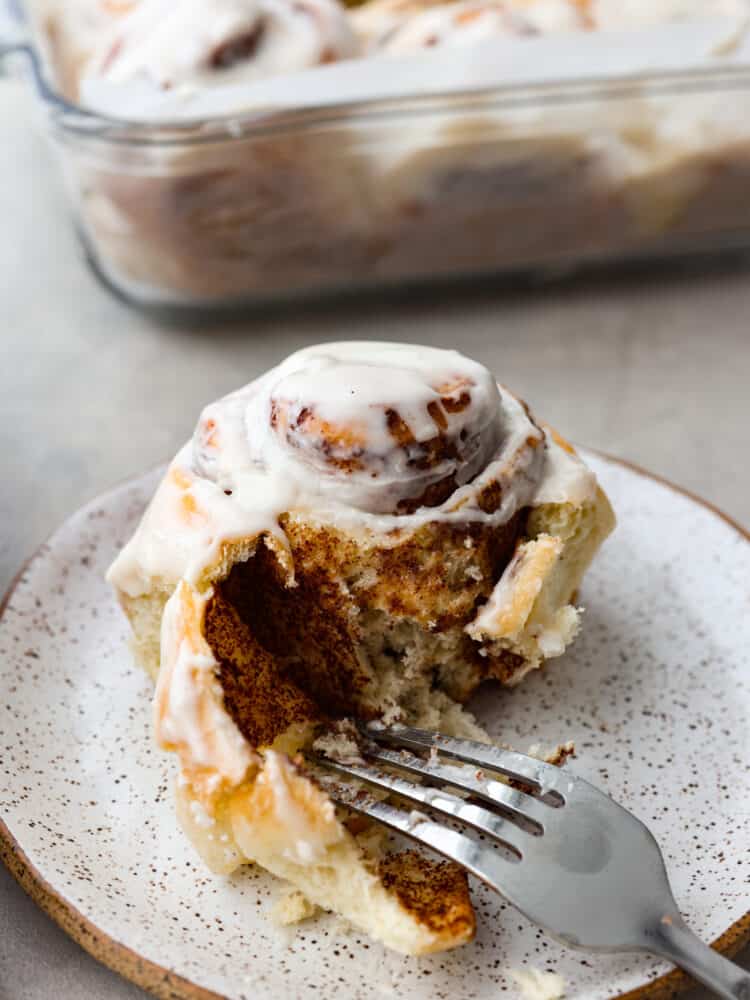 Pin this now to find it later
Pin It
Quick 45 Minute Cinnamon Rolls
Quick 45 Minute Cinnamon Rolls is made with homemade dough, filled with ground cinnamon and a brown sugar mixture rolled and baked in less than an hour. Drizzle a sweet glaze over top making this the VERY BEST holiday breakfast!
Instructions
Dough
In a large bowl whisk the flour, the sugar, salt, and yeast together. Set aside.

In a small bowl combine the water, milk, and butter together and heat in the microwave until the butter is melted, about 30-45 seconds.

Use a fork to stir the liquid into the dry ingredients. Add the egg and knead by hand or with a stand mixer for 5-6 minutes, until the dough is no longer sticky. Form the dough into a ball and return to the bowl. Cover and let rest for 5 minutes.

Turn on the oven to 200 degrees fahrenheit. Spray a 9×9 pan with cooking spray and set aside.
Filling
In a small bowl, combine the brown sugar and cinnamon.

Once the dough has rested, dust a clean surface lightly with flour and roll out the dough into a 15×9 inch rectangle.

Spread the softened butter over the dough and dust evenly with the cinnamon sugar mixture. Roll the dough up tightly and cut into 9 even pieces.

Place the rolls into the prepared pan and cover with plastic wrap or aluminum foil.

Turn off the warmed oven and place the pan of rolls inside. Let them rise for 20 minutes. After 20 minutes have passed, remove the foil or plastic and drizzle the ¼ cup of cream evenly over the top of the buns.

Return the buns to the oven and turn the oven to 375 degrees fahrenheit. Bake for 15-20 minutes, until the tops of the buns are golden brown.
Cream Cheese Glaze
Beat the cream cheese, powdered sugar, vanilla, 2 tablespoons milk together until smooth. Add more milk as needed. Let the rolls cool for 20 minutes or so before spreading the glaze over the top.
Notes
Updated on July 22, 2022
Original Posted on May 25, 2016
Nutrition
Calories:
319
kcal
Carbohydrates:
55
g
Protein:
5
g
Fat:
9
g
Saturated Fat:
5
g
Polyunsaturated Fat:
1
g
Monounsaturated Fat:
2
g
Trans Fat:
0.3
g
Cholesterol:
42
mg
Sodium:
275
mg
Potassium:
90
mg
Fiber:
2
g
Sugar:
24
g
Vitamin A:
286
IU
Vitamin C:
0.1
mg
Calcium:
47
mg
Iron:
2
mg
Nutrition information is automatically calculated, so should only be used as an approximation.
Save