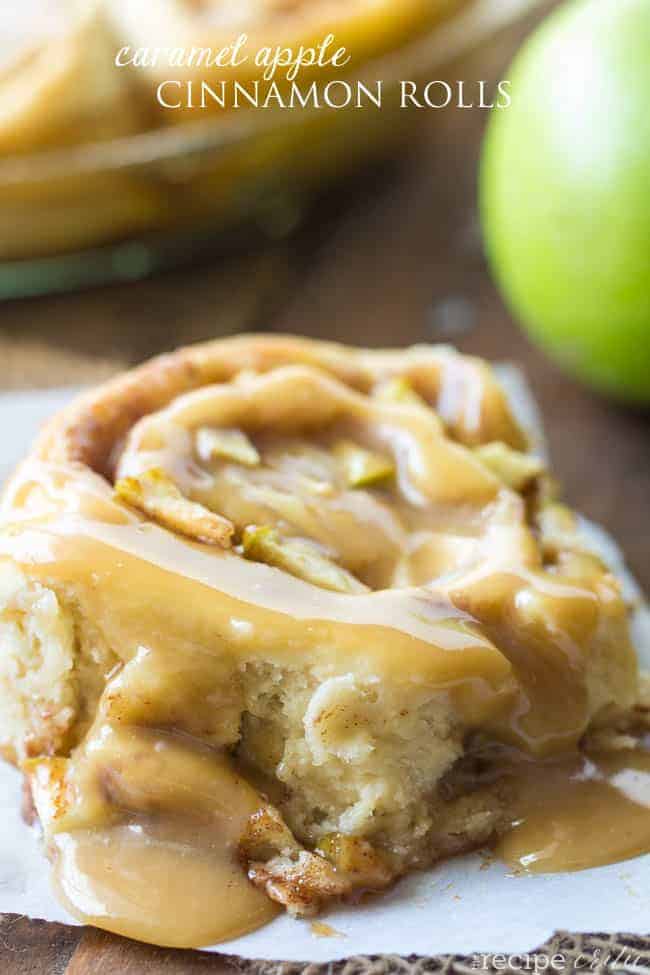 We are heading into my favorite time of the year!  I can feel it coming with the cooler weather and the leaves are starting to change.  I love fall baking and I especially love anything that has to do with apples.  And caramel.  And cinnamon rolls.  When these three things are combined….  you have one amazing treat!
This is my favorite dough recipe.  It is perfect for beginners and so easy to make.  You can have the cinnamon rolls in the oven and done within an hour and ready to devour.
Just look at these beauties fresh out of the oven.  They filled my house with an amazing cinnamon apple smell.  I couldn't wait to gobble them up!

I couldn't decide if I wanted to make a cream cheese caramel frosting or go for the real caramel glaze on top.  I chose the real caramel.  And I was so glad I did!  It tasted just like biting into a caramel apple.  The soft caramel on top of these ooey gooey cinnamon rolls was divine!  And the fresh baked apples right inside the cinnamon roll.  OMG
MY LATEST VIDEOS
MY LATEST VIDEOS

There is really no possible way that you can make these and not fall in love.  I couldn't believe the delicious caramel on top and I absolutely loved every ooey gooey bite!  Give them a try.  You will not be disappointed!
Caramel Apple Cinnamon Rolls
A quick and easy cinnamon rolls stuffed with real apples and drizzled with caramel. Ready within an hour!
Ingredients
Dough Ingredients:
3¼ cups flour
2 tsp instant yeast
¼ cup white sugar
½ teaspoon salt
1 egg
¼ cup water
¾ cup milk
⅓ cup butter, softened
Filling Ingredients:
2 Granny Smith Apples, chopped
¾ cup brown sugar, packed
1 Tablespoon cinnamon
¼ teaspoon nutmeg
5 Tablespoons butter, softened
Caramel Glaze:
¼ cup butter
½ cup brown sugar
¼ cup sweetened condensed milk
Instructions
To make the dough: In a small saucepan over medium low heat add the milk and butter. Stir until the butter has melted and remove from heat. Let stand until luke warm temperature.
In a large mixing bowl whisk together 2¼ cups flour, yeast, sugar, and salt. Add to the stand mixer with dough hook attached. (You can also make this by hand, just knead until smooth once all of the ingredients are added.) Add the egg and water and mix until just starting to combine. Slowly add in the milk mixture and 1 cup of flour until the dough starts to form and become smooth. Let the dough rest for 10 minutes.
On a lightly floured surface, roll the dough into a large 9×15 square. About ¼-1/2 inch thick.
In a small bowl combine the cinnamon, nutmeg and brown sugar for the filling. Spread the softened butter onto the dough keeping it about a ½ inch away from the edge. Sprinkle the cinnamon and brown sugar on top of the softened butter. Sprinkle with chopped apples.
Roll up the 15 inch side into a log and pinch the seams. Cut into 9-12 slices depending on how thick you want your cinnamon rolls. Place in a greased 9×13 inch pan or 9 inch pie pan. and cover with a damp cloth and let rise for 30 minutes.
Preheat oven to 375 degrees. Bake for 30 minutes or until just golden brown on the tops.
To make the caramel glaze: In a medium saucepan, melt the butter and brown sugar until sugar dissolves. Add the sweetened condensed milk and bring to a boil over medium high heat for about 2-3 minutes. Pour over warm cinnamon rolls.