This website may contain affiliate links and advertising so that we can provide recipes to you. Read my disclosure policy.
This absolutely perfect chicken marinade will make your chicken so tender and juicy you will be amazed!!  This will be the one recipe that you use on repeat all summer!
Since you guys loved my steak marinade so much, I made this perfect chicken marinade recipe for you!  This recipe was created from my Greek Dressing which makes the flavor of this chicken unbelievable!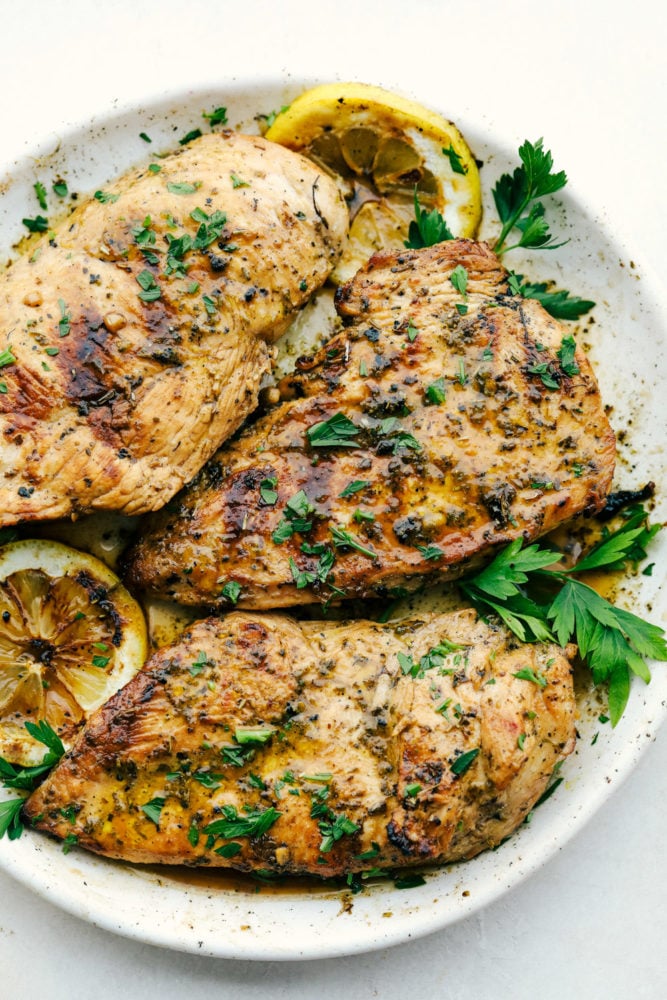 Absolutely Perfect Chicken Marinade
I have found that clean eating helps me so much! I feel and look better!  Although, sometimes when I'm trying to eat healthy it seems like meals can get boring with just a meat and vegetable.  However, when my chicken is filled with this much flavor I don't feel like I am sacrificing to eat healthy at all.  Whether I cook it on the grill, in the oven, or on the stove top, I am able to achieve a delicious meal with this marinade every time!
Trust me when I say this chicken marinade recipe is going to totally change your chicken game.  The chicken recipes you love will be so much better! No more dry and flavorless chicken.  This marinade is so simple and will be a go-to for sure!
Marinade Ingredients:
All of these ingredients work so well together to create a well balanced flavor in your chicken.  Like any good marinade, you will find an acid (vinegar), an oil (olive oil), and a combination of herbs and spices for amazing flavor.  A bonus is that many of them will be ingredients you already own!
Olive oil: Keeps the chicken extra moist and juicy
Red Wine Vinegar: Breaks down the fibers in the chicken to make it tender.
Garlic Cloves: Fresh is best, but using a jar will work too.
Italian Seasoning: The Italian seasonings blend is such a classic spice combo that will go with any meal.
Lemon Juice: I love using a bit of citrus to freshen up the flavor.
Soy Sauce: Adds saltiness and flavor.
Dijon Mustard: Great spice for the chicken.
Worcestershire Sauce: Adds great flavor and more saltiness.
Salt and pepper: To taste!
Combining the Marinade:
Making a marinade is so simple you will be amazed. And even better, you don't have to use ANY dishes!! You will add the ingredients directly into a large seal-able bag and add your chicken.  And that's it.  So simple and so worth it!
Combine: Place all marinade ingredients into a gallon sized bag.
Add chicken to marinade: Carefully coat the chicken in the marinade for at least one hour or overnight.
Remove chicken: After a minimum of 1 hour, remove the chicken from marinade and discard.
The Best Ways to Cook Marinated Chicken:
The good news is when cooking marinated chicken you have so many great options for cooking.  We love to use the grill over the summer at my house, but I have listed below directions for stove top or baking in the oven as well.  Whatever option you choose, this absolutely perfect chicken marinade will take your chicken to the next level!!
Baking Instructions: Place marinated chicken on a shallow baking pan in a 400 degree oven for 22-25 minutes.  Chicken needs to reach an internal temperature of 165 degrees.
Stove top: Grease a skillet and heat to medium-high heat.  Cook for 10 minutes on each side.  Use a meat thermometer to check for doneness.
Grill: Place on cleaned and oiled grill rack at medium heat for 9-10 minutes depending on the thickness of your chicken.  Turn chicken over halfway through cook time.  Once internal temperature reaches 165 degrees, remove from the grill.
Slow Cooker: Add marinated chicken to your slow cooker.  Then cook on low for 6 to 8 hours.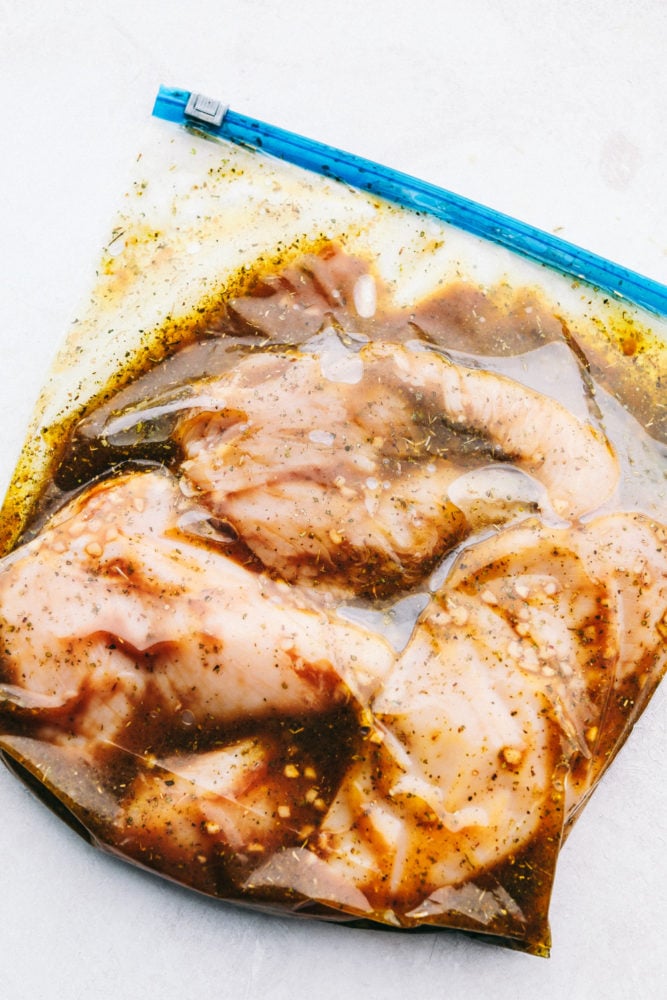 Helpful Questions About Marinating Chicken:
When I first started creating a perfect chicken marinade recipe I had so many questions about how to use it! I mean a lot of questions!  I know many of you may be wondering the same things, so I have shared some of the things I have learned when cooking using this amazing marinade.
How long do I marinate?  Marinades are effective with as little as 30 minutes of soak time, however I find that an marinating overnight in the refrigerator will make your meal prep feel so much easier the next day and give your chicken the most flavor.
What if I marinate too long?  If chicken is left too long in the marinade it will actually become more dense and tough.  So, be sure to remove the chicken from the marinade before 2 days.
Do you marinate in the fridge?  Always marinate meat in the refrigerator.  Do not marinate at room temperature or outdoors.  Otherwise bacteria can very quickly multiply on your raw meat.
Do I need to poke holes in my chicken before marinating? Use a fork to pierce the chicken breasts all over. This will guarantee that the marinade will soak completely into the chicken to make it juicy.
What type of Chicken do I use? Use whatever types of chicken you prefer — chicken breasts, thinly sliced chicken breasts, chicken tenders, or chicken thighs.  All of these options work fantastic with this marinade.  Chicken tenders and thinly sliced chicken breast will cook much quicker than thick chicken breasts so beware and keep a close eye on cook times.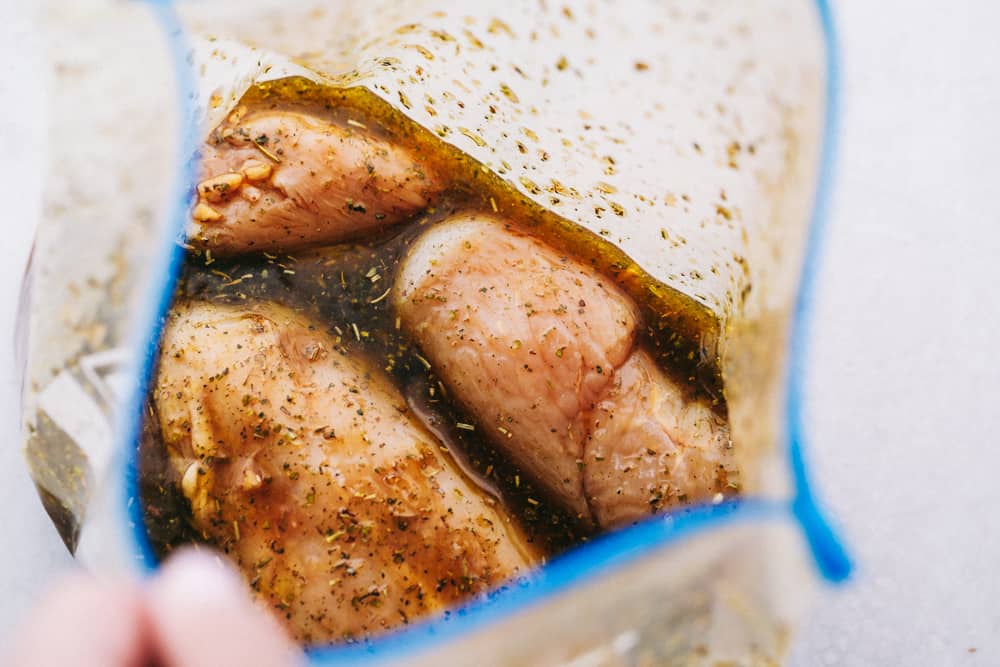 How to Get Soft and Juicy Chicken Every Time:
First of all, always start with a marinade to make your chicken extra juicy and flavorful!  This perfect chicken marinade is made with all the essentials to make your chicken taste amazing and super tender.  In addition to that, I recommend flattening your chicken breasts before marinating and cooking as well to help you navigate cook time and get the most juicy, well-cooked chicken possible.  Finally, I recommend preheating the grill or pan before placing your chicken on it.
Storing Marinated Chicken:
If you do not plan to use the marinated chicken within a few days, then you need to store it in the freezer.  Otherwise, it can be stored in the refrigerator.
To store: Place your chicken in a freezer bag, pushing as much air as possible out before sealing.  Raw, marinated chicken pieces can be stored in the freezer up to 9 months or the refrigerator for just a couple of days.  While cooked chicken can be stored in the freezer for about 2-6 months and the refrigerator for 3-5 days.
To Defrost Frozen Chicken: Place the chicken overnight in the refrigerator.  I find that adding the marinade before freezing my chicken is so helpful.  Then, I can just pull it out when I need it and cook it right away. So quick and easy and delicious!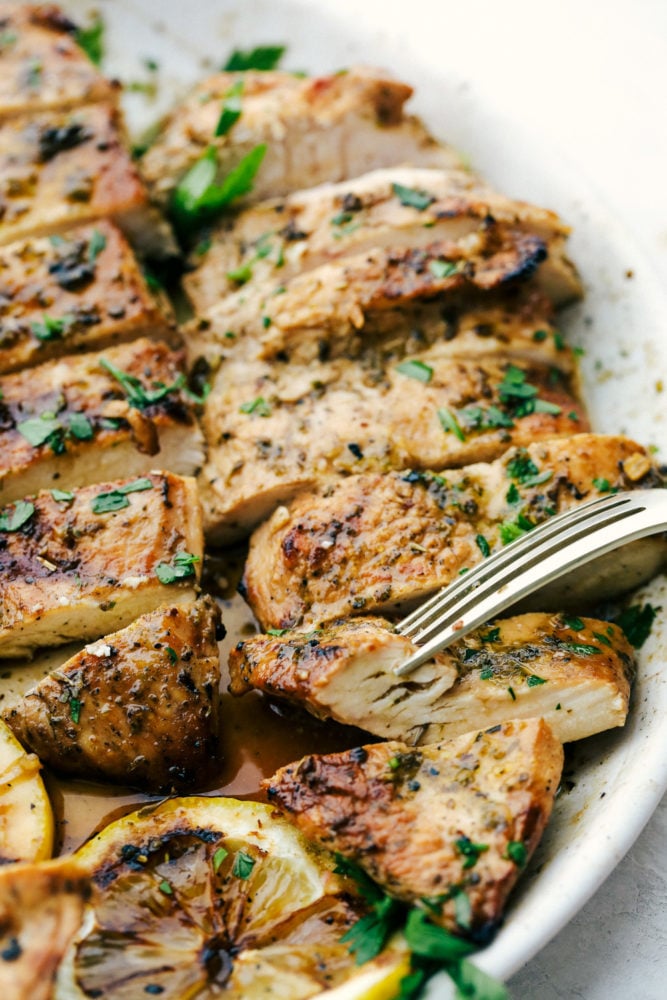 Try More Chicken Recipes!
Pin this now to find it later
Pin It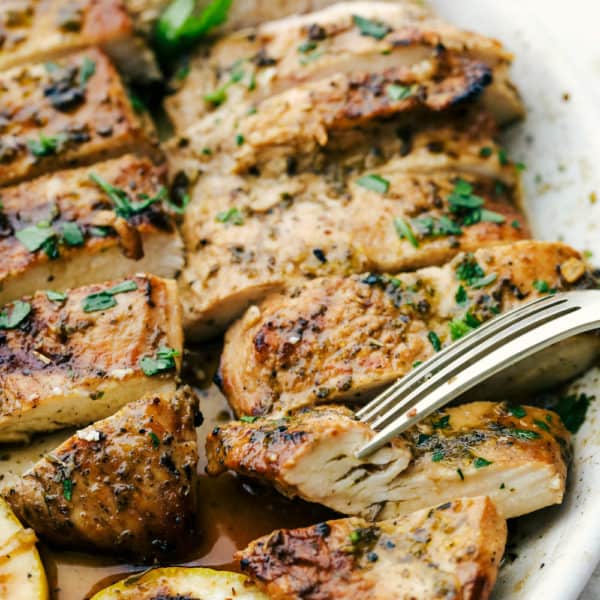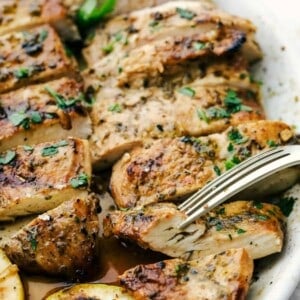 Absolutely Perfect Chicken Marinade
This absolutely perfect chicken marinade will make your chicken so tender and juicy you will be amazed!!  This will be the one recipe that you use on repeat all summer!
Instructions
Combine all ingredients into a gallon sized bag. Add chicken and marinate for at least 1 hour or overnight. Remove chicken from marinade and discard.
Notes
I like to brush the chicken with the marinade a few times during the grilling process.
Nutrition
Calories:
172
kcal
Carbohydrates:
2
g
Protein:
1
g
Fat:
18
g
Saturated Fat:
3
g
Sodium:
374
mg
Potassium:
52
mg
Fiber:
1
g
Sugar:
1
g
Vitamin A:
14
IU
Vitamin C:
2
mg
Calcium:
19
mg
Iron:
1
mg
Nutrition information is automatically calculated, so should only be used as an approximation.