Easy 20 Minute Beef Teriyaki. Tender, juicy and smothered with a homemade teriyaki sauce. So much better than takeout!
Hi guys! It's Kelley back from Chef Savvy! Today I am sharing this Easy Beef Teriyaki! A quick and easy dinner that is ready in under 20 minutes!
I love making my own teriyaki sauce at home. It's just as flavorful, super easy and a lot healthier. I adapted this sauce from my Easy Chicken Teriyaki.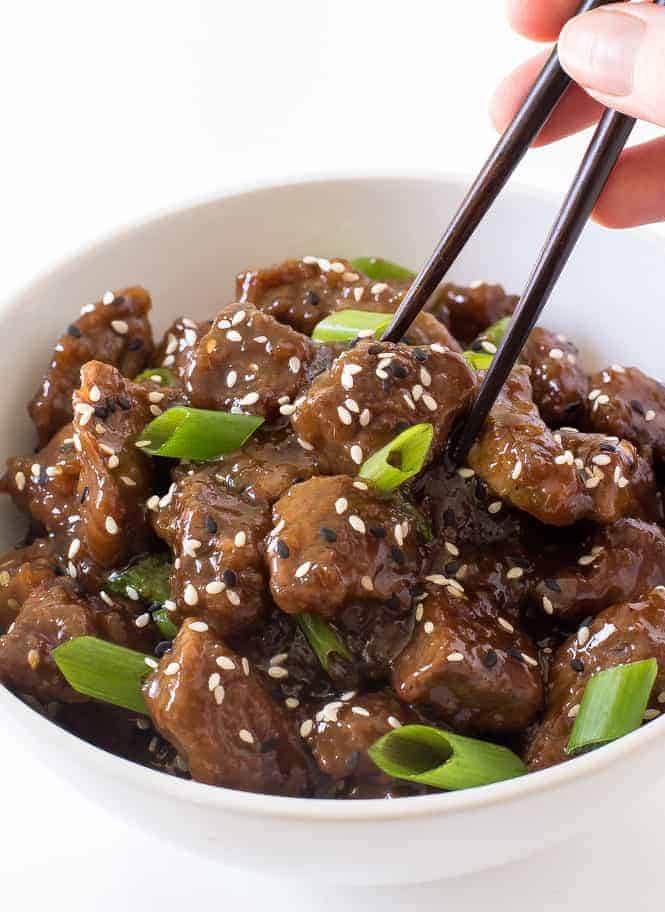 The teriyaki sauce consists of soy sauce, mirin, sesame oil, fish sauce, ginger, garlic and brown sugar. The sauce gets nice and thick with a simple cornstarch slurry (1 teaspoon cornstarch + 1 tablespoon cold water).
I like to serve my Beef Teriyaki over fried rice or noodles. Either way it's awesome. Enjoy!
Easy Beef Teriyaki
Ingredients
1 pound flank steak, sliced against the grain and cut into bite size pieces
¼ cup cornstarch
3 tablespoons oil, divided
1 garlic clove, minced
½ teaspoon ginger, minced
½ cup soy sauce
½ cup mirin
4 tablespoons brown sugar
½ teaspoon sesame oil
a couple of dashes of fish sauce
1 teaspoon cornstarch
1 tablespoon water
Instructions
Toss the beef in the cornstarch and place in the fridge for 10 minutes while you are making the sauce and heating up the oil.
Heat 2 tablespoons of oil in a large skillet.
When the oil is nice and hot add in the steak (I had to do two batches to avoid overcrowding the pan). Sauté until browned on both side, 3-4 minutes. Remove from the pan and set aside.
Add the remaining tablespoon of oil to the same pan.
Add in garlic and ginger and cook for 1-2 minutes.
In a small bowl combine soy sauce, mirin, brown sugar, sesame oil and fish sauce.
Pour the soy sauce mixture into the pan and bring to a simmer and cook for 2-3 minutes.
In a small bowl mix together the cornstarch and water.
Slowly pour in the cornstarch mixture whisking continuously. Continue to cook until your desired thickness.
Add steak back to the pan and toss to coat the beef with the sauce.
Serve immediately with green onions and sesame seeds if desired.
Love this Easy Beef Teriyaki? Here are some more Recipes from Chef Savvy to try!