Super Easy Teriyaki Shrimp. Tender shrimp sautéed in a homemade teriyaki sauce. Takes less than 15 minutes to make!
Hi guys! It's Kelley back from Chef Savvy! Today I am sharing this Super Easy Teriyaki Shrimp! A quick and easy appetizer or dinner.
I love making my own teriyaki sauce at home. It's so much easier to control the sweetness and the salt level. I used the same homemade teriyaki sauce as my Easy Teriyaki Beef Meatballs and my Teriyaki Baked Salmon.
The teriyaki sauce consists of soy sauce, water, ginger, garlic and brown sugar. The sauce gets nice and thick with a simple cornstarch slurry (1 teaspoon cornstarch + 1 tablespoon cold water).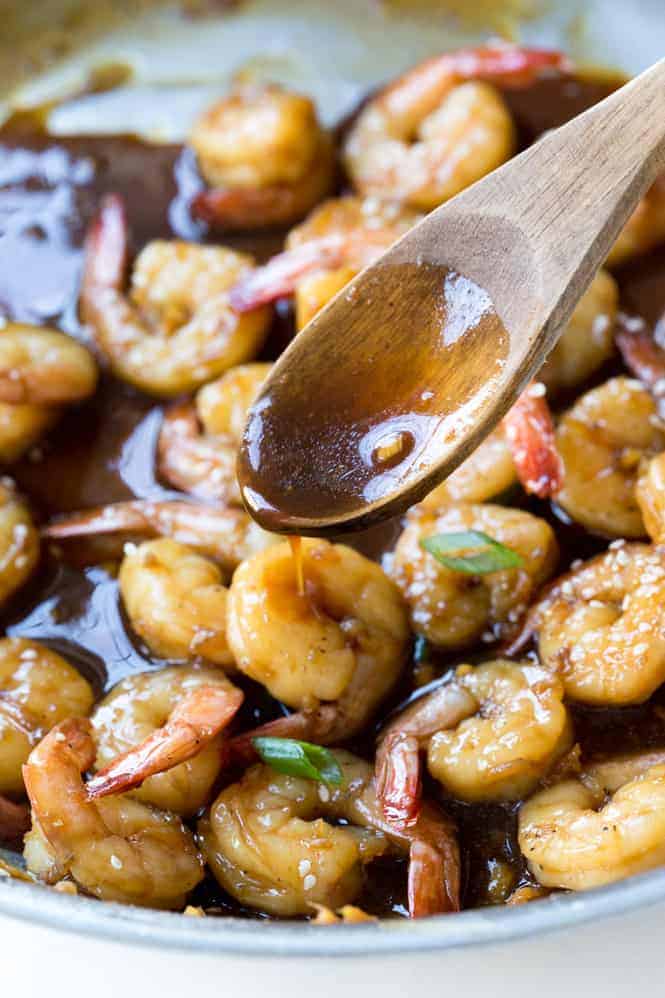 Once the homemade teriyaki sauce is done the shrimp are sauteed in a bit of oil and then tossed in the teriyaki sauce! I love to make extra sauce to serve over rice. Enjoy!
Easy Teriyaki Shrimp
Ingredients
1 tablespoon oil
1 pound large shrimp, peeled and deveined with tails on, if desired
1 clove garlic, minced
½ teaspoon ginger, minced
¼ cup low sodium soy sauce (It is important to use low sodium. I find regular makes the sauce too salty)
⅛ cup water
2-3 tablespoons brown sugar (depending on how sweet you like it)
1 tablespoon rice wine vinegar
1 teaspoon sesame oil
1 teaspoon cornstarch
1 tablespoon water
green onions for garnish, if desired
sesame seeds for garnish, if desired
Instructions
Add garlic, ginger, soy sauce, water, brown sugar, vinegar and sesame oil to a medium saucepan.
Bring to a simmer and cook for 5 minutes.
In a small bowl whisk together cornstarch and water.
Slowly whisk in the cornstarch mixture into the saucepan.
Simmer whisking constantly until sauce has thickened up (about 1-2 minutes).
Meanwhile, heat olive oil in a large skillet.
Add shrimp and saute until fully cooked.
Add teriyaki sauce to the shrimp and stir to coat.
Serve immediately with green onions and sesame seeds, if desired.
Love this Easy Teriyaki Shrimp? Here are some more Seafood Recipes from Chef Savvy to try!