Hey everyone! Chelsea back from Chelsea's Messy Apron! With all the delicious cold treats that we enjoy during the summer (ICE CREAM!), I'm always looking for some way to get something a little healthier in that is still a cool refreshing treat.
These pops are just the thing! They are made with Greek yogurt, lots of fresh fruit, and a healthy sweetener of your choice. I used trivia, but you could use honey or an alternate sweetener. Depending on how sweet your fruit is, you could even leave it out!
These pops are made SUPER easy. Just blend up the ingredients, put them in a popsicle maker, and freeze.
They are a huge hit with my little boy — he's been asking for one pretty much every single day! Enjoy 🙂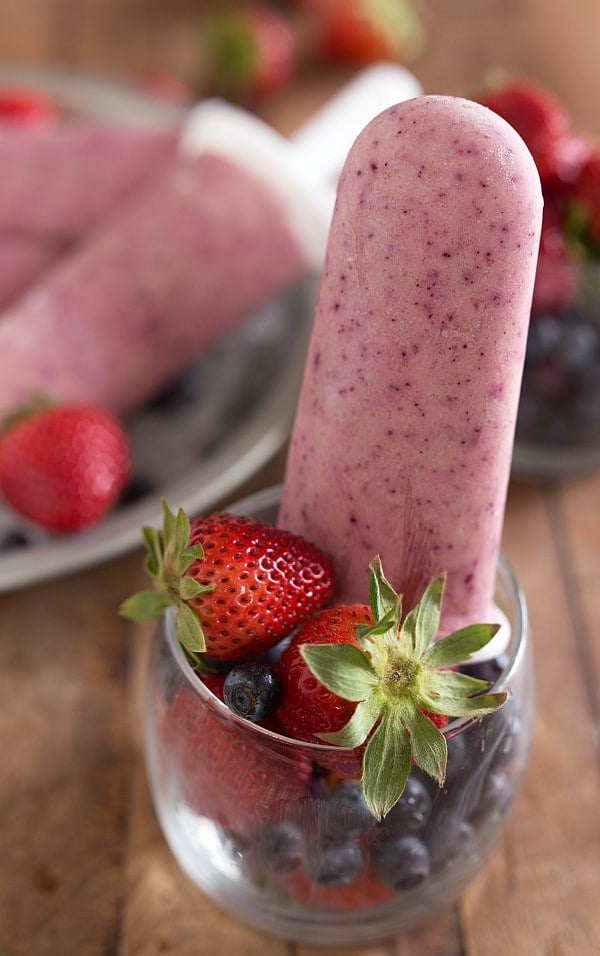 Greek Yogurt Fruit Pops
Serves:
7-8 popsicles depending on the size of your mold
Ingredients
2 cups fresh or frozen fruit (I used 1 banana, strawberries, and blueberries)
2 cups low-fat or fat-free vanilla flavored Greek yogurt
1 and ½ teaspoons vanilla extract
2 teaspoons truvia, or sub another sweetener
Instructions
In a blender or large food processor, combine all of the ingredients.
If you have truvia, that's what I used, but any other sweetener will work as long as you make sure to "scale it." Truvia is more concentrated, so you will need more of plain sugar or honey - about 2-3 tablespoons.
Add any sweeteners to taste, because depending on the fruit you used it may be sweet enough without sweetener.
Pour the completely smooth mixture into a prepared popsicle mold or paper cups (and use a popsicle stick if going the paper cup route).
Place into the freezer until completely set up. Return any leftovers to the freezer.
More ice cream treats from Chelsea's Messy Apron:
EASY Mint-chocolate brownie oreo ice cream bars
Easy Lightened-Up Ice Cream Sandwich Cake