I created these after I made my
peanut butter bars
. I wanted to switch it up a little. I took them to a girls camp and all the leaders kept sneaking in the food tent to eat them. They were a favorite that year. This cookie recipe is probably one of the best that I have tried because the cookie part is so soft! It stays soft for a couple days after you make them!
I have had an obsession lately with mini things. They are easier to serve and it never kills anyone to eat just one and won't put you into a sugar coma. I have been seeing a similar nutella recipe floating around on pinterest lately. It got me thinking about this recipe that I make. Which then got me thinking about all of the endless possibilities of these. Getting the ingredients at the store I stared at the candy thinking you can put your favorite treat in these! Nutella, PB cups, rolos, twix, snickers, kisses…. anything you are craving that day. And it slightly melts the chocolate so when you make that first gooey bite into this perfect cookie, you think you have died and gone to heaven!
Phew…. that was a lot of thinking today!
Rating: 5 stars  Difficulty of Recipe: 2 stars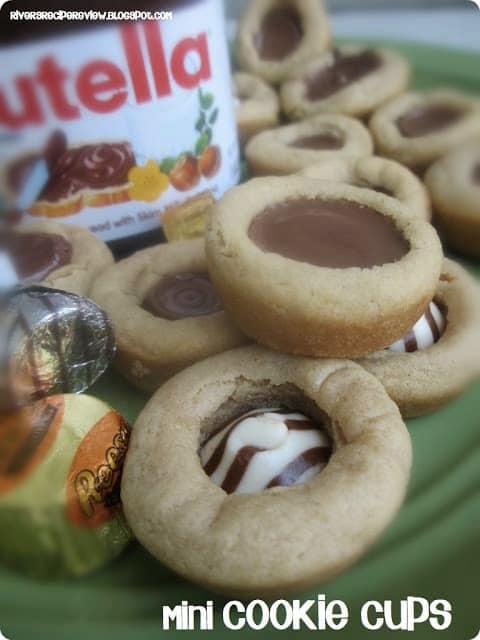 Ingredients:
1 3/4 cups all-purpose flour
1/2 teaspoon salt
1 teaspoon soda
1/2 cup butter softened
1/2 cup white sugar
1/2 cup peanut butter
1/2 cup packed brown sugar
1 egg beaten
1 teaspoon vanilla
2 tablespoons milk
1 bag mini Reese's Peanut Butter Cups
1. Preheat Oven to 375. Unwrap the chocolates and have them ready.
2. Sift together the flour, salt, and baking soda, set aside.
3. Cream together the butter, sugar, peanut butter, and brown sugar until fluffy. Beat in the egg, vanilla, and milk. Add the flour mixture. Mix well.
4. Shape into balls and place in ungreased mini muffin pan.
5. Bake 6-8 minutes (I bake for 6). Remove from oven and immediately press a mini PB cup into each ball. Cool and carefully remove from pan.
(For the Nutella, I made a small hole and then filled it up.)