This website may contain affiliate links and advertising so that we can provide recipes to you. Read my disclosure policy.
This Meatloaf is tender, juicy and packed with flavor. It's the perfect easy, affordable comfort food! With a balsamic brown sugar glaze it is hands down the best meatloaf ever.
When you serve a delectable dish like meatloaf, what you serve with it is almost just as important. So that means the classics, Dad's Famous Mashed Potatoes, Garlic Butter String Beans and Copycat Texas Roadhouse Rolls! Now that's what I call dinner!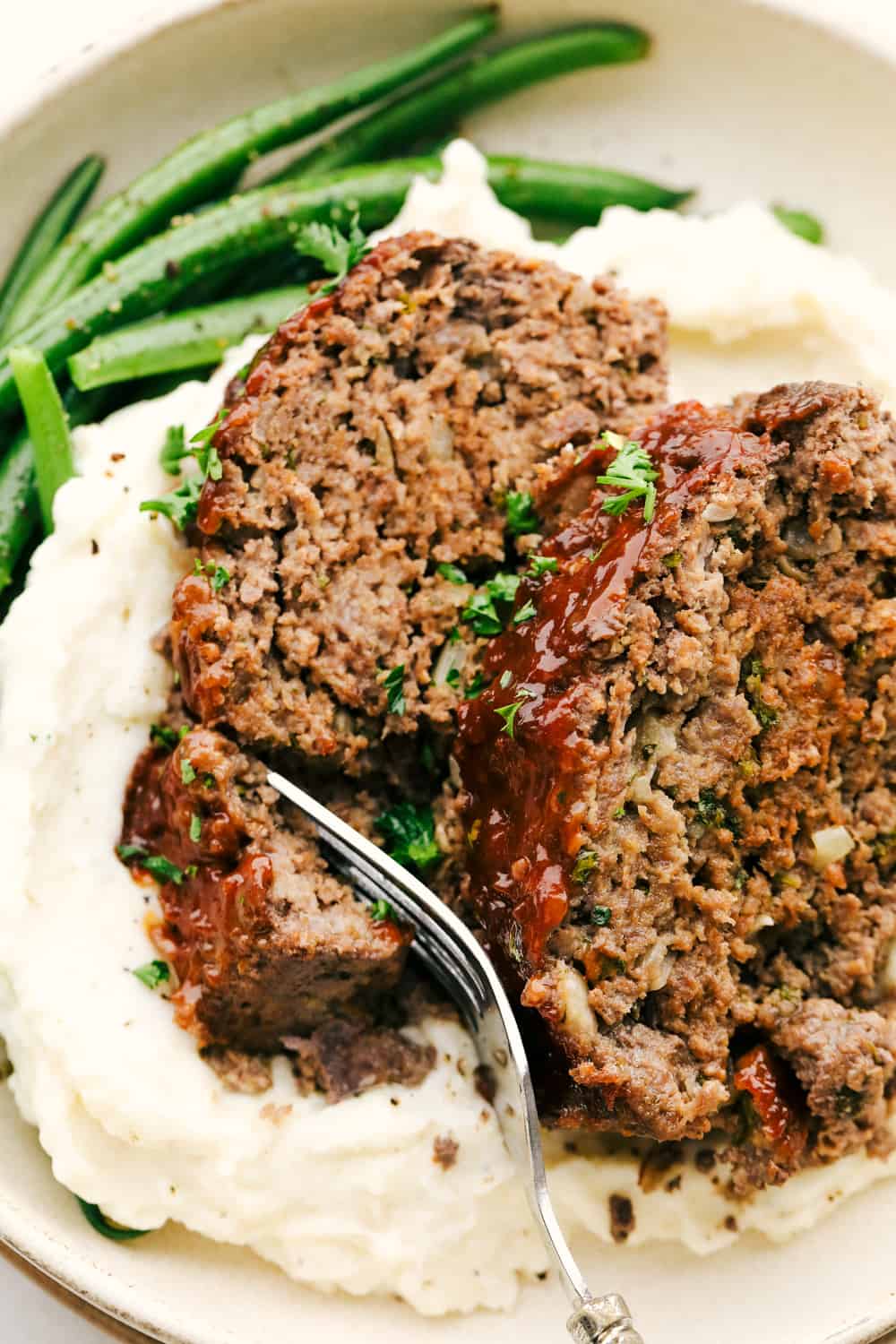 Meatloaf Recipe
Perfectly glazed and tender and juicy this is just such a great dish. There's just something about meatloaf that seems to say everything is going to be ok. For some reason it just takes us back to simpler times. There are so many ways to vary a meatloaf, this is the classic version. It's moist and full of flavor. This is going to be a winner with your family for sure.
Meatloaf often gets a bad rap, but not if you serve this recipe. It'll convert even the most skeptic meatloaf haters. They'll ask you to make it again. Perfectly seasoned and with a sweet tangy glaze this is the kind of meal that brings everyone together. Make it tonight and watch the magic unfold.
Ingredients for the Best Meatloaf
These ingredients are all very simple and all can be found, if not already in your pantry, at your local grocery store. It's amazing that such an amazing dish can come together with ingredients you probably have on hand. Nothing super fancy here, just a good home cooked meal.
Lean Ground Beef: 2 pounds are needed here.
Onion: Finely chop the onion, you don't want huge chunks.
Fresh Parsley: Adds color and flavor, if you don't have fresh, dried is ok use half as much.
Italian Bread Crumbs: Using Italian flavored bread crumbs means instant flavor.
Milk: Helps to bind it all together.
Worcestershire Sauce: This savory sauce is perfect with beef.
Eggs: Eggs are your binder.
Garlic Powder: Adds a kick of taste.
Salt and Pepper: Add to taste.
Meatloaf Glaze Ingredients
Ketchup: The base for the glaze
Balsamic Vinegar: Adds incredible tang and zing.
Brown Sugar: Creates an almost sweet and sour flavor and helps the top to caramelize just a bit.
How to Make Easy Meatloaf and Glaze
One of the best things about any meal is how easy it is to prepare and but then how satisfying it is to eat. This is one of those meals. Super easy to put all together, just mix it up and let the oven do all the work and then have an extremely delightful meal to devour.
Combine: In a large bowl combine the beef, onion, parsley, breadcrumb, milk, Worcestershire sauce, eggs, garlic powder, salt and pepper. Using your hands, mix until combined being careful not to over-mix. Press into a 9×5 inch loaf pan.
Whisk: In a small bowl whisk together ketchup, vinegar and brown sugar. Brush half of the mixture on top of the meatloaf.
Bake:  Bake in a preheated oven at 350 degrees F for 50 min. Brush the remaining glaze on top during the last 10 minutes. Bake until a thermometer registers 160 degrees throughout.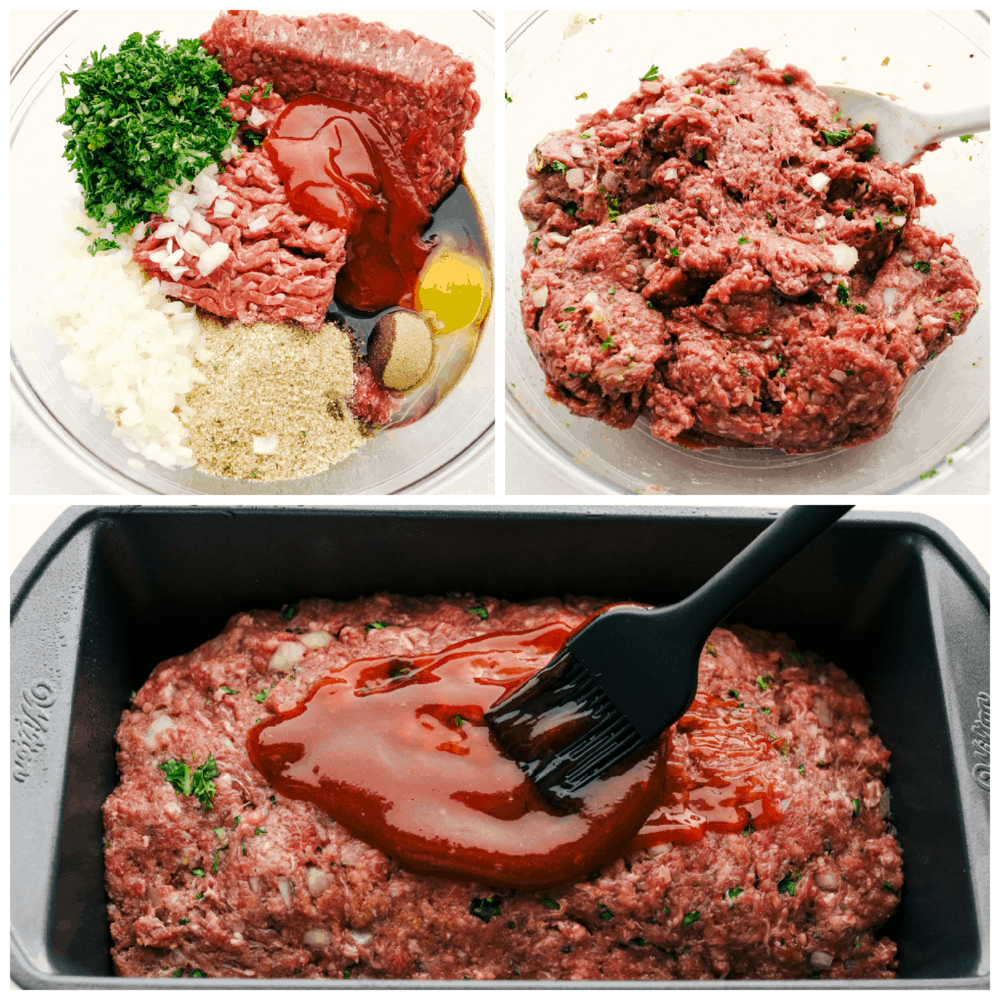 Meatloaf Heaven Tips
There can be a lot of questions when it comes to meatloaf. Even though it's super easy and tastes like a giant hug, there are somethings to keep in mind to keep it divine.
The Meat: What kind of meat should I use is probably the number one most asked question for this dish. The worst thing is to cut into a meatloaf and it's bone dry. You want lean ground beef 85% is best.  Avoid anything extra lean, it will end up dry despite your best efforts to add moisture. You want some fat to help it be juicy, but you don't want it swimming in grease, or to boil over all over your oven. I've read many who use half ground beef and half ground pork. The pork will help make it super juicy and flavorful. You can also use ground turkey as well. Create your own mixture of meats to try that you and your family like best. It really is flexible.
The Pan: You will want to line your pan with parchment paper or aluminum foil.  Have the edges hanging over the edge for easy removal of your meatloaf. Don't have a pan, no worries. Shape the loaf and place on cookie sheet covered in foil. For a fun twist shape the meatloaf into a meat ring and then serve it with mashed potatoes in the middle. How fun would that be?!
Don't Over-mix  Over-mixing can cause your meatloaf to be tough and dense. Also don't squish it into your pan. Gently shape and place it in your pan. You want some air to circulate around it so that you don't "steam" the meat. That really won't taste great.
Variations for Meatloaf
When it comes to meatloaf there are many ways to vary it. From cooking it different ways like Meatloaf Balls to different seasonings.
Seasonings:  This is a mildly seasoned meatloaf that really allows the meat with the glaze to shine. Don't be afraid to add more seasonings if you desire. You can make it spicy with chili powder and paprika, or make it more Italian flavored with basil, oregano and crushed bay leaves.
Veggies:  Make sure you chop the onion and shred the carrots finely so that they cook through. If you are worried they won't sauté them first. It will actually add more moisture. That way they'll add to the tenderness of the loaf. If you want to mix it up you can sauté finely chopped mushrooms, broccoli, celery, and peppers to add to your meatloaf.
When it's done:  The most important part about your meatloaf is making sure it's cooked thoroughly. Use a meat thermometer and check the temp in several parts making sure it's at 160 degrees F.
Let it Rest: It's important to let your meatloaf rest, this allows the meat to reabsorb the juices and distribute them throughout. If you cut into it too soon all the juice will come spilling out.  Let it rest for 10 minute.
Storing Homemade Meatloaf
If you're lucky to have leftovers, keep them in the fridge in an airtight container for up to 5 days. It can be frozen too for up to 3 months in a freezer safe container. Leftovers can be used for Shepherds pie, spaghetti or stir in your mac and cheese.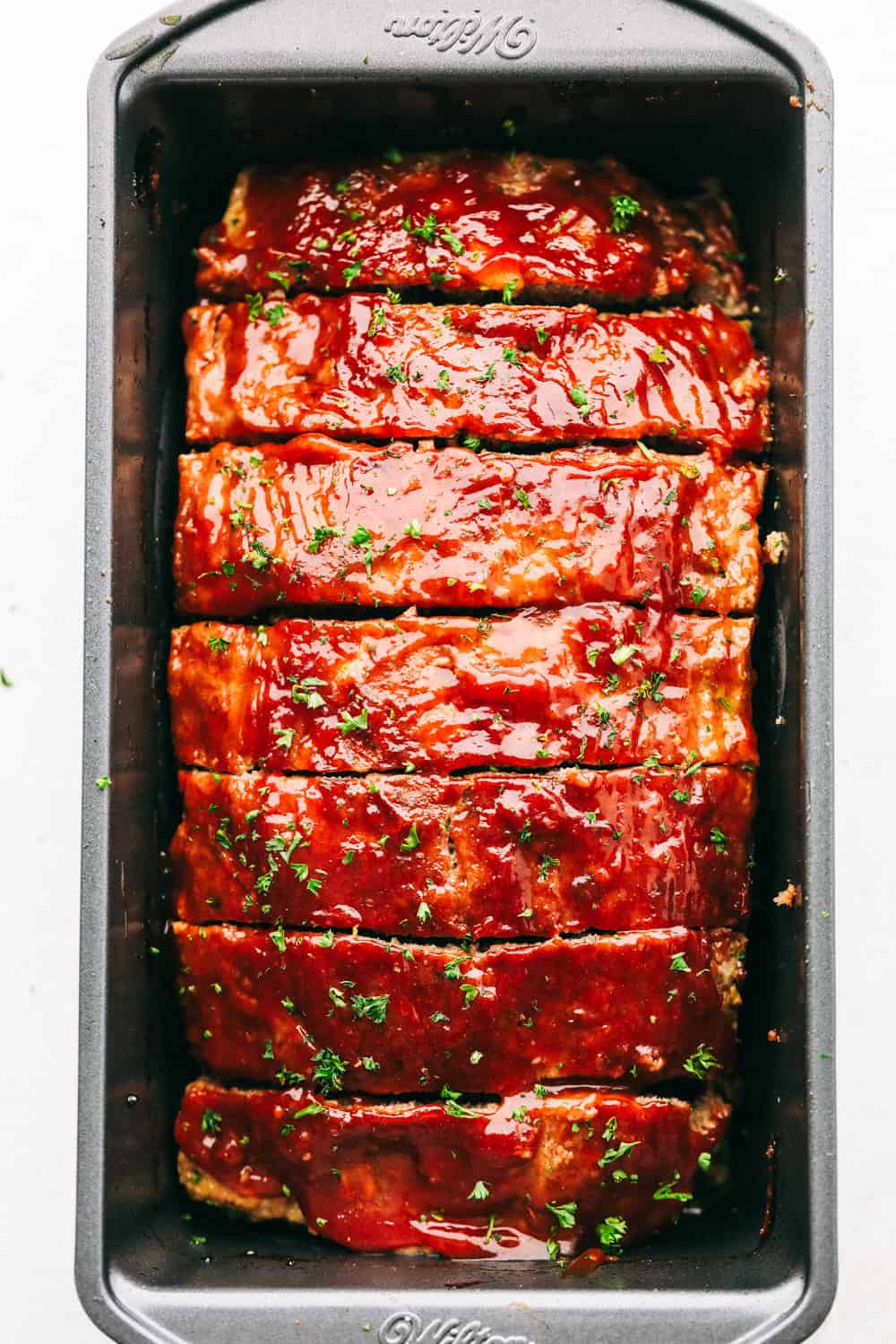 Beef! It's What's For Dinner!
Beef gets a bad rap sometimes, but eaten occasionally and in these recipes it's just down right amazing! Try some of these favorites the next time you want a hearty, protein packed, iron infused meal.
Pin this now to find it later
Pin It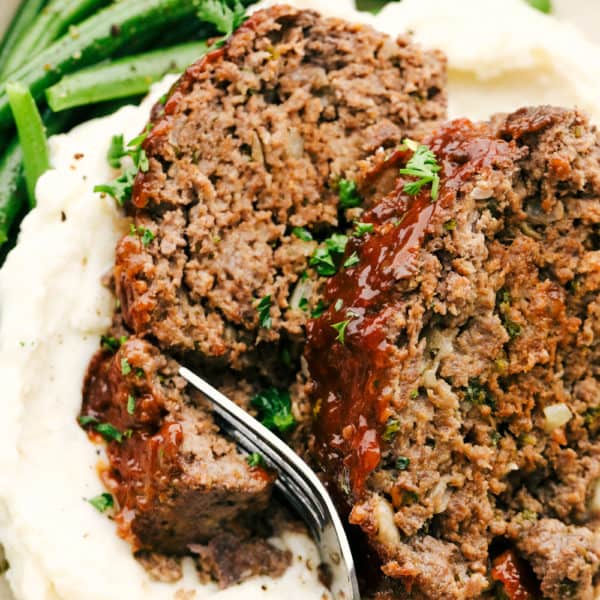 Foolproof Glazed Meatloaf
This Foolproof Glazed Meatloaf is tender, juicy and packed with flavor. It's the perfect easy, affordable comfort food! With a balsamic brown sugar glaze it's hands down the best meatloaf ever.
Instructions
Preheat oven to 350 degrees. In a large bowl combine beef, onion, parsley, Italian breadcrumbs, milk, Worcestershire sauce, eggs, garlic powder, salt and pepper. Use your hands to mix until combined being careful not to overmix. Press into a 9x5 inch loaf pan.

In a small bowl whisk together ketchup, vinegar and brown sugar. Brush half of the mixture on the top of the meatloaf.

Bake in preheated oven for 50 minutes. Brush the remaining glaze on top the last 10 minutes. Bake until the beef is cooked throughout and 160 degrees.
Nutrition
Calories:
497
kcal
Carbohydrates:
29
g
Protein:
56
g
Fat:
16
g
Saturated Fat:
7
g
Cholesterol:
226
mg
Sodium:
677
mg
Potassium:
1054
mg
Fiber:
2
g
Sugar:
11
g
Vitamin A:
541
IU
Vitamin C:
8
mg
Calcium:
123
mg
Iron:
7
mg
Nutrition information is automatically calculated, so should only be used as an approximation.