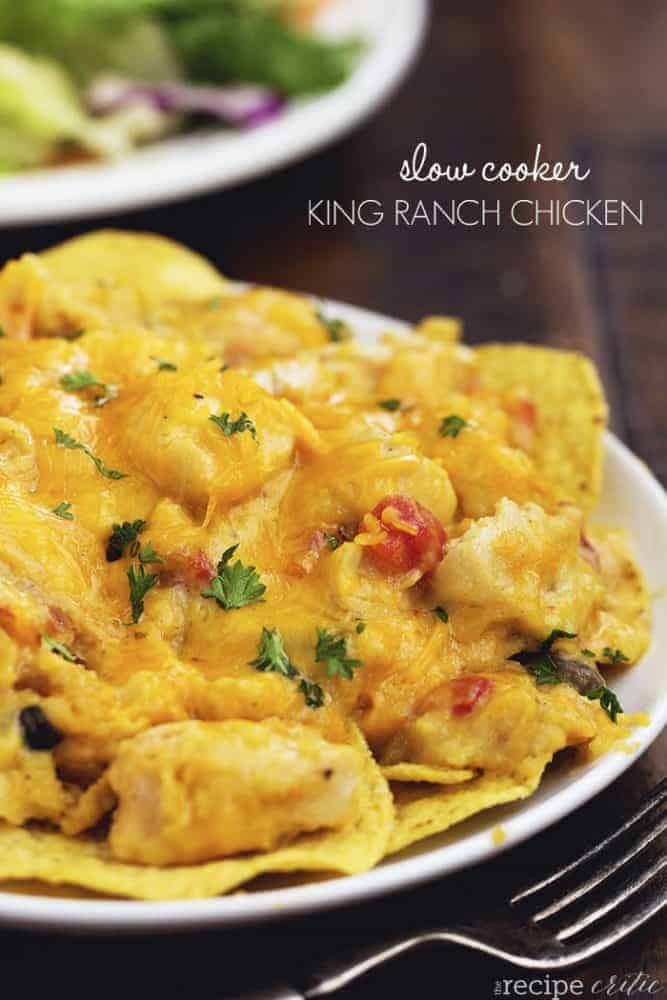 There are some slow cooker meals that you make and it becomes an instant favorite.   I absolutely love my slow cooker and I use it all year long.  Some of my favorite things on this blog are my slow cooker recipes.  They are perfect for busy days and throwing in a delicious meal for your family.
My 11 year old is growing like crazy!   He is a head taller than everyone at school and is such a great kid.   He LOVES my cooking.  I can always count on him to eat the meals that I cook each night.  His favorite food on the blog are these Avocado Enchiladas.   While everyone at school was saying that their favorite food was pizza and macaroni and cheese, his response was Chicken Enchiladas with Avocado Cream Sauce.  He cracks me up!
Every time I make something in the slow cooker he has to sneak a taste.  As soon as he took a bite of this King Ranch Chicken, he said, "MOM!  These are amazing!  They made it to my top 5 favorite recipes!"  So there ya go.  Take it from him that this recipe is delicious.  🙂  A quick easy, cheesy, meal that has tortilla chips inside.  You are going to love it!

Slow Cooker Chicken King Ranch Casserole
A delicious slow cooker meal that is fast to put together and will become a family favorite!
Ingredients
1 Package Corn Tortilla Chips
3-4 Chicken Breasts, diced and cooked
1 can Diced Tomatoes with Green Chiles (Rotel works great)
1 can Cream of Chicken Soup
1 can Cream of Mushroom Soup
1 cup chicken broth
1 small Onion, chopped
2 Cups Shredded Cheese
Instructions
Spray a 6 quart slow cooker with cooking spray. Line the bottom with half of the corn tortilla chips.
In a bowl, combine diced and cooked chicken, diced tomatoes with green chilies, cream of chicken soup, cream of mushroom soup, chicken broth and diced onions. Mix until combined.
Put half of the mixture over the tortilla chips and sprinkle half of the cheese on top. Repeat layers and end with cheese on top.
Cook on low for 4-6 hours and high for 3-4. Serve with additional tortilla chips if desired.
Recipe from
Crockin Girls