Slow Cooker Lemon Garlic Chicken Thighs and Veggies is a hearty and flavorful meal!  Filled with tender veggies and tuscan herbed spice chicken that all get cooked in a lemon garlic sauce.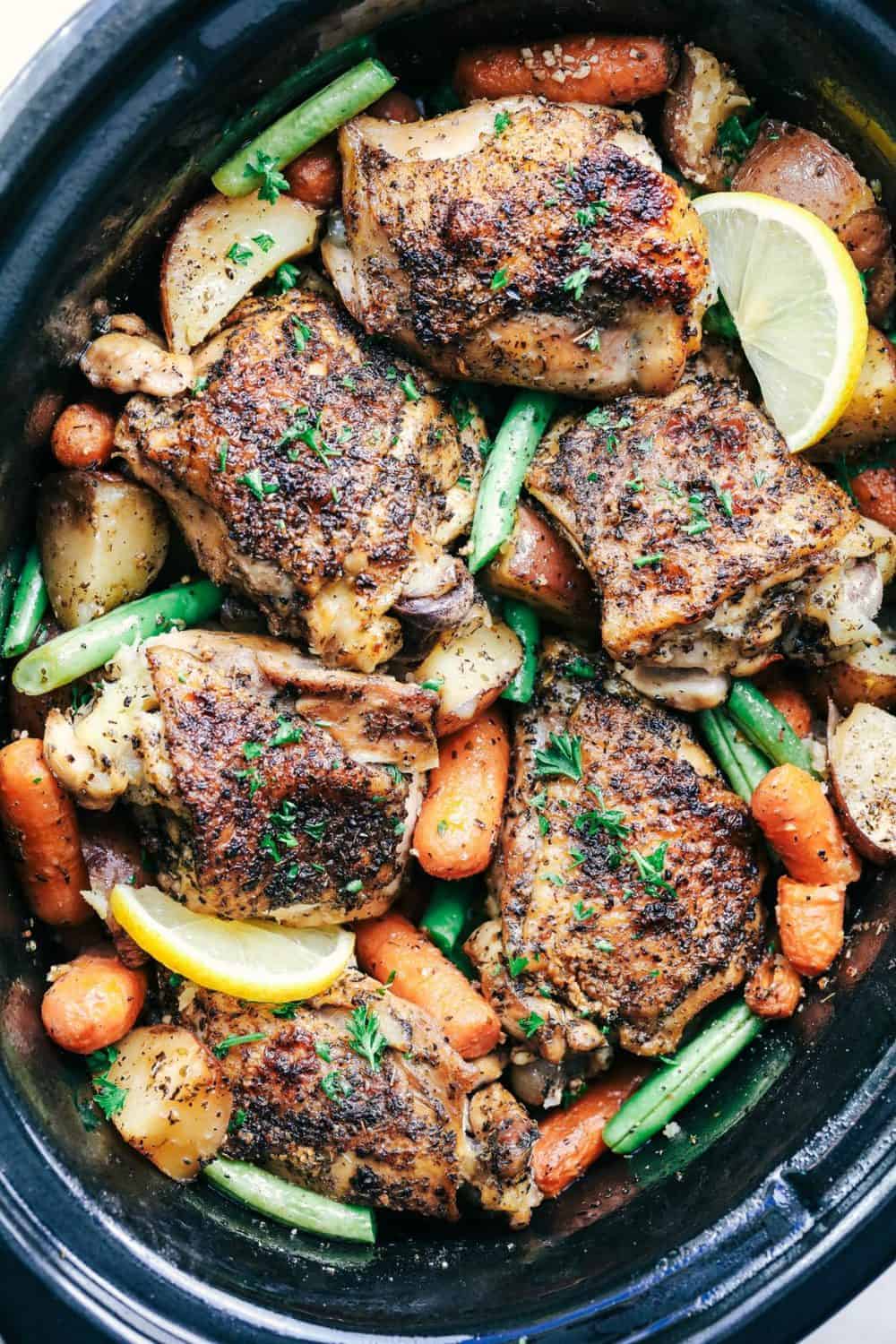 Slow Cooker Lemon Garlic Chicken Thighs and Veggies
Today I am bringing you comfort food at its best.  A big hearty delicious slow cooker meal that I know your family is going to love. It is coming from my friend Donna, at The Slow Roasted Italian, and her brand new cookbook, The Simple Kitchen.  The flavors coming at you in this recipe are some of my favorites.  I mean hello, lemon and garlic are my love language!
It was so incredibly hard choosing a recipe to make.  I spent so long trying to decide because every single recipe is so mouthwatering delicious.  The Simple Kitchen is exactly that.  Simple meals to make for your family but are bursting with flavor.  From appetizers, to one pot meals, to salads, to desserts, this book will be used again and again at our house.  I dog eared just about every page in the book and I honestly can't wait to make them.
This meal really stood out to me because I am a lover of my slow cooker.  There is nothing better than a hearty meal that has been slow cooking all day long.  The one thing that I loved about this recipe is that they created their own Tuscan blend of spices that you rub onto the chicken.  The chicken also gets pan seared in the spices right before it goes into the slow cooker sealing in that amazing flavor and giving the chicken that slightly crisp edge.  Everything goes into the slow cooker and it is so simple with the lemon and garlic but this meal has such big flavor!
This meal is perfectly comforting and it fills your house with such an amazing smell.  I love coming home to a hearty meal that has been slow cooking all day.  Everything comes out perfectly and the veggies are so tender that they just melt in your mouth.  I love cooking chicken thighs in the slow cooker because it just falls off the bone it is so tender!
Can I cook chicken breasts in the slow cooker?
Yes, you can.  Just make sure to reach an internal temperature of 165 degrees.
Everything slow cooked to perfection and you guys are going to love everything about this meal.  It is full of tender veggies and fall of the bone chicken thighs that it will be a total win at dinner!  And if you like this meal then you are especially going to love The Simple Kitchen Cookbook!
Slow Cooker Lemon Garlic Chicken Thighs and Veggies
Ingredients
2 pounds red potatoes, quartered
3 lb bone-in, skin on, chicken thighs, about 8
4 tsp Tuscan-Style seasoning *see notes
2 tsp kosher salt
2 tsp freshly ground black pepper
4 tbsp extra virgin olive oil, divided
6 cloves garlic, minced
3 cups chicken stock
Juice of 2 lemons
1 lb baby carrots
1 pound green beans, trimmed
2 tbsp cornstarch
2 tbsp water
2 tbsp chopped fresh italian parsley
Instructions
Place the potatoes in the bottom of your 6 quart slow cooker on high heat. Set aside and season both sides of the chicken with the tuscan seasoning, salt and pepper.
In a 10 inch skillet over medium high heat, add the oil. Add the chicken and sear each side for 3 minutes or until brown on both sides. Remove the chicken and place on top of the potatoes.
Add the garlic to the skillet and cook for 30 seconds. Next add the chicken stock until it bubbles. Bring to a boil for 3 minutes. Add the lemon juice and stir to combine.
Add the carrots to the slow cooker and port the liquid from the skillet on top. Cook for 2-3 hours on high or 4-6 hours on low. Add the green beans the last 15 minutes of cooking.
To thicken the sauce, combine cornstarch and water in a mason jar. Seal the jar and shake to create a slurry. Pour the slurry into the slow cooker for the last 30 minutes or cooking. Sprinkle with parsley before serving.
Notes
*Tuscan style seasoning:
3 tbsp dried rosemary
3 tbsp dried oregano
3 tbsp dried thyme
1 tbsp dried marjoram
1½ tsp dried sage
More amazing slow cooker recipes:
Slow Cooker Brown Sugar Balsamic Chicken