Heyyyyy it's Tiffany from Creme de la Crumb! Can you believe Christmas is one week away?? Crazy. Just crazy. I'm knee deep in wrapping paper and holiday treats and my house smells like pine and gingerbread. I'm one happy gal!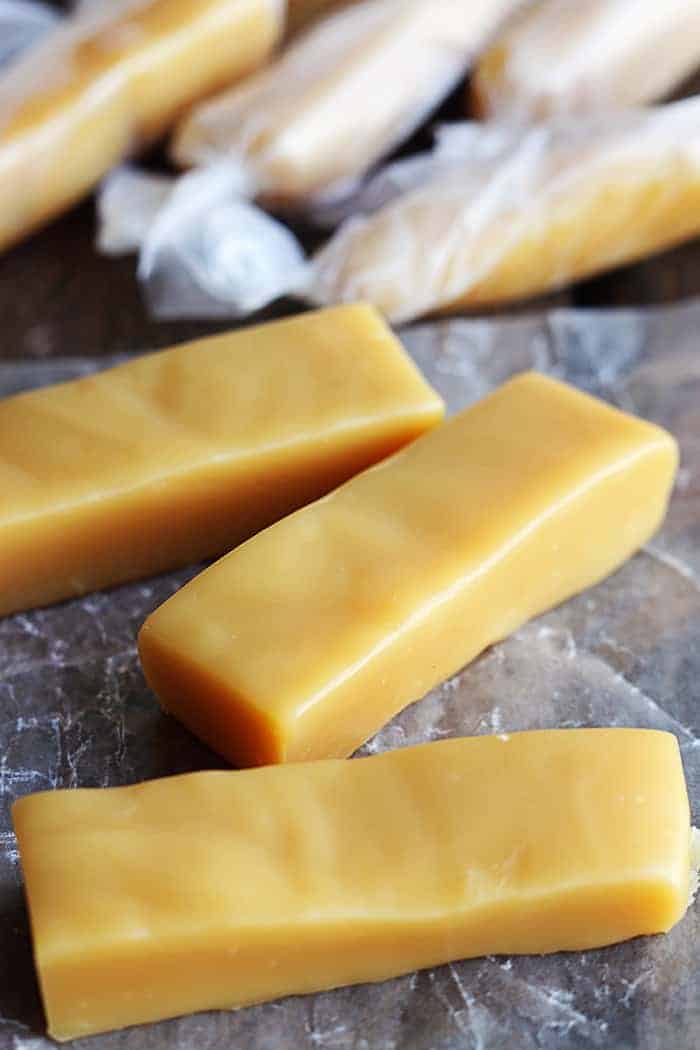 I'll tel you what though, during Christmas time life is so busy and hectic that I LOVE finding really easy recipes that don't take a lot of time. These caramels are no-fuss and sooo yummy – plus they make the perfect neighbor gift (if you can bear to part with a few!) I love to sprinkle  a little sea salt right on top of mine to get that salty-sweet thing going on – MMMM!
Microwave Caramels
Ingredients
1 c. butter
2½ cups packed brown sugar
1 cup light karo corn syrup
1 – 14oz can sweetened condensed milk
1 tsp vanilla
Instructions
In a 9x13 inch dish, generously butter a 9x13 inch pan and set aside.
In a microwave safe bowl (make sure it is microwave safe!) melt the butter. Once the butter is melted add brown sugar, karo syrup, and sweetened condensed milk and mix well. Microwave on full power for 4-5 minutes.
Remove from microwave and stir. Continue microwaving for 4-5 minutes. Stir again and add the vanilla.
Pour the caramel into the 9x13 inch buttered pan. Let them completely cool for 1-2 hours. Cut the caramel with a knife and wrap in wax paper. Keep refrigerated.
*Recipe from
Simple As That