This website may contain affiliate links and advertising so that we can provide recipes to you. Read my disclosure policy.
Baked Turkey Meatballs are perfectly seasoned, tender, juicy and absolutely delectable! Super easy and healthy your whole family is going to love these!
These baked meatballs are amazing all on their own. Place them on a mound of noodles and smothered in one of these incredible sauces and they will be divine. Try them with the Homemade Best Basil Pesto Sauce, Easiest Marinara Sauce or the Best Homemade Alfredo Sauce.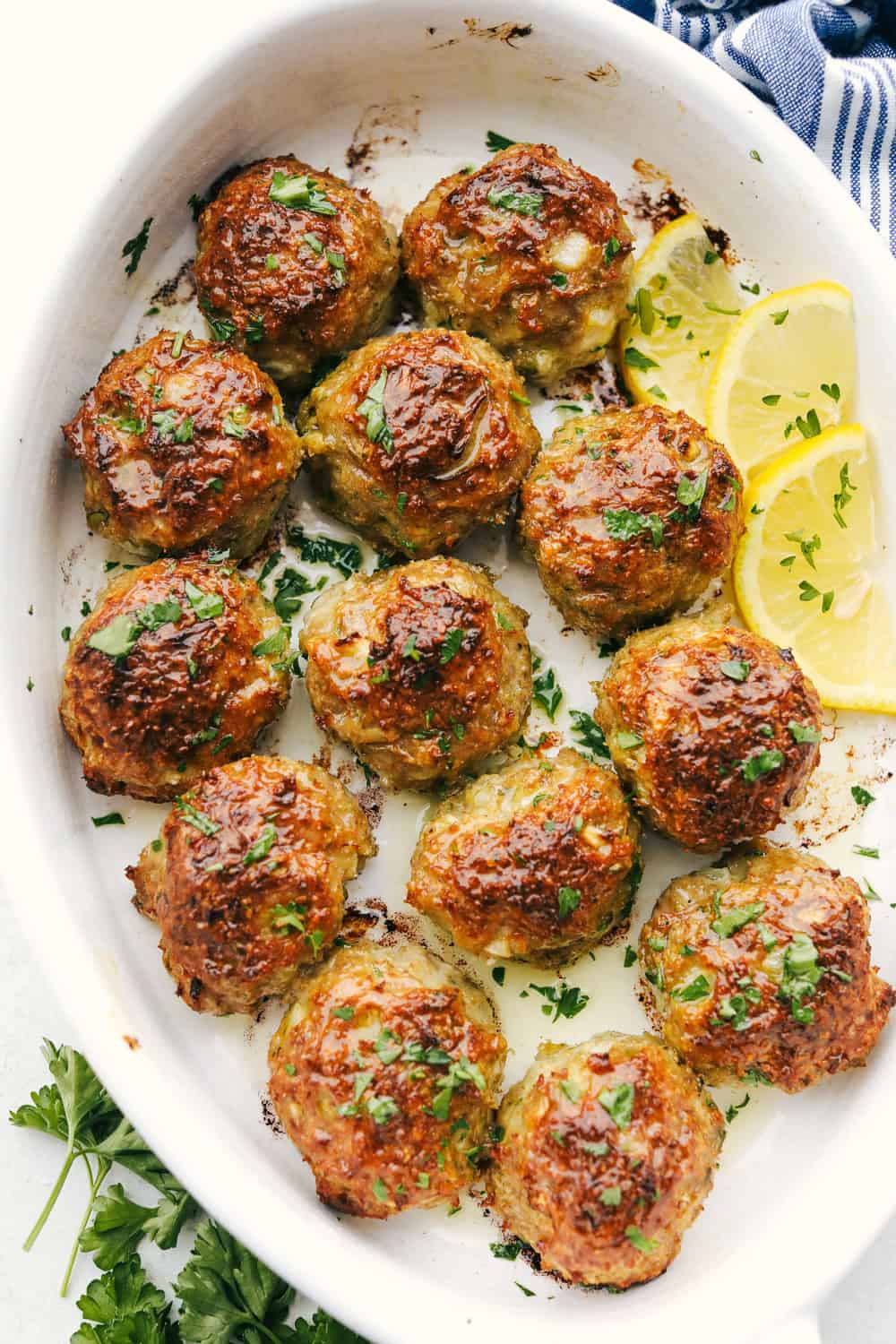 The Best Turkey Meatballs
Let's talk meatballs! Everyone loves to eat meatballs, especially kids. This make it an easy winner for dinner. Everyone will eat them and love them. I'm still not entirely sure why meatballs are so fun to eat, but they just are. They are a definite favorite at our house. These baked turkey meatballs are no exception. Juicy and tender and seasoned just right I could eat them straight from the pan. These turkey meatballs are so dang good!
They are super easy too! In about 30 minutes you can have a superb dinner on the table, even on a weeknight. Baking the meatballs means you don't have to babysit a pan over the stove. It gives you time and space to get the rest of dinner done or do something else. These are fast, easy and absolutely luscious meatballs! You have to put these on the menu tonight!
Is Turkey more Nutritious than Beef?
Both turkey and beef are great sources of protein and a variety of vitamins and minerals. Turkey, however is generally lower in saturated fat than beef and so is a better choice for heart health. It can also be a great choice for weight loss as it is often lower in calories. Turkey can provide up to 24 grams of protein per a serving and is extremely high in niacin, B6, and B12. It also contains zinc, selenium and phosphorus. All of the health benefits of course depend on the cut and quality of turkey and whether you are eating it with the skin on or not. These turkey meatballs are light and tasty!
Ingredients for Turkey Meatballs
The same ingredients that make beef meatballs are the same that will make up these baked turkey meatballs. Ingredients that you can find in your pantry or at your local grocery store. Have them on hand and ready to go for a quick and easy dinner!
Ground Turkey: This can be found near the ground beef.
Italian Bread Crumbs: I love these bread crumbs are already seasoned.
Onion: small chopped.
Eggs: This acts as the binder.
Milk: Adds a bit of moisture and helps keep it all together.
Garlic: Minced or finely chopped.
Salt and Pepper: Add to taste
How to Bake Turkey Meatballs
These turkey meatballs are super easy to throw together. Roll them up and bake them for juicy perfection. They are so good, you will keep them in a regular rotation.
Mix: In a medium bowl place the ground turkey, eggs, milk, onions, bread crumbs, garlic and salt and pepper. Mix until thoroughly combined.
Roll: Roll into 2 inch balls and place in a greased baking dish
Bake: Bake at 400 degrees for 15-20 min or till cooked through out. Internal temp should be165 degrees.
Tips for Moist Turkey Meatballs
These turkey meatballs are all purpose. Meaning they can be used in just about any capacity you need them to. Add them to rice or mashed potatoes. Smother them with BBQ sauce, Cheese Sauce or even Tzatziki Sauce. Use these in so many different ways, they're scrumptious any way you serve them.
Keep them Moist: Turkey is leaner than beef so can dry out quickly. If you find your meatballs are too dry add a little olive oil to the mixture. Or make sure to use some dark turkey meat mixed in with the white.
Don't over cook: Check your meatballs after 15 minutes. The internal temperature should be 165 when done. Over cooking will dry them out and make them tough.
Same size: Keep the meatballs the same size as much as possible. This will ensure that they cook at the same rate and some won't be under done or over done. You can use a cookie scoop or the same sized spoon to help keep them uniform.
Use a light hand: Don't over-mix or over handle the turkey mixture. It can break it down and make it tough. It can also make the meatballs hard to form and turn them more into meat discs than meatballs.
Intensify the Flavor: There are many ways to make these meatballs sing with even more flavor if you wish. Add fresh herbs, parmesan or other grated cheese, and add spices that will complement your dish. They are so easy to customize and make how you wish. Get creative and have some fun. Try a different variation every night you make them!
Freezing and Storing Easy Baked Meatballs
I love meatballs! Did I say that already?! They are so easy to store and freeze for a later time. I love to make a double batch and freeze the leftovers for a night when I'm really scrapped for time. It's a double winner for dinner!
Store: Store leftovers in an airtight container or even a zip lock bag and keep in the fridge for up to 5 days. Reheat in the microwave or you can even warm them up in a sauce you plan to eat them with.
Freeze: Let the meatballs cool to almost room temperature. Place on a cookie tray and cover loosely with plastic wrap. Freeze for 2 hours. Transfer the partially frozen meatballs to a freezer safe gallon zip lock bag. Freeze for up to 3 months. Thaw overnight in the refrigerator or warm them straight from the freezer in the microwave at 50% power till heated through. Enjoy in your favorite dishes.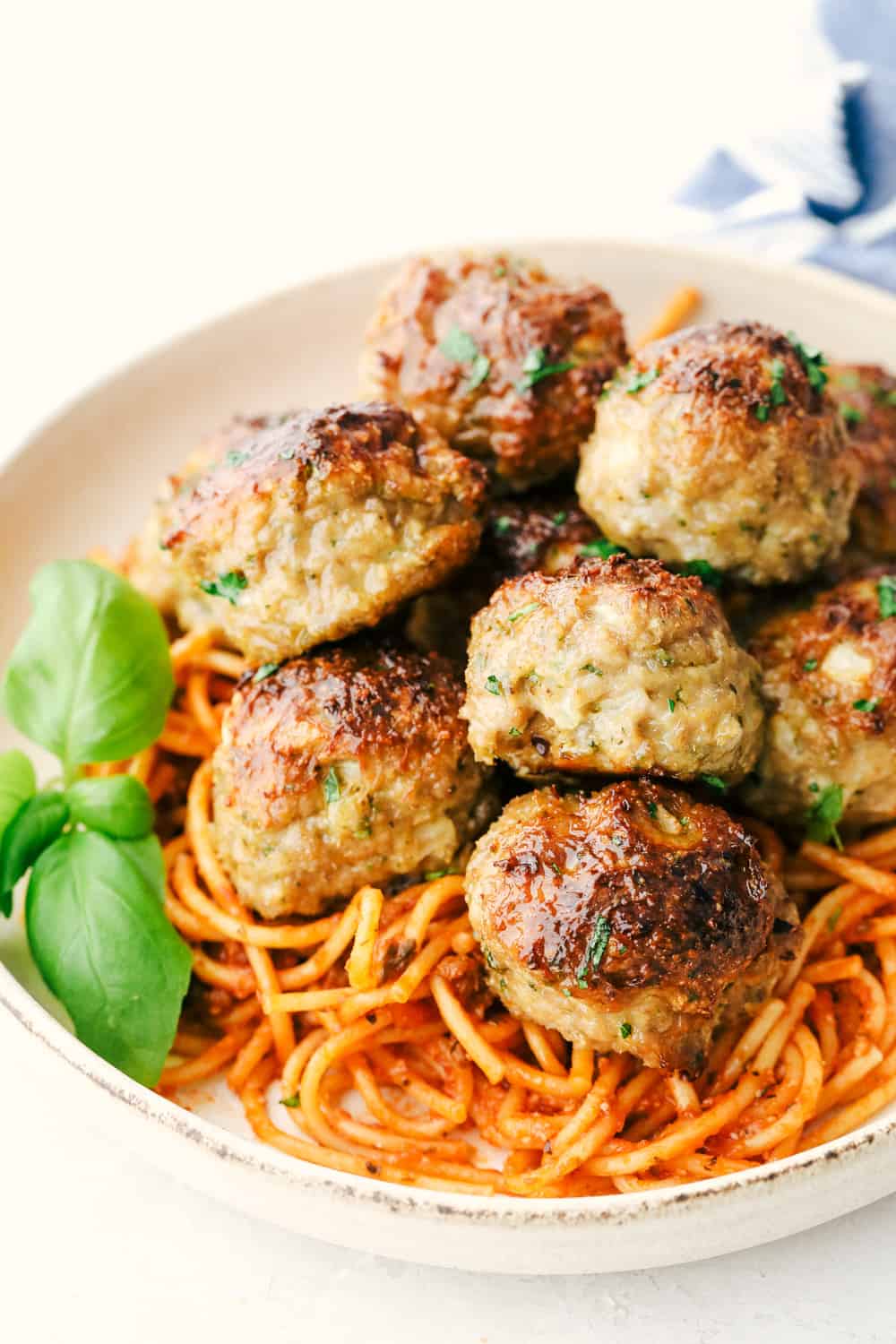 More Meatball Loving Recipes
Meatballs are just plain fun to make and eat. They are so versatile and easy to customize. Your family and friends will love trying all these delectable meatballs!
Pin this now to find it later
Pin It
Baked Turkey Meatballs
Baked Turkey Meatballs are perfectly seasoned, tender, juicy and absolutely delectable! Super easy and healthy your whole family is going to love these!
Instructions
Preheat oven to 400 degrees. In a medium size bowl combine turkey, breadcrumbs, onion, eggs, milk, garlic, and salt and pepper. Mix until incorporated.

Roll into 2 inch balls and place onto a greased baking dish. Bake for 15-20 minutes or until cooked throughout.
Notes
*Or can use regular breadcrumbs with 1 Tablespoon Italian seasoning
Nutrition
Calories:
297
kcal
Carbohydrates:
25
g
Protein:
35
g
Fat:
6
g
Saturated Fat:
2
g
Cholesterol:
146
mg
Sodium:
789
mg
Potassium:
503
mg
Fiber:
2
g
Sugar:
4
g
Vitamin A:
230
IU
Vitamin C:
4
mg
Calcium:
98
mg
Iron:
3
mg
Nutrition information is automatically calculated, so should only be used as an approximation.