Make sure you become a follower to my blog and like my
facebook
page, and follow me on 
pinterest
for the latest and greatest!
My favorite pie is cherry pie.  I just love me some cherry pie.  I have never liked pumpkin pie, so cherry pie is my top choice for Thanksgiving.   These cherry pie bars are the bomb!  It was just like biting into a cherry pie and served warm with a side of vanilla ice cream…. wow.  I think I want some more now!
Rating: 5 stars  Difficulty of Recipe: 2 stars
Things that I changed:  Nothing
Things that I would do differently next time: It suggests baking them in a 15x10x1 pan or a 9×13.  Next time I am going to bake them in a 15×10 pan so they aren't so thick and don't take so long to bake.
Will I make this again?  Yes
Recipe Adapted From: Julies treats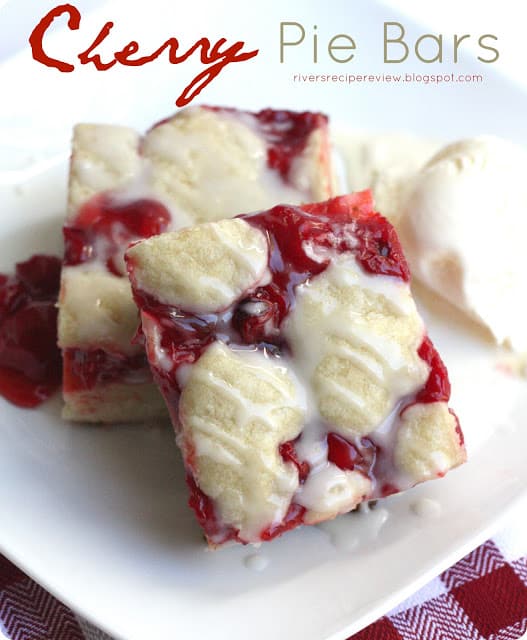 Cherry Pie Bars
Ingredients
Ingredients:
1 cup butter, softened
2 cups sugar
4 eggs
1 tsp vanilla extract
¼ tsp almond extract
3 cups all-purpose flour
1 tsp salt
1 (21 ounce) cherry pie filling 2 if you like cherries (highly recommend)
Glaze
1 cup powdered sugar
½ tsp vanilla extract
½ tsp almond extract
2 Tbs milk
Instructions
Cream together butter and sugar. Add eggs and beat well. Beat in extracts.
In a separate bowl combine flour and salt. Add to the creamed mixture. Mix until combined.
Grease a 15x10x1 pan or 9x13, whichever one you decide to use. Spread 3 cups batter in a 15x10x1 (Also works with 9x13- baking time will at least be 35 minutes) Spread with pie filling. Drop remaining batter on top of pie filling.
Bake at 350 for 30-35 minutes or until toothpick comes clean. Cool on wire rack. Combine glaze ingredients and drizzle over the bars.