This website may contain affiliate links and advertising so that we can provide recipes to you. Read my disclosure policy.
Cincinnati Chili is a classic Midwestern recipe that slow simmers the meat sauce then served over top noodles. This chili is nothing like you have ever had before!
This fun, iconic American dish is a staple in the city of Cincinnati. Complete your meal by serving alongside a Greek Salad, a baked potato, and end the meal with some homemade funnel cakes!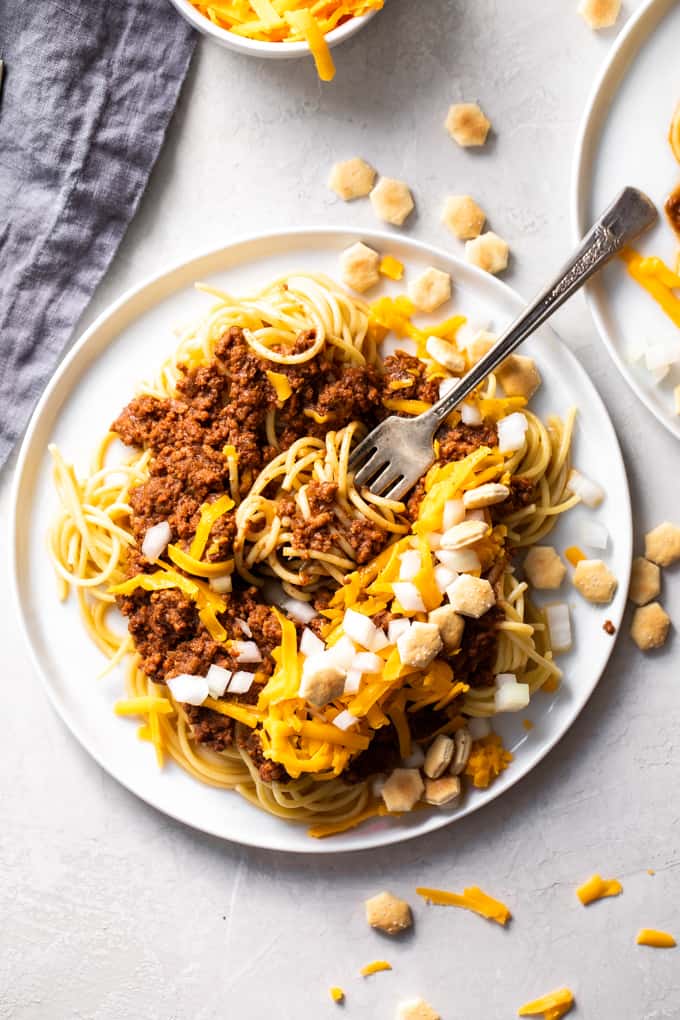 Cincinnati Chili Recipe
This chili is definitely unlike any other chili! It's a combination of so many different foods and flavors. This chili cooks up as a flavorful meat sauce that is perfect to use over noodles or to smother hot dogs with. It can be eaten in a bowl like a regular bowl of chili, but that's not it's purpose in life!
This is such a fun and unique meal that the entire family is sure to love. The best part is that everyone can choose which way they want to eat it. Beans? No beans? Onion? Cheese? You can pick your own way!
What Makes Cincinnati Chili Different?
Cincinnati Chili is a recipe developed in the 1920s thanks to Greek immigrants who settled in the Midwest. It's a combination of a soupy Midwestern stew and traditional Mediterranean spices. It was created as a hot dog topping, and was originally served at a stand outside a theater called Empress. 
Later the owners of the hot dog stand expanded into a restaurant which they named Empress and started serving the chili over noodles also. As the idea spread other restaurants and chili parlors opened, adopting the same style of chili. Today some of the most popular chili parlors serving this dish are Empress, Skyline, and Gold Star Chili. Today Cincinnati Chili is known as an iconic American dish, and is enjoyed by many people visiting the Midwest. 
Ingredients Needed
Tomato Paste: helps to thicken the meat sauce and also gives a nice red, tomato base to the broth.
Water/Broth: This recipe can be made with just water, as the meat simmers in the pot it will become quite flavorful. If you want to push the flavor along a little bit you can do a mixture of half water and half beef broth.
Ground Beef: 80/20 is a good balance for the chili. We need just enough fat to create a flavorful broth while simmering, but we don't want too much fat, since we're boiling the meat, the grease will stay in the pot, we can't just drain it out.
Onion: some say that no onion is included in the actual chili, but it gives a great flavor. Mince the onion up nice and fine and you don't even notice the bits in the chili.
Chili Powder: Adds a depth of flavor.
Salt: Amount can be adjusted to taste if needed.
Cinnamon, Nutmeg, Allspice & cloves: The warm spices are what sets this chili apart from all others!
Cocoa: a necessity to come as close to authentic Skyline Chili as possible.
Worcestershire Sauce: not a required ingredient, but it does add a depth to the broth of the chili.
Vinegar: brightens up the meat sauce.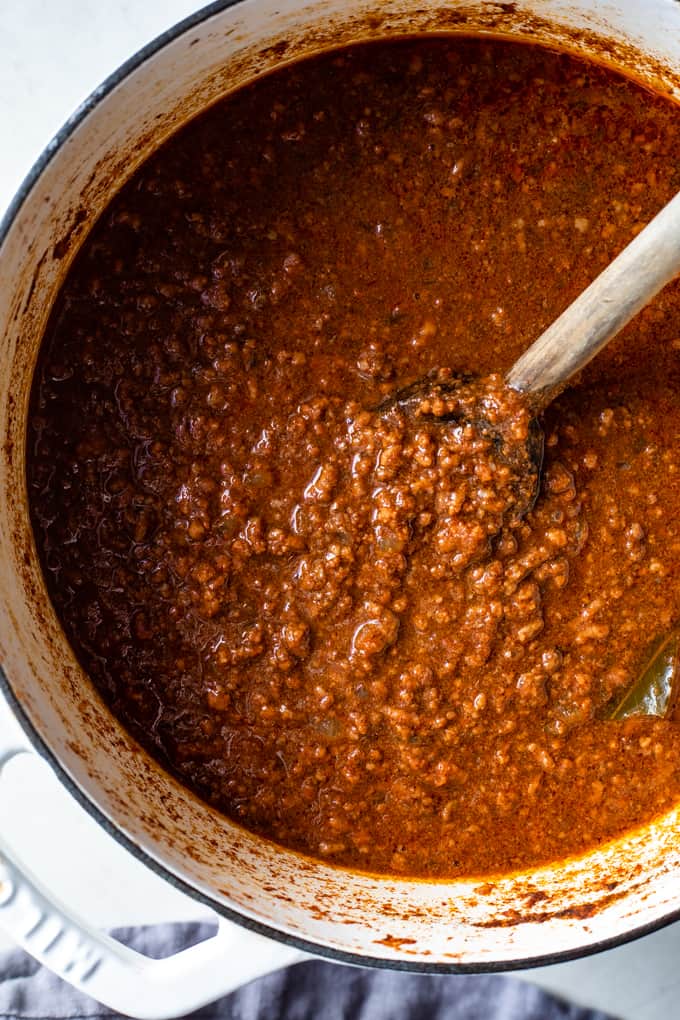 How to Make Cincinnati Style Chili
This copycat original is famous by Skyline chili parlor. Cincinnati chili is a flavorful meat sauce infused with mediterranean spices. Serve over noodles or on top of a hot dog!
Combine: Water/broth with tomato paste to start the broth. Crumble the ground beef with your hands and add it into the liquid.
Add in: Remaining ingredients for the chili.
Bring to a simmer: Let the chili simmer for 2-3 hours while covered, until meat is fully cooked. Stir the meat. To ensure the meat is completely crumbled, it should have a fine texture, no large chunks of meat.
Storing Chili: Let the chili cool to room temperature and then cover to store in the refrigerator overnight.
Remove Grease: The next day, break up the cooled grease on the top of the chili, remove it completely, then bring the chili back to a simmer on the stovetop.
Serve: Serve over spaghetti noodles or on a hot dog.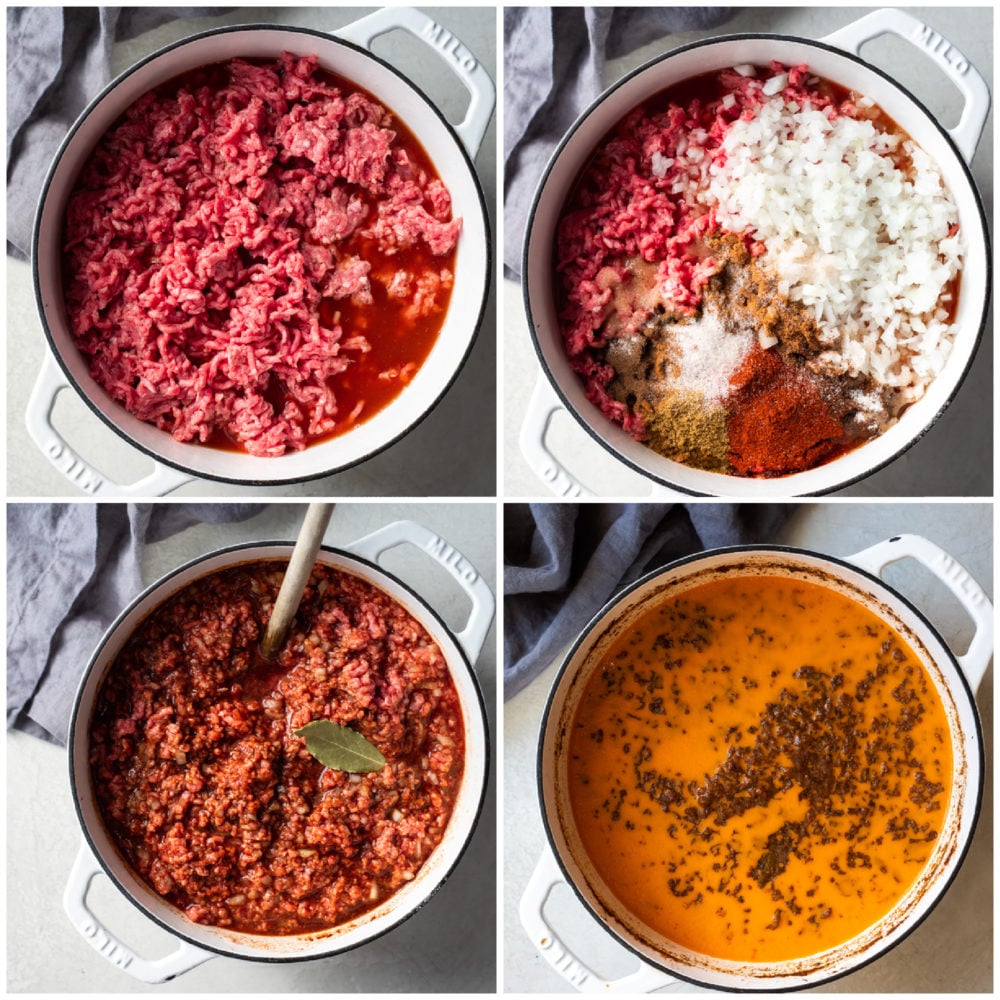 What to Serve with Cincinnati Chili
While you could serve up a bowl of this chili, that's not how you will typically see it served. Most common ways of enjoying this particular style of chili is over hot dogs as a "cheese coney" or over spaghetti noodles. 
Whichever way you choose to go, just make sure you have plenty of oyster crackers on the side!
Cheese Coney: hot dog, bun, chili, cheese, mustard and onion (optional)
Simple: Just noodles and chili combined.
Have it with more: Add cheese with your noodles and chili
More to Love: Noodles, chili, cheese and onions or beans. The variations are endless!
The Works: Add all five together and you have it all with noodles, chili, cheese, onions and beans.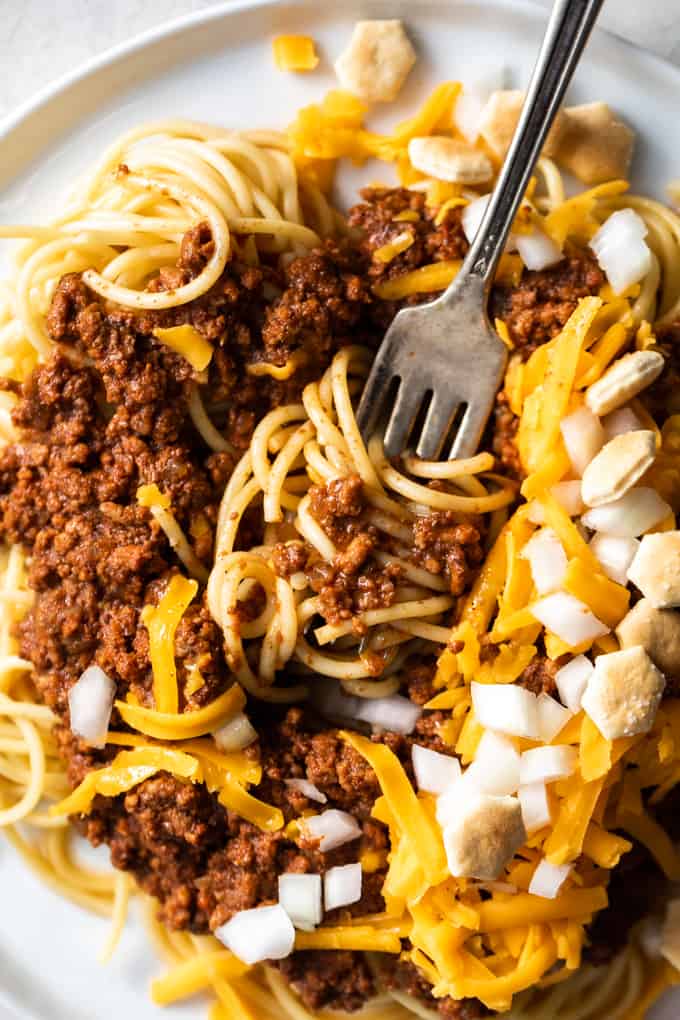 More Chili Recipes to Enjoy
Pin this now to find it later
Pin It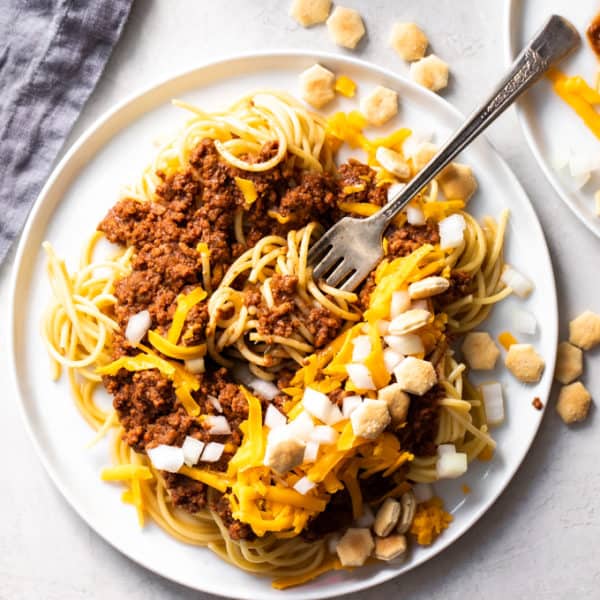 Cincinnati Chili
Cincinnati Chili is a classic Midwestern recipe! This chili is nothing like you have ever had before! Slow simmered meat sauce is served over spaghetti noodles. 
Instructions
In a large dutch oven combine the water and tomato paste. Whisk together to combine.

Crumble the meat with fingers and add to the liquid in the pot.

Add all remaining ingredients to the pot and stir to combine.

Bring pot of chili to a simmer over medium heat. Cover and lower heat. Let simmer for 2-3 hours stirring occasionally. Skim grease from the top as needed.

Remove the chili from the heat and allow to cool to room temperature. Cover and store the chili in the refrigerator overnight.

After chili has cooled overnight, using a spoon, breakup the grease on the top of the chili and remove completely.

Bring the chili back to a low simmer over medium heat.

Serve the chili warm over spagehtti noodles or over a hot dog.
Notes
If you don't have time to store the chili overnight, you can simply skim the grease as best as you can from the top of the chili and serve. Storing overnight helps remove the grease and allows further development of the flavors. It is not necessary. 
Nutrition
Calories:
352
kcal
Carbohydrates:
11
g
Protein:
21
g
Fat:
25
g
Saturated Fat:
10
g
Cholesterol:
81
mg
Sodium:
924
mg
Potassium:
659
mg
Fiber:
3
g
Sugar:
6
g
Vitamin A:
1214
IU
Vitamin C:
6
mg
Calcium:
57
mg
Iron:
4
mg
Nutrition information is automatically calculated, so should only be used as an approximation.