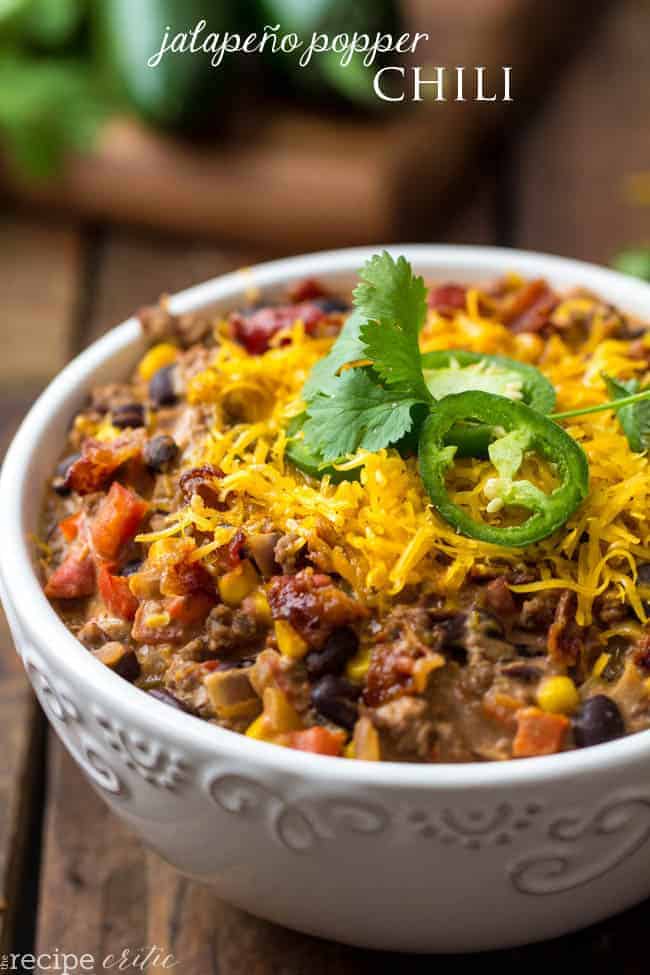 It is starting to get cold around these parts. And every year I question why I live in Utah.  We had some snow this week and it is freezing outside.  I just want to stay inside all day in my pajamas in bed with some hot cocoa.  But then I remember that I am a mom and life is busy and that isn't possible. 🙂  At least there is one thing that I look forward to this time of year.  A warm bowl of soup or chili.
I have had a jalapeño popper obsession going on lately.  It was after I made this dip that I totally fell in love.  I love how the cream cheese helps cool down the jalapeño but gives it enough of a kick.  Everything that I loved about this jalapeño popper dip was represented in this delicious chili.  I am not even lying when I say that this made the list of my top 5 favorite chilis.  Cream cheese was added to this chili!  How can you go wrong when cream cheese is added to anything?  It gave this chili a delicious creamy taste when the jalapeños gave it a kick!  Oh and it has bacon added to it.  So pretty much this is a recipe for the best chili invented.  You will love it.  It is going to warm you up this winter and become a family favorite!

Jalapeno Popper Chili
A delicious and creamy chili with all of the goodness of a jalapeño popper packed inside!
Ingredients
2 tablespoons extra-virgin olive oil
½ medium red onion, chopped
1 red bell pepper, chopped
2 jalapeno peppers, seeds omitted and finely chopped
3 cloves garlic, minced
1 pound lean ground beef (can also use ground chicken or turkey)
2 tablespoons taco seasoning
1 (14.5 oz) can black beans, drained and rinsed
1 cup corn
1 (14.5 oz) can diced tomatoes
½ cup salsa
¾ cup chicken broth
½ cup chopped cilantro
4 slices bacon
4 ounce cream cheese
Optional Toppings:
Shredded Cheddar Cheese
One jalapeño sliced
cilantro, chopped
Instructions
In a large pot add the extra virgin olive oil. Sauté onion, bell pepper, jalapeño, and garlic over medium heat until tender. Add the ground beef and cook until no longer pink. Add in the taco seasoning.
Add the black beans, corn, diced tomatoes, salsa, chicken broth, and chopped cilantro. Bring the chili to a simmer and cook for 30 minutes to allow flavors to blend.
Meanwhile, cook and crumble the bacon. Add the bacon and cream cheese right before serving. Stir until melted and creamy. Serve with desired toppings.
Recipe adapted from
Tablespoon