This website may contain affiliate links and advertising so that we can provide recipes to you. Read my disclosure policy.
These green bean bundles are the ultimate side dish! Crispy bacon wrapped around succulent green beans will be your new tradition this holiday season!
Green beans are classic! They go with just about anything and are so scrumptious no matter how you cook them. Whether it's Garlic Butter String Beans, Garlic Parmesan Green Beans, or the World's Best Green Bean Casserole, they're just a great choice.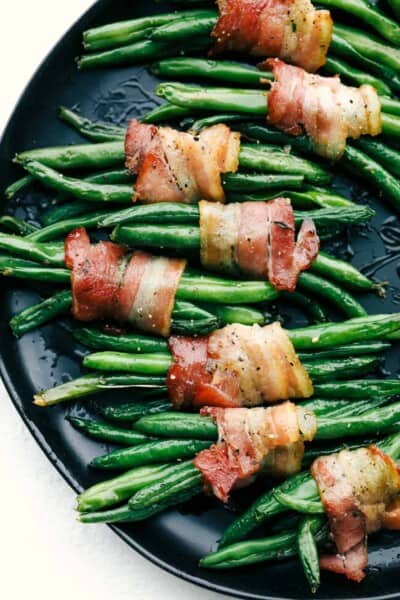 Green Bean Bundles
Everyone loves a good side dish. They are just as important as the main dish in most cases. Especially around the holidays. Everyone is looking for that special side dish that's really going to make the meal special. These green bean bundles will elevate your meal to a whole new level. Your guests will ooh and ahh and eat them faster than you can make them. So… Just double the recipe while you're at it! You'll be glad that you did!
These bundles are so fun and easy to make. Involve your little ones and have them wrap the bacon around the beans for you. They are wonderful to serve because they are already portioned out! Of course, don't be surprised when people take multiples! Serve them with this Chicken, these Rolls, and this Chocolate Cake for dessert! It will be a meal to remember! These green beans are SOO GOOD that no one will be able to resist the smokey bacon wrapped around tender-crisp beans!!
Ingredients You Need for Green Bean Bundles
It's such a short ingredient list, which is perfect for a busy holiday. See the recipe card at the bottom of the post for exact measurements.
Green Beans: Fresh green beans are a definite must for this recipe.
Bacon: When you are prepping the bacon, you can cut each slice in half!
Butter: You are going to melt the butter! So set it out beforehand to soften it up!
Brown Sugar: This is the secret ingredients in this recipe! It creates a caramelized sweetness.
Salt and Pepper: sprinkle these on to your liking.
How to Make Green Bean Bundles
These not only look good but they taste amazing. Plus, they are easy so I call that a win!
Blanch: Bring a large pot of water to boil. Add the beans and blanch for 3-5 minutes.
Ice Bath: Drain the beans and plunge into a bowl full of cold water and ice cubes.
Wrap: Take a small handful and wrap with a piece of bacon and secure with a toothpick.
Brush: Place the bundles in a single layer on a cookie sheet. Mix the melted butter with brown sugar and brush on the bean bundles.
Bake: Bake at 400 degrees F for 15-18 min or till bacon begins to crisp.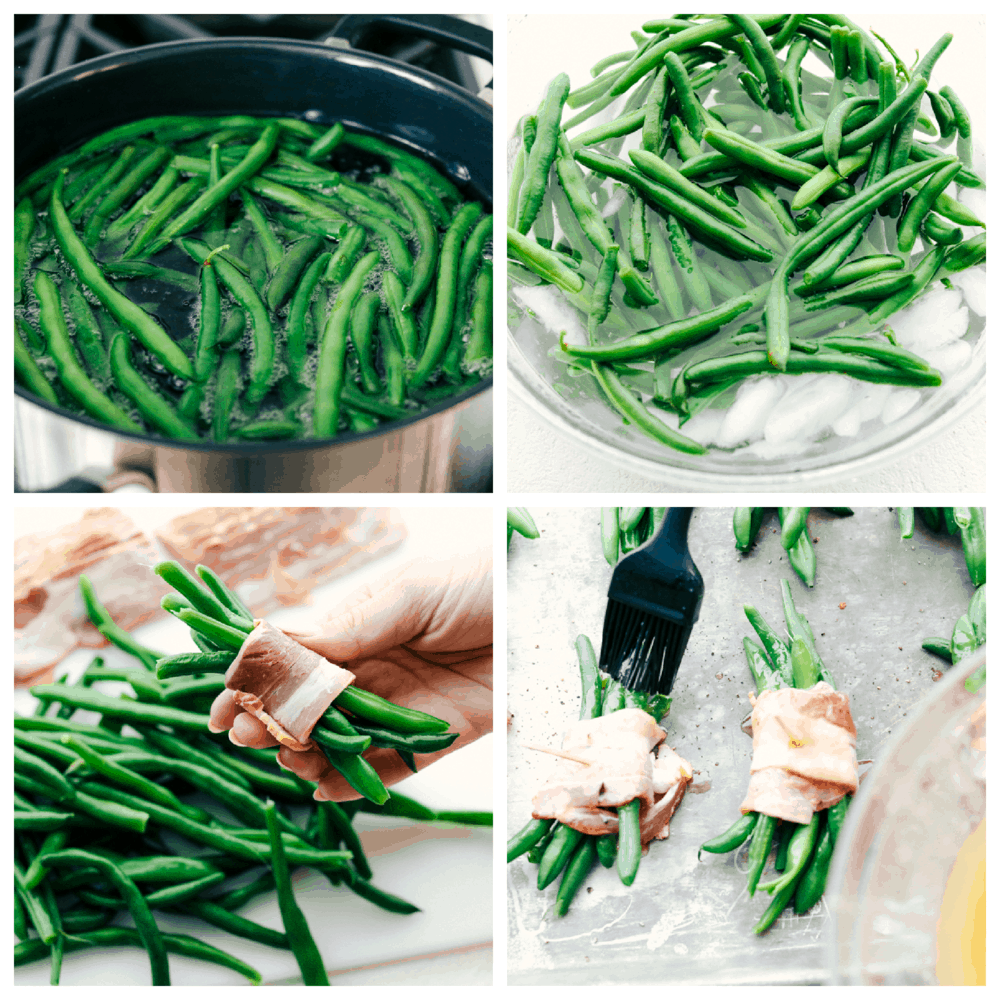 Blanching Beans
This is a technique used in this green bean bundle recipe. If you've never done it before, here's an explanation of what it is and why it's used!
What is it: Blanching is a cooking method in which a food, usually a vegetable or fruit, is scalded in boiling water, removed after a brief, timed interval, and finally plunged into iced water or placed under cold running water to halt the cooking process.
Why: Blanching is a great method to use because it stops enzyme actions which can cause a loss of flavor, color, and texture. Further, it cleanses the surface of dirt and organisms, brightens the color, and helps to prevent loss of vitamins. It's often used before freezing or canning fruits and vegetables. Besides the added benefits of blanching the beans in this recipe it also begins the cooking process for the beans, which can take a long time to cook. It shortens the cooking time for the beans.
Make it Greener: Add a pinch of baking soda for an even brighter green color.
Tips for This Recipe
These green bean bundles are so fun to serve up! These tips will make them turn out perfectly!
Bacon: You want to make sure the bacon cooks, so pick thin bacon, not thick sliced. Cut it in half so it's smaller and you wrap it around fewer times allowing it easier access to cook.
Wrap: Off set the wrapping so it barely overlaps itself, this is another trick to the bacon to cook through.
Pre-Bake: If you are really worried about the bacon cooking, you can pre cook the bacon. Cook the bacon till it's still pliable.
Pre-Cooked: You can also use pre-cooked bacon bought from the store. This will alter the cook time, so watch it carefully.
Beans: Use French Green beans if you can, they are longer and thinner and easier to wrap and bundle. They will also cook faster and more evenly.
How to Make These Ahead of Time
If you are looking to get a head start and make these ahead of time, you totally can! Follow steps 1-2 on the recipe card on prepping the green beans. Then, place your green beans in a covered container in the fridge. When you are ready to cook them, take them out and mix the butter and brown sugar mixture. Cook them at 400 degrees for 18-20 minutes or until the bacon is crisp!
Pin this now to find it later
Pin It
Green Bean Bundles
These green bean bundles are the ultimate side dish! Crispy bacon wrapped around succulent green beans will be your tradition this holiday season!
Instructions
Preheat 400 degrees. In a large pot add water and bring to a boil. Blanch the green beans for 3-5 minutes. Rinse and put in an ice bath to stop the cooking process.

Grab a handful of green beans and wrap the bacon around tightly and secure with a toothpick. Lay in a single layer on a baking sheet.

In a small bowl combine the melted butter and brown sugar. Brush on each green bean bundle.

Cook in the oven for 15-18 minutes or until the bacon is crisp.
Notes
Updated on December 9, 2021
Originally Posted on November 21, 2020
Nutrition
Calories:
374
kcal
Carbohydrates:
9
g
Protein:
9
g
Fat:
34
g
Saturated Fat:
15
g
Cholesterol:
68
mg
Sodium:
483
mg
Potassium:
352
mg
Fiber:
3
g
Sugar:
4
g
Vitamin A:
1158
IU
Vitamin C:
14
mg
Calcium:
48
mg
Iron:
1
mg
Nutrition information is automatically calculated, so should only be used as an approximation.