This website may contain affiliate links and advertising so that we can provide recipes to you. Read my disclosure policy.
Lemon Meringue Pie is literally a slice of sunshine! Tart and tangy, bright lemon filling is topped with clouds of fluffy meringue that is going to blow your taste buds.
There is something truly amazing about pie, it is just so good! Just try these blog favorites and see what I mean, Easy Chocolate, Fresh Strawberry and Perfect Banoffee Pie!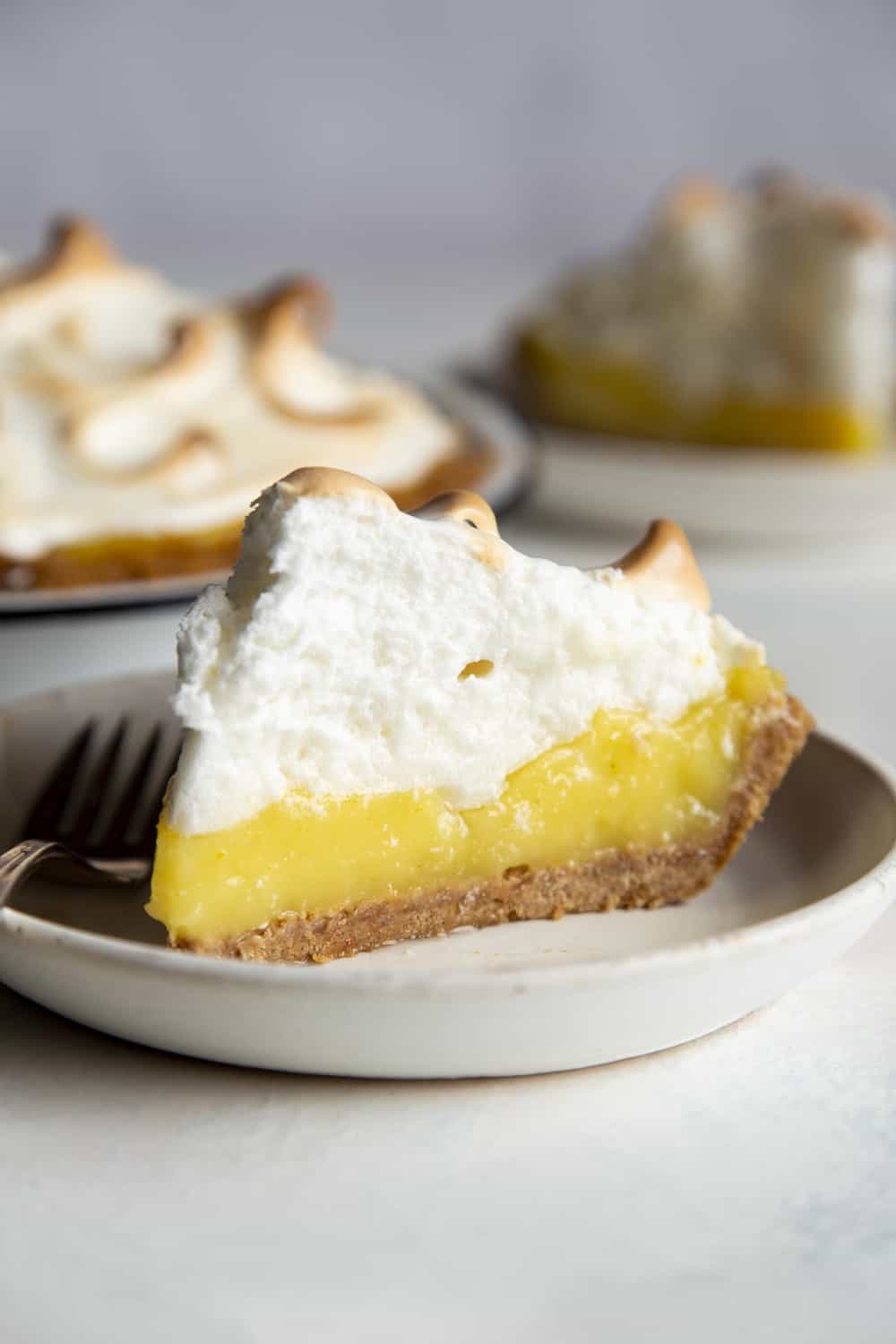 Homemade Lemon Meringue Pie
Lemon meringue pie has to be one of my all time favorites. It is bright, zingy and fresh. The meringue is like eating a pillowy toasted marshmallow. Together it is like a little slice of heaven, or sunshine! To me this pie just screams springtime! The lemon curd is silky smooth and just the perfect combination of tart and tangy. Then comes the beautiful mountain of meringue that sits on top of the pie like a cloud. When you bake it in the oven it turns the outside into a golden brown with just the right amount of bite. It is sweet and light, the ideal combination for the lemon filling.
This Lemon meringue pie, is one to impress. Everyone loves the clouds of meringue. Do not let the meringue part intimidate you. I am going to give you all the tips and tricks to get a perfect meringue. the Lemon filling is just as easy. You are going to be an expert in this pie in no time. So let's make this amazing meringue pie!
What You Will Need For Meringue Pie
I love that this recipes doesn't allow the egg yolks or the egg whites to go to waste. You will use the yolks in the lemon curd and the whites for the meringue.
Graham crackers: Crush your graham crackers with a food processor or in a freezer bag with a rolling pin. 
Unsalted Butter: Be sure to use unsalted butter, you do not want a salty crust. 
Granulated Sugar: The bit of sweet to balance the tart.
Lemon Zest: If you do not have a zester, use the smallest holes of a cheese grater. Stop once you get to the white part of the lemon as it can be bitter.
Kosher Salt:  Salt makes the sweet and tart, sweeter and more tart.
Cornstarch:  The thickener for the lemon filling.
Unsalted Butter:  Helps create a rich filling.
Lemon Juice: Use fresh lemon juice over concentrate
Water:  To mix with the filling
Egg Yolks:  save the egg whites for the meringue
Egg Whites: Use the whites from the yolk of the filling.
Sugar: This the meringue fluff and taste sweet.
Cream of Tartar: Stabilizes the egg whites and creates the peaks.
Kosher Salt: For flavor
Vanilla Extract: Gives the meringue that sweet marshmallow like flavor.
How To Make The Best Lemon Meringue
There are a few steps to this dessert, but it is so worth the effort. Trust me, this is going to be one of the best pies you will ever make.
Crush: Ground Graham crackers in a food processor, mix in melted butter until the crumbs hold in a clump when pressed together.
Pie tin: Press the crust into the bottom and up the side of a pie pan using the flat bottom of a small glass or measuring cup. Place in the refrigerator to set for about 15 minutes while the oven is preheating.
Bake: Preheat the oven to 375°F and bake the crust for 10 minutes.
Cool: Turn the oven off and remove the pie crust. Set it on a wire rack to cool.
Make the Lemon Filling
Mix: Whisk together the sugar and lemon zest. Add the salt and cornstarch, whisk to distribute evenly. Set aside.
Heat: Melt butter in a saucepan over medium heat. Add water, lemon juice, and the sugar/cornstarch mixture, stir to make sure the cornstarch dissolves. Add the egg yolks and cook the mixture, whisking constantly, until it thickens and some bubbles burst at the surface, about 5 mins. 
Make it Smooth: Strain the filling through a fine mesh sieve into a clean bowl.
Fill: Transfer cool lemon filling into the cool pie crust, cover with plastic wrap and refrigerate until the filling sets completely, about 4 hours.
Make the Meringue
Double Boiler: Whisk together egg whites and sugar in a heatproof bowl over a pot of simmering water. Continue whisking until the egg white mixture reaches 160°F. 
Beat: Transfer egg white mixture into a stand mixer bowl and add cream of tartar. Beat with the wire whisk attachment on medium speed until it is fluffy and reaches soft peaks.
Flavoring: Sprinkle in the salt and stream in the vanilla extract. Then continue beating until the meringue is shiny and stiff peaks form.
Assemble the Pie
Combine:Add the meringue on top of the lemon filling.With a spatula push the meringue out to the edges leaving a dome in the middle. Then use the back of a spoon to make little peaks all around.
Brown: Use a kitchen torch to brown the meringue in places.
Serve: Serve immediately
Making Perfect Lemon Filling
When eat your lemon meringue pie, you want the lemon filling to be silky smooth and that perfect combination of tartness and a bit of sweet. Here is how we do that.
Heat Slowly: After you seperate the egg yolks from the whites you want to add them to the pot before they get hot. The mixture should be warm, but not hot. If the mixture is to hot you'll curdle the eggs or basically scramble them.
Stir: The secret to luscious lemon filling is to stir constantly and stir well. Do not walk away from your pot.
Strain: Pushing the filling through a fine mesh strainer will guarantee you will have silky smooth lemon filling. Do not skip this step.
Tips For The Fluffiest Meringue
Don't let the meringue part of this lemon meringue pie intimidate you. This dessert is going to become the best you ever made with these tips, perfection is just a few minutes away.
Egg Whites: Separating the egg yolks from the egg whites is super important. If you get even a smidge of egg yolk in your egg whites, your meringue will be ruined. To help you avoid that separate the eggs while they are are still cold. Cold eggs separate better than room temperature.
Room Temperature: However, room temperature egg whites will whip up easier and better so after you separate them, let your egg whites come to room temperature.
Create The Peaks: It might take some patience but you will want to make sure your peaks are good and stiff. Don't worry it will come
Design: This is the most fun part. With the back of a spoon gently create swirls and whirls for your meringue, they will look awesome when you've browned them.
To Brown the Meringue:  I used a kitchen torch to get that golden brown look you want. But you can get the same look by moving the oven rack close to the top and turning on your broiler. place the lemon meringue pie in the oven and watch it carefully turning as needed to brown it evenly.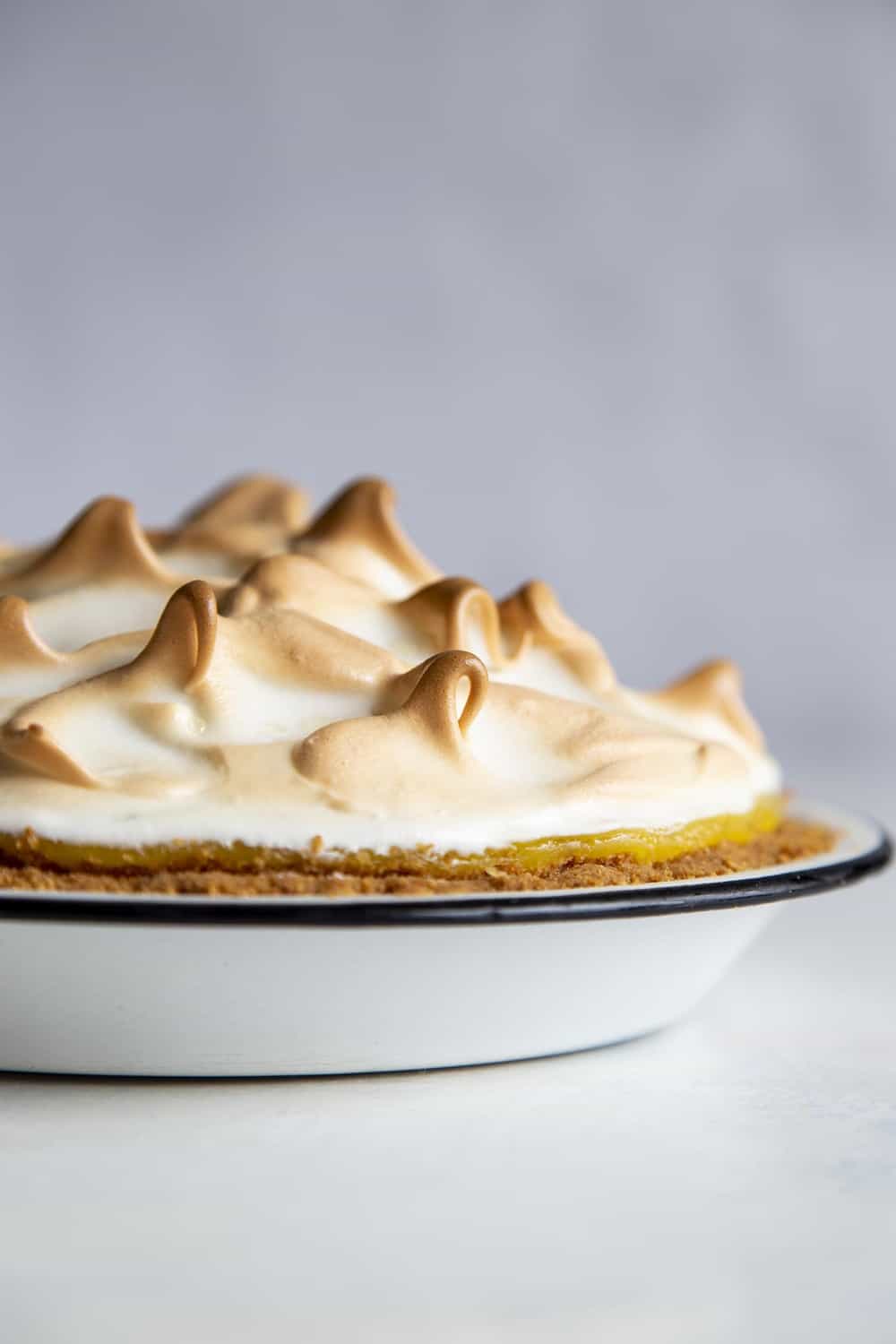 How to Store French Lemon Meringue Pie
Lemon Meringue pie is best eaten the same day it is made and as soon as the meringue is put on. To store leftovers cover in such a way that the plastic or foil does not touch the meringue if possible. I use toothpicks in the pie, to prop up the plastic wrap away from the pie.
Keep in the fridge for up to 3 days. There may be some "weeping" of the meringue and it will separate as it is stored. This is normal of meringue that is stored for a few days. It will not change the taste, but it might the texture. It will still be amazing!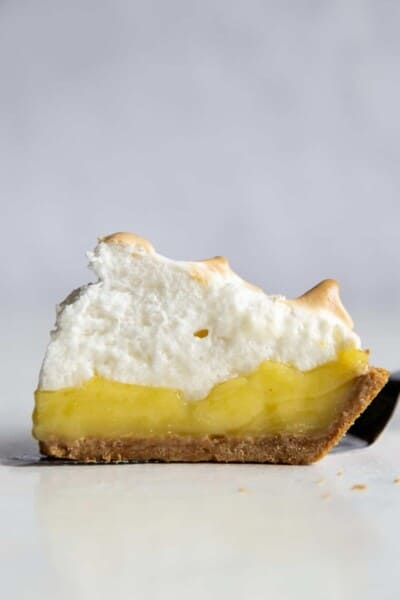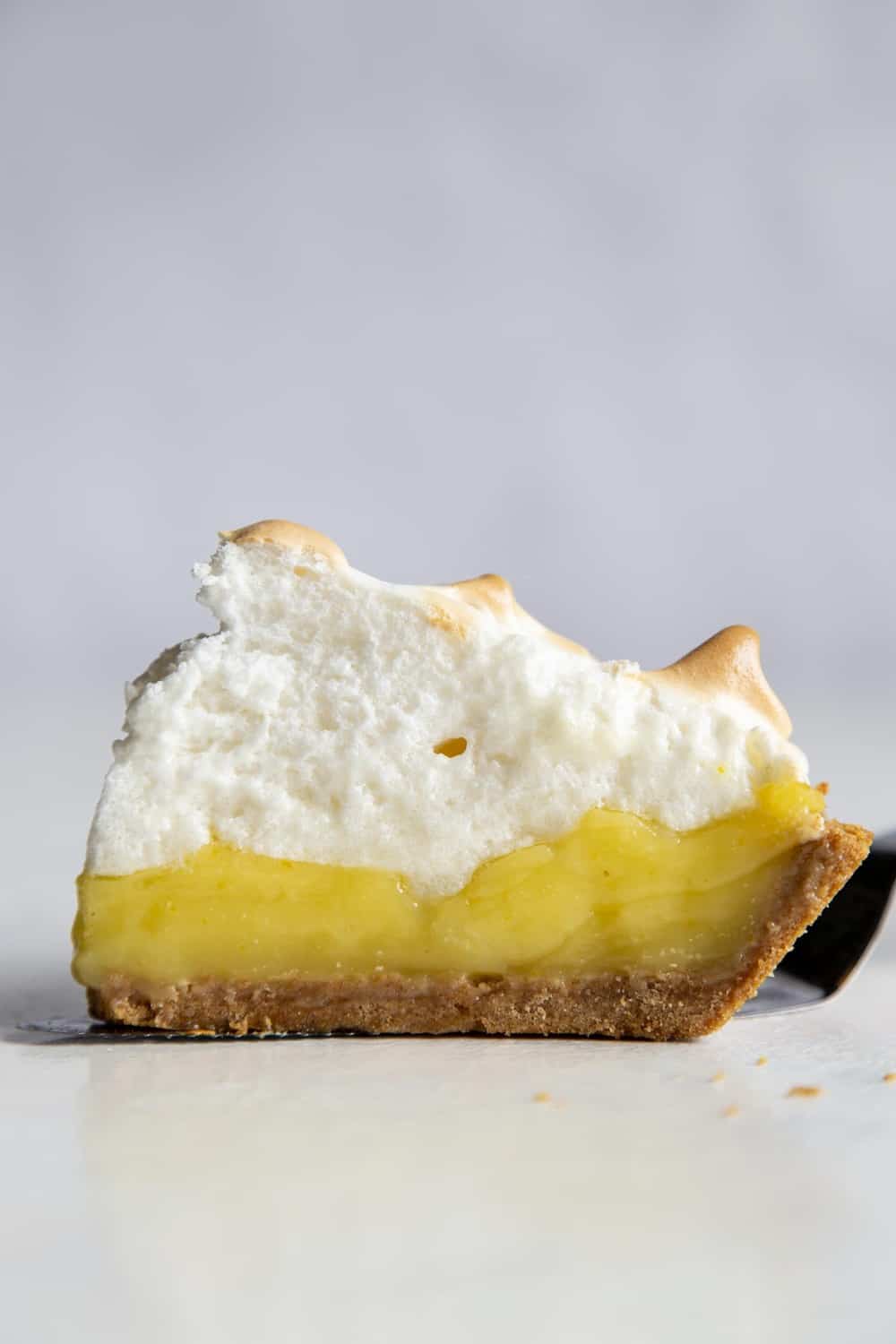 More Lemony Recipes You Have to Try
Lemon is one of my all time favorite ingredients to cook and bake with. It adds so much zip and zing to recipes. The tartness balances out the sweet in the best desserts. Lemon's zing brings out the best in chicken and fish especially. You can make a simple dish absolutely delicious just by adding a fresh squeeze of lemon. When you go searching for lemon recipes on here, you will find quite a few, and they are all amazing, but here are a few to get your started.
Pin this now to find it later
Pin It
Lemon Meringue Pie
Lemon Meringue Pie is literally a slice of sunshine! Tart and tangy, bright lemon filling is topped with clouds of fluffy meringue that is going to blow your taste buds.
Ingredients
Crust
14

(full sheets) of

Graham crackers

3

ounces

unsalted butter

melted
Lemon filling
1 1/4

cups

granulated sugar

1

Tablespoons

lemon zest

1/4

teaspoons

kosher salt

1/4

cup

corn starch

2

ounces

unsalted butter

3/4

cup

lemon juice

1 1/4

cup

water

5

egg yolks

save the egg whites for the meringue
Meringue topping
5

large

egg whites

½

cup

granulated sugar

½

teaspoon

cream of tartar

A pinch of kosher salt

½

teaspoon

of vanilla extract
Instructions
Nutrition
Calories:
374
kcal
Carbohydrates:
55
g
Protein:
5
g
Fat:
16
g
Saturated Fat:
8
g
Trans Fat:
1
g
Cholesterol:
128
mg
Sodium:
220
mg
Potassium:
118
mg
Fiber:
1
g
Sugar:
40
g
Vitamin A:
485
IU
Vitamin C:
8
mg
Calcium:
35
mg
Iron:
1
mg
Nutrition information is automatically calculated, so should only be used as an approximation.