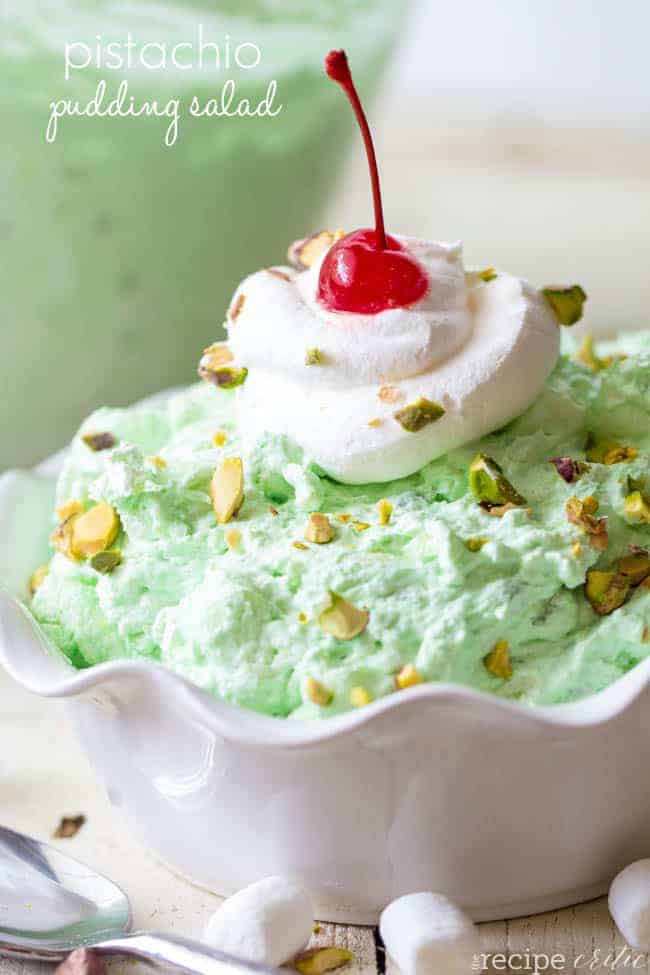 It has been warming up around these parts! And I am not sure how much more my preggo cankles can take. 🙂  My feet are so swollen and they are getting worse as the days get hotter. I feel like my life has been so busy trying to get ready for this princess to get here. I am so excited and I can't believe it is just a little over a week until she gets here!
You know what comes with warmer weather right? Barbecues!! It is my favorite time of the year and I absolutely love grilling season. We had our first real family BBQ on Sunday. This pistachio pudding salad has been apart of my family for years. My mom would take it everywhere when I was little. I think you could go to any family reunion in Utah and this salad is guaranteed to be there. But it is amazing! It is so delicious and creamy and the flavors combined are awesome. It makes such a cool summer dessert. If you give it a try it will become a favorite in your house as well!

Pistachio Pudding Salad
A cool and delicious pistachio dessert that will be a hit at any gathering!
Ingredients
1 20 ounce can crushed pineapple, drained
1 (3 oz) package instant pistachio pudding
1 8 ounce container whipped topping, thawed
2 cups mini marshmallows
¼ cup chopped pistachios, chopped for garnish (optional)
Instructions
In a large mixing bowl combine the crushed pineapple and pistachio pudding mix. Fold in the whipped topping and marshmallows.
Garnish with crushed pistachios and enjoy!