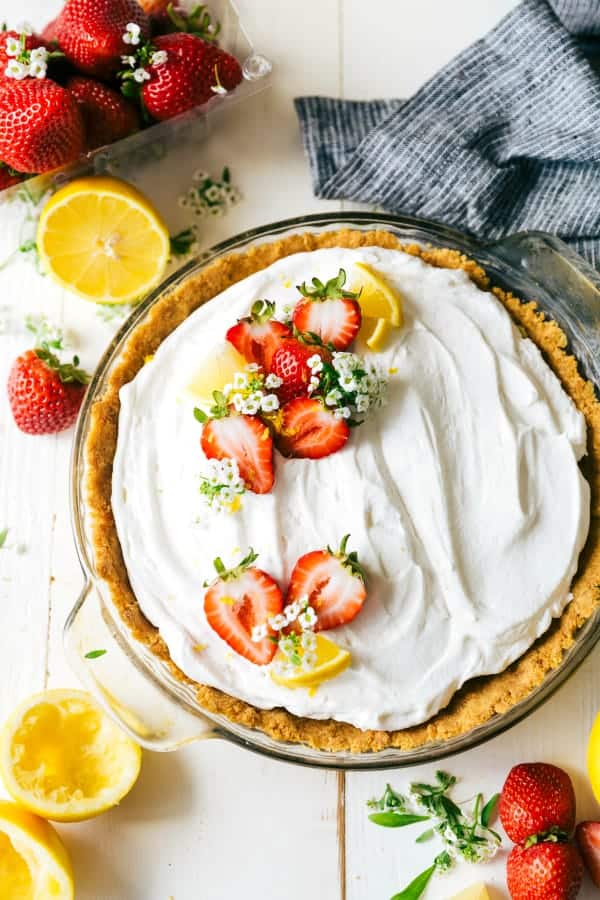 Hey everyone! Chelsea back from Chelsea's Messy Apron and I've got a delicious triple-layer lemon pudding pie that requires NO baking and is ready in no more than 15 minutes prep time. This is the perfect summer dessert that will absolutely be a hit wherever it goes!

From first glance, this pie may look elaborate or time consuming with the three different layers, but it couldn't be easier to make. All three layers originate from just THREE ingredients.
Pudding mix, milk, and whipped topping.
And to make it even easier you could grab a pre-made graham cracker crust at the grocery store!
I used pre-made packaged whipped topping for this pie, but making your own whipped topping absolutely will work in this pie. It takes a little bit more prep and a few more ingredients (I'd whip heavy whipping cream with a few tablespoons powdered sugar and some vanilla), but it works great!
The reason I recommend using whole milk is because it will allow for the most firm set up of the pie. Lower the percentage of fat in milk and the less firm of a pie you'll get.
Easy Lemon Pudding Pie
Ingredients
9-10 full honey graham crackers (~1 and ½ cups crumbs)
¼ cup + 3 tablespoons white sugar, separated
6 tablespoons butter
2 packages (3.9 ounces each) instant lemon pudding mix
2 cups whole milk
1 container (8 ounces) frozen whipped topping, thawed
Optional: strawberries, 1 tablespoon lemon extract
Instructions
In a blender or food processor, place the graham crackers and process/blend until the crackers are all crumbs. Empty the crumbs into a medium sized bowl and stir in ¼ cup white sugar.
Soften the butter and combine with the crumb and sugar mixture.
Spray a pie pan (I use a 9-inch) with nonstick spray and press the cookie crust evenly along the bottom and slightly up the sides. Place in freezer while preparing the filling.
Briskly whisk the 2 packages of instant pudding mix with the cold milk and whisk for 2 minutes. If desired (stronger lemon flavor) add in the lemon extract here.
Remove 1 and ½ cups of the pudding and place in the bottom of the graham cracker crust. Spread evenly.
Combine the remaining pudding with half of the whipped topping and spread evenly on top of the lemon pudding.
With a clean spatula, spread the remaining whipped topping evenly on top.
Chill in the fridge for at least 3 hours.
When ready to serve, warm a very sharp knife under hot water, dry, and then make quick clean cuts to serve.
If desired, serve with fresh strawberries.
More delicious summer desserts from Chelsea's Messy Apron:
5-ingredient Frozen Strawberry Cheesecake Ice Cream Pie