This website may contain affiliate links and advertising so that we can provide recipes to you. Read my disclosure policy.
Slow Cooker Cinnamon Almonds are a crunchy, sweet treat made perfectly delicious in the crockpot! These tasty vittles are perfect for snacking, gift giving, and holiday parties. Watch these cinnamon almonds disappear where ever you take them.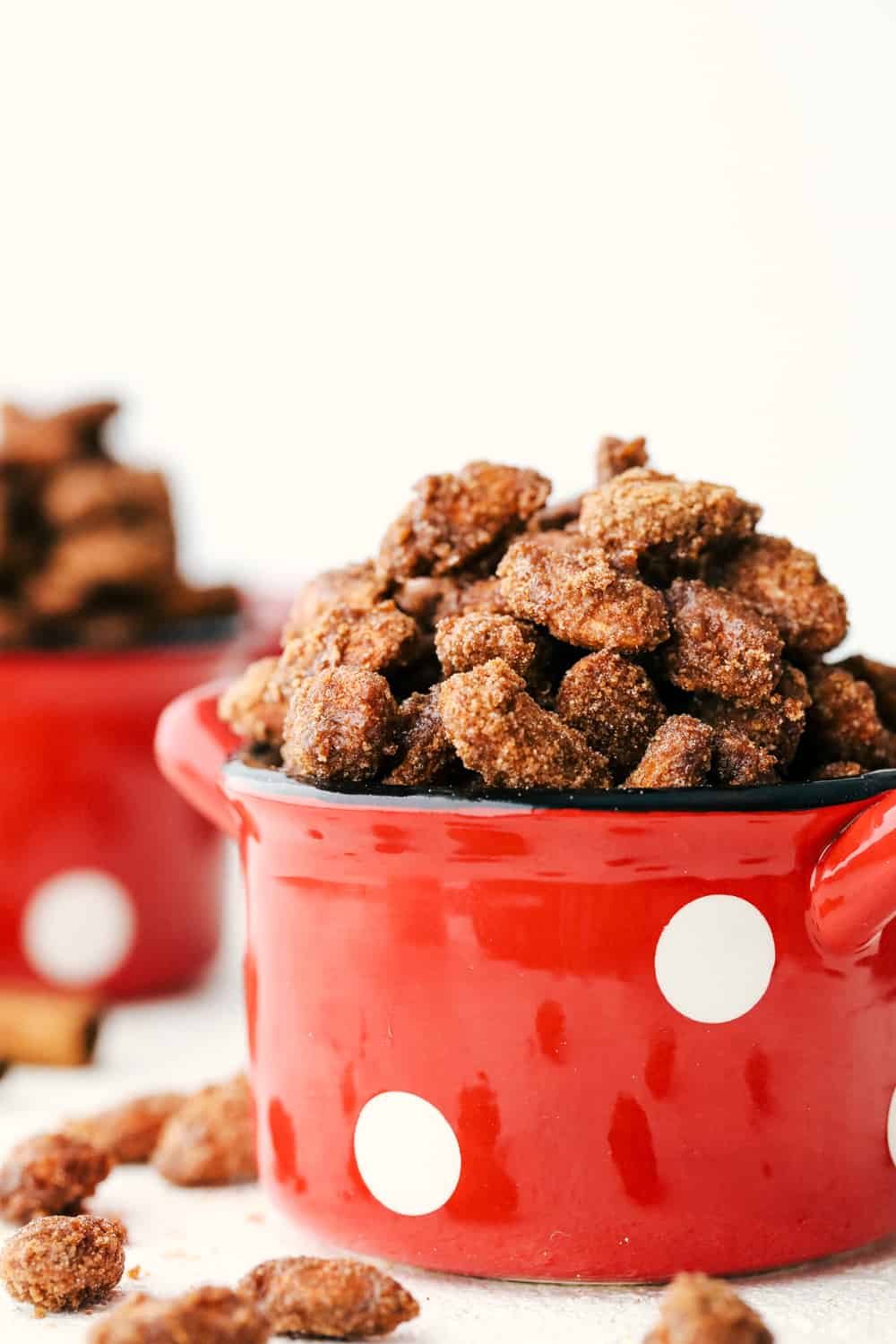 Cinnamon Almonds
Do you know those delicious cinnamon almonds at the mall? Well these are SO much better! And you can make them for about the same price you pay for one of those tiny bags. I LOVED the way this made my house smell! It seriously makes me want to make a batch daily. The brown sugar and cinnamon mixture gives an AMAZING flavor and the perfect crunchiness…. I almost think that the ones at the mall are a little too crunchy. And how perfect are these for gifts for the holidays? I feel like I have to spread the deliciousness of these and give them to all my friends and family!
These are super easy to throw together and let the slow cooker work it's magic. You do have to stir the almonds every 20 min or so, so don't set it and forget it. But it'll be so worth it as you eat these cinnamony little devils. Be careful not to eat them all in one sitting, it'll be tempting. Trust me.
Cinnamon and Sugar Almond Ingredients
Simple ingredients come together to make a easy treat! These are a MUST make!
Sugar: White sugar
Brown Sugar: Helps with caramelization and deep rich flavor.
Salt: Balances out the sweet.
Almonds: Raw unsalted plain almonds.
Cinnamon: The star in the spice combo
Egg White: Helps the cinnamon and sugar stick and creates crunch
Vanilla:  Flavor enhancer
Water: Creates the caramelization at the end.
How to Make Cinnamon and Sugared Almonds
Despite it being the slow cooker you don't want to necessarily walk away! It will need stirring.
Mix: In a large bowl mix together the cinnamon, sugars and salt
Whisk: In a separate bowl whisk the vanilla and egg white together till good and frothy.
Stir: Pour the almonds into the egg white mixture and stir to coat thoroughly.
Coat: Dump the cinnamon and sugar mixture over the almonds and stir to coat.
Slow Cook: Spray your crockpot with cooking spray. Place the almonds inside and stir again to make sure all the almonds are covered. Cook on low for 3-4 hours stirring every 20 minutes
Water:  Drizzle the water over the almonds and stir. Cook for another 30 min.
Cool: Prepare a cookie sheet with parchment or wax paper. Pour the almonds on the cookie sheet and spread out evenly. Allow to cool completely before storing.
Why Egg Whites and Water Work
You might be wondering why you need egg whites and water for roasted almonds.
Egg Whites: The egg white acts as a binder for the flavor to the nuts. It also acts similar to merguine when it hits the heat, creating a fine crunchy coating. It helps prevent an oily vibe from the nuts as well.
Water: The water creates another binder as well as a sticky shiny coating at the end. You can actually leave out the water if you desire. They'll still be crunchy, but the coating will be more powdery then sticky.
Tips and Variations
Nuts: You can substitute out the almonds and use pecans, cashews, walnuts or other nut of choice.
Add ins: Try adding in flaked coconut, sprinkles, crushed candy cane or anything else that tickles your fancy. Add these right after you've removed them from the slow cooker so they're still warm and it'll stick.
Cooling:  The longer you let the almonds cool before bagging or storing the crunchier they'll stay. Don't bag or store while warm, they'll sweat ruining the crunchy cinnamon coating
Stir: Remember you need to stir these every 20-30 minutes. Keep covered during cooking process
Leftovers: Chop up leftovers for granola, yogurt, and dessert topping. YUM!
Storing and Gifting!
These are so easy to store and keep, if you can! They are so fun to snack on and munch on while wrapping gifts or enjoying family and friends over. This year give the gift of almonds to all your friends, family and neighbors. It is the perfect treat to share and easy to drop off on a doorstep or add to a gift basket. So many options for these easy cinnamon almonds.
Giving: Pick up some fun gift giving bags to use for gifting for family and friends. About 1 to 2 cups per bag will make everyone holidays better!
Storing: It is best to keep them in an air tight bin or bag that is stored in a cool, dry place.
More Slow Cooker Recipes to Try
From dessert to main dishes you can do so much in a slow cooker.
Save
Pin this now to find it later
Pin It
Slow Cooker Cinnamon Almonds
Slow Cooker Cinnamon Almonds are a crunchy, sweet treat made perfectly delicious in the crockpot! These tasty vittles are perfect for snacking, gift giving, and holiday parties. Watch these cinnamon almonds disappear where ever you take them.
Ingredients
Instructions
Mix together in a large bowl sugars, cinnamon, and salt.

In another bowl with a whisk, mix together the egg white and vanilla until it is frothy. Add the almonds and coat thoroughly. This will help the mixture stick to the almonds during the cooking process.

Prepare your slow cooker by spraying it with cooking spray. I used a 4 quart. Add the cinnamon almond mixture to the almonds and turn it to low. Stir until the cinnamon sugar mixture is coated well on the almonds. Be prepared for your house to smell amazing!

You want to cook for about 3-4 hours. Mine took about 3. Stirring every 20 minutes. In the very last hour, add 1/8 cup water and stir well. This will ensure a crunchy coating and help the mixture to harden.

Line a baking sheet with parchment paper and spread the almonds onto the sheet to cool. The almonds should be pretty sticky so be sure to separate them the best that you can and let them cool!
Notes
Updated on November 27, 2020
Originally Posted on October 12, 2012
Nutrition
Calories:
353
kcal
Carbohydrates:
45
g
Protein:
8
g
Fat:
18
g
Saturated Fat:
1
g
Sodium:
30
mg
Potassium:
296
mg
Fiber:
6
g
Sugar:
36
g
Vitamin A:
11
IU
Vitamin C:
1
mg
Calcium:
147
mg
Iron:
2
mg
Nutrition information is automatically calculated, so should only be used as an approximation.