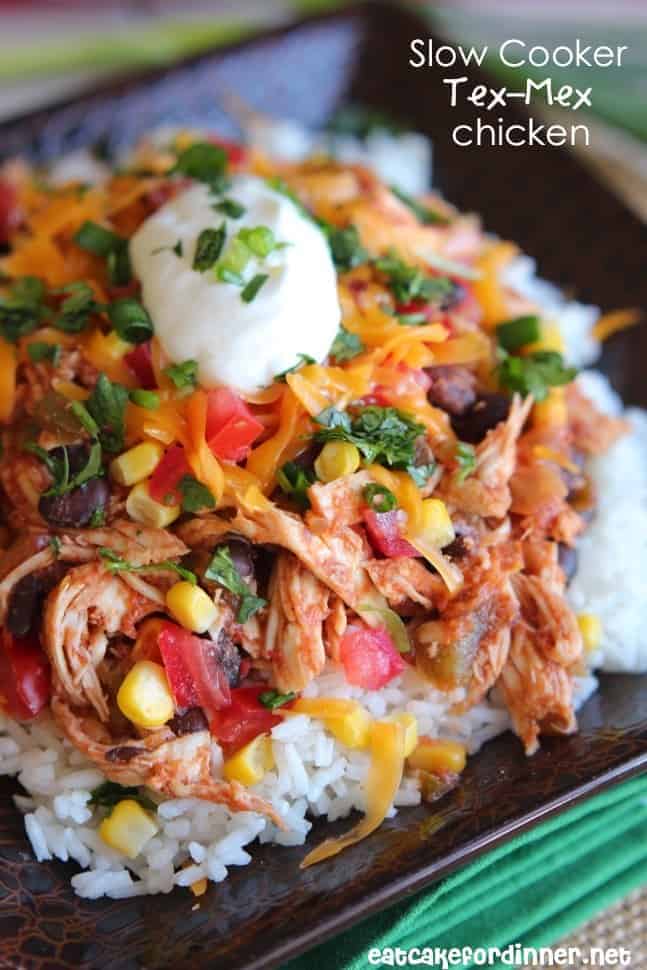 Hi, it's Jenn, from Eat Cake For Dinner.  I'm back again and this time I am sharing a reaaaaally good dinner recipe with all of you.
 I've decided I should use my slow cooker more often, at least on the weekends.   It's hard for me to use it during the week, because if I started a dish before work, by the time I got home, it would be way over cooked.  Maybe I should get one of those slow cookers where it automatically flips to "warm" when the cooking time is over.  Does anyone have one like that?  Do you like it?
 This chicken only takes a few minutes to put together and in just a few hours, you can have a terrific dinner ready for your family.
 The chicken was so tender and shredded apart beautifully.  We did not skimp on the toppings.  Sour cream, Cheddar cheese, cilantro, green onions and tomato made this already delicious chicken dish even better.  It doesn't get much easier than this!
Slow Cooker Tex-Mex Chicken
A super easy and delicious shredded chicken dish that is made in the slow cooker.
Author:
Jenn@eatcakefordinner
Ingredients
4 chicken breasts, frozen
2 Tbl. taco seasoning
1 green bell pepper, ribbed, seeded and chopped
1 can corn, drained
1 can black beans, rinsed and drained
1½ - 2 c. salsa (I used chunky Medium salsa)
For Serving:
cooked rice
chopped cilantro
chopped green onions
sour cream
shredded cheese
diced tomatoes
Instructions
Place frozen chicken breasts in bottom of slow cooker. Sprinkle with taco seasoning. Add the chopped bell pepper, corn, beans and salsa. Cover and cook on high for 3½ - 4 hours or until chicken is cooked through. Shred chicken. Serve over cooked rice and top with desired toppings.
Recipe slightly adapted from: Kraft
You might also like these other delicious recipes from: Eat Cake For Dinner
Tex-Mex Chicken Salad Sandwiches
Baked Honey Lime Chicken Taquitos with Green Chile Sour Cream
Cilantro Lime Chicken Fajitas with Mexican Slaw (aka Best Fajitas EVER)
Stay Connected with Eat Cake For Dinner
Blog | Facebook | Pinterest | Twitter | Google+