A delicious and addicting snack of Chex covered in white chocolate and coated in a strawberry flavored cake mix powdered sugar.  The perfect treat for Valentine's Day!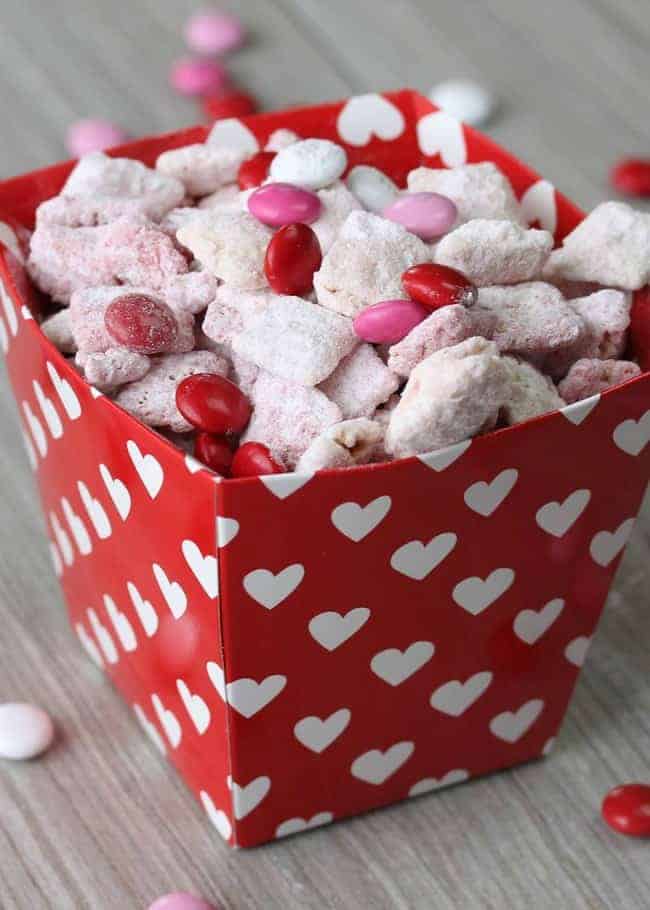 I am obsessed with muddy buddies!  And it is no secret here on the blog!  You can find all sorts of delicious muddy
buddy recipes
 here on the blog from Cookies and Cream to Twix Muddy Buddies.  They make the best quick and easy no bake treat!
The Sweetheart edition of my favorite snack is definitely my favorite!   I could have eaten the entire bag to myself if I could.  They get coated in white chocolate but in fun Valentine's Day colors with a pop of red!   They are flavored with a strawberry cake mix and powdered sugar.  The Valentine's Day M&M's give them a fun little bite of milk chocolate and you won't be able to stop eating them!  They are highly addictive and so delicious.
These Muddy Buddies only take about 10 minutes to make and you will love how easy they are.  They are the most popular Valentine's Day treat on the blog and a MUST try!  They make the perfect treat and gift you are going to love them!
Sweetheart Buddies
Author:
Prep time:
Total time:
A delicious and addicting Valentine's Day Treat!
Ingredients
5 ounces white almond bark or white chocolate chocolate chips
5 ounces red candy melts (I found them at Michael's craft store)
1 teaspoon shortening
5 cups chex cereal
1 cup strawberry cake mix
1/2 cup powdered sugar
1/2 package valentines chocolate M&M's
Instructions
Start by dividing the chex mix into two bowls. (2 1/2 cup in each)
In microwave safe dish, melt the 5 ounces white almond bark or white chocolate chips. Add 1/2 teaspoon shortening so that the almond bark will spread evenly. Microwave 30 seconds at a time and be careful not to burn the almond bark. Dump this in the first bowl of chex and mix evenly to coat all of the chex cereal.
Melt the red candy melts next also checking and stirring the candy melts 30 seconds at a time. Once this is melted, pour this over the second bowl of divided chex and mix until coated.
In two gallon size ziplock bags, put 1/2 cup strawberry cake mix and 1/4 cup powdered sugar in each bag. Dump each bowl of chex mix in each bag and shake until coated with the powdered sugar and strawberry powdered cake mix.