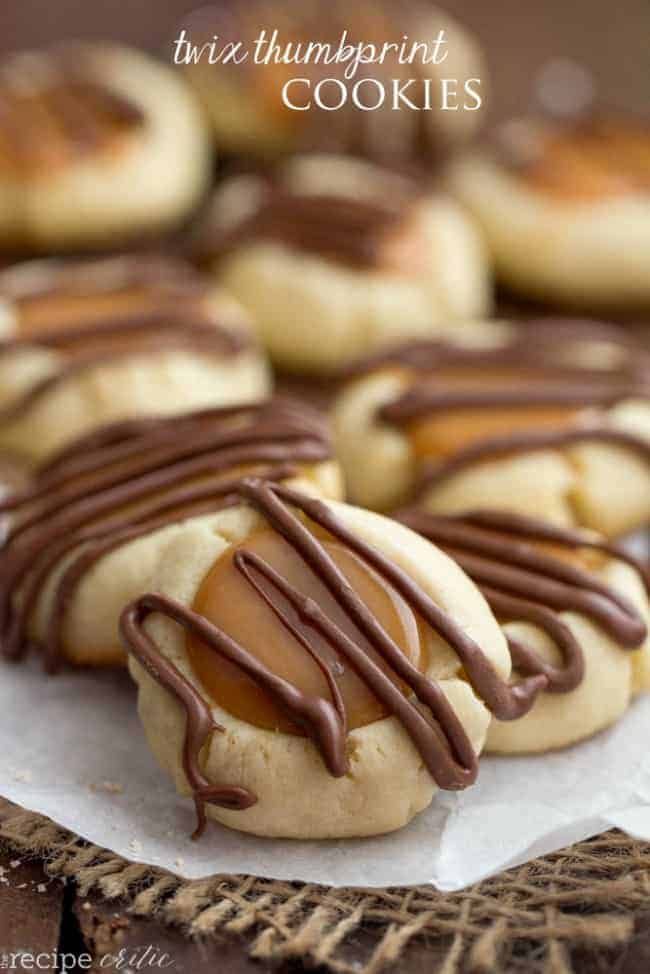 I have been baking up a storm. My kitchen usually looks like a tornado with both of my kitchenaids being used. It's all worth it because I think that I have found my FAVORITE cookie to date! If you are a lover of Twix, then these cute little cookies were made just for you!
These cookies started as a salted caramel thumbprint. But when I had my first bite, they reminded me so much of a Twix Bar! The buttery shortbread base and a chewy caramel center. They were just missing one thing. Chocolate. I drizzled that chocolate on as fast as I could and viola! A Twix Thumbprint Cookie.
HOLY cow. I was eating all of the goodness of a Twix in each and every one of these cookies. And I am not going to admit the number of cookies consumed that day. But I had to get them out of the door and delivered to my neighbors as fast as I could! All of the delicious layers of a Twix bar are represented in these cookies and you are going to love them! The shortbread layer, to the caramel layer, and ending with the chocolate drizzle. There is no way that you can't love these!
Twix Thumbprint Cookies
A delicious thumbprint cookie that tastes exactly like a Twix! A shortbread layer, a caramel filled center and chocolate drizzled on top!
Ingredients
Shortbread Layer:
⅔ cup Unsalted Butter, softened
½ cup sugar
2 Eggs (yolks only)
1 teaspoon vanilla
1½ cups all-purpose flour
Caramel Filling:
14 soft caramel candies (like Kraft Caramels)
3 T. heavy cream
Chocolate Drizzle:
6 ounce milk chocolate chips
Instructions
To make the shortbread layer: Preheat oven to 375 degrees. In a medium sized bowl, combine ⅔ cup butter, sugar, egg yolks and vanilla in bowl. Beat at medium speed, scraping bowl often, until creamy. Add flour; beat at low speed until well mixed. Cover and refrigerate at least 1 hour or until firm.
Shape dough into 1-inch balls. Place 2 inches apart onto ungreased cookie sheets. Make indentation in center of each cookie with thumb or end of wooden spoon handle. Bake 7-10 minutes or until edges begin to brown. Cool completely.
To make the caramel filling: Melt the caramel and heavy cream in the microwave stirring every 30 seconds until it is fully melted. Using a teaspoon fill each indentation with the caramel.
To make the chocolate drizzle: Melt the chocolate in the microwave stirring 30 seconds at a time until smooth, and scoop into a ziplock bag. Barely snip the corner and drizzle over the cookies.