Perfectly soft and chewy cookies loaded with white chocolate chips and oreo cookies!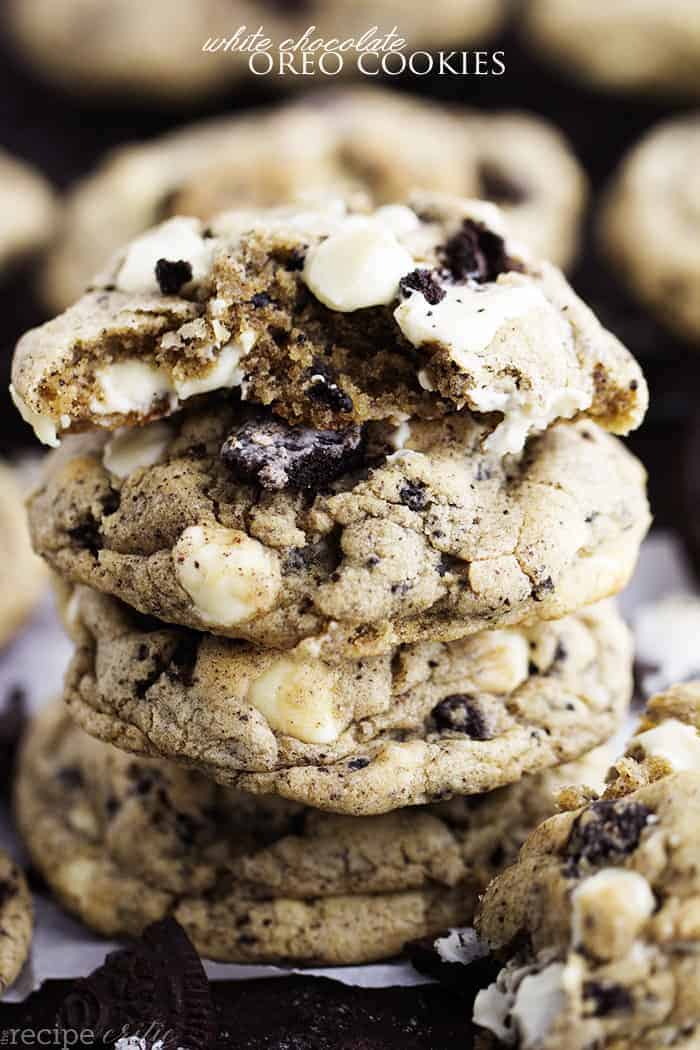 I declare these the best cookies everrrrrrr….
These are the cookies that become an instant favorite. You know the kind of cookies that you can't stop eating? And just when you think you can't eat another cookie you do? And then you fall asleep thinking about them and wake up and eat one for breakfast….
These are those cookies.
It took me a while to become an oreo lover.  I just didn't like eating them plain.  I loved them baked in something or even used as a crust.  But I wasn't a huge fan.  I am more of an eat the middle of an oreo type of person.  But when you bake them in something I am in heaven!
These cookies had it all.  The gooey white chocolate,  and chunks of oreo cookies baked inside a soft and chewy cookie.  The cookies were perfect!
So perfect that I couldn't stop at just one.   I took the recipe from my favorite chocolate chip cookie dough and added loads of white chocolate chips and crushed oreo pieces.   The cookie dough was speckled with oreo cookie pieces throughout and it was incredible!  I loved the melty white chocolate and my first bite was amazing.  The cookies had a crunch on the inside but were soft, ooey, gooey and chewy in the middle.  Just how I love them!
I know that if you love cookies, oreos and white chocolate chips these will become your new bff.  Trust me.  You have got to make them!
White Chocolate Oreo Cookies
Perfectly soft and chewy cookies loaded with white chocolate chips and oreo cookies!
Ingredients
¾ Cup butter, softened
¾ Cup brown sugar
¾ Cup sugar
2 eggs
1 teaspoon vanilla
2½ cups flour
1 teaspoon baking soda
½ teaspoon baking powder
1 teaspoon salt
14 oreo cookies, coarsely crushed
2 cups white chocolate chips, (12 oz) bag
Instructions
Preheat oven to 350 degrees. Line a cookie sheet with parchment paper or lightly spray with cooking spray.
In a medium sized mixing bowl, whisk together the flour, baking soda, baking powder, and salt. Set aside.
In a stand mixer or medium sized mixing bowl, beat together butter, sugar, and brown sugar about 2 minutes until fluffy. Beat in the eggs and vanilla. Slowly beat in the dry ingredients until incorporated. Mix in the crushed oreos until combined and lastly add the white chocolate chips.
Roll into 1½ inch balls and place 2 inches apart on the cookie sheet. Bake for about 7-9 minutes until just starting to lightly brown.