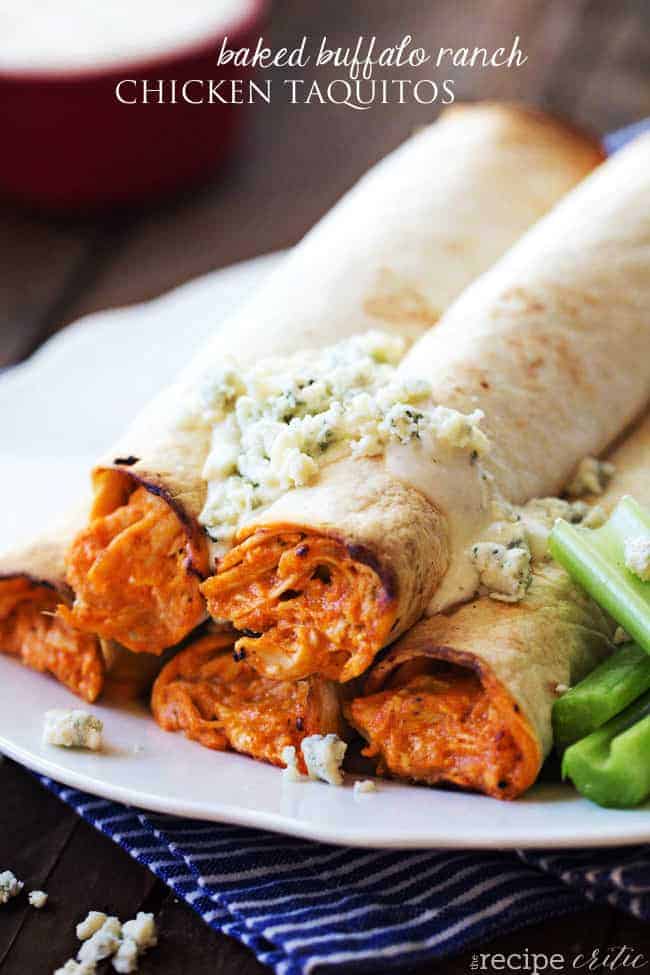 I sure have been enjoying football season. Have you?  Well I haven't watched any of the games yet.  But the football food is pretty amazing if I do say myself.   One of our favorite things on the blog are these Buffalo Ranch Wraps.  I love the buffalo ranch flavor combination.  The ranch cools down the buffalo a little while still giving it enough of a kick!
I knew that I wanted to give the buffalo ranch combo a try in these baked chicken taquitos.  Buffalo sauce is just screaming football to me!  These taquitos turned out even better than expected!   The flavor was amazing in them.  They didn't last long and everyone loved the flavor.  These are perfect for a quick dinner, appetizer and great for a football game!  Try them out for yourself!

Baked Buffalo Ranch Chicken Taquitos
Amazing baked chicken taquitos that are given a kick with buffalo ranch and are delicious!
Ingredients
2 cups cooked and shredded chicken
¼ cup buffalo sauce (I used Frank's brand)
¼ cup ranch
4 oz cream cheese
½ cup monterey jack cheese
½ cup bleu cheese crumbles
2 Tablespoons green onions
8-10 small flour tortillas
Instructions
Preheat oven to 425 and prepare a baking sheet by lining it with foil and spraying it with cooking spray. Set aside.
Soften the cream cheese in the microwave for about 15-20 seconds. In a mixing bowl, combine cream cheese, chicken, buffalo sauce, ranch, monterey jack cheese, bleu cheese, and green onions.
Add about 3 Tablespoons of the chicken mixture about 1 inch from the edge of the flour tortilla. Roll it up and place it seam side down on the baking sheet. Repeat with each one and place about 1 inch apart not touching each other on baking sheet.
Bake for 15-20 minutes or until the tortilla is lightly browning around the edges. Serve with sour cream, ranch, or your favorite sauce!