Hey y'all it's Tiffany from Creme de la Crumb back with one of my favorite kinds of recipes: slow cooker. I use my slow cooker ever single week, sometimes twice or more! I love the smell of yummy comfort food wafting through my house. Even though it makes me hungry all day long!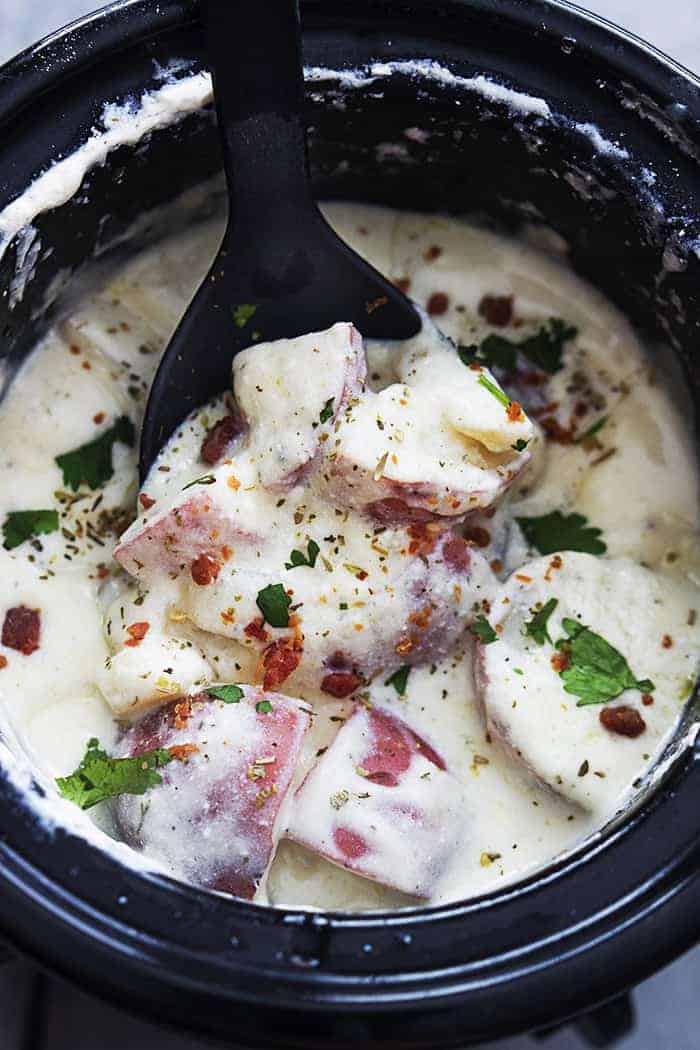 These super creamy ranch potatoes are the easiest thing ever and I LOVE the flavor! We are ranch addicts in this house so we'll take ranch flavor any way we can get it – especially on potatoes. Adding sour cream makes the sauce more rich and creamy. And don't forget the bacon! Bacon and parsley on top finish off the perfect side dish for your favorite meals.
Slow Cooker Ranch Potatoes
Ingredients
1½-2 pounds red potatoes, chopped into 1 inch pieces
1 cup sour cream
½ cup milk
1 can condensed cream of potato soup
1 packet of buttermilk ranch dressing (dry, not prepared)
salt and pepper to taste
toppings: bacon bits or crumbled bacon, chopped parsley
Instructions
Add potatoes to slow cooker. Add sour cream, milk, potato soup, ranch dressing mix, and salt and pepper to taste (I used ¼ teaspoon each) and stir well.
Cover and cook on high for 2-3 hours or low 4-5 hours. Stir just before serving and top with bacon bits and fresh parsley.
Recipe adapted from
Taste of Home
Subscribe to the Recipe Critic Blog and get family friendly recipes via e-mail.
Tiffany is the blogger behind Creme de la Crumb.She is a self taught cook and lover of all things white chocolate.She believes that great meals don't have to be difficult, time-consuming, or expensive.She tries to focus on sharing taste-tested recipes that are quick, easy, and crazy delicious-- so we can all spend more time doing the things we love with the people that matter to us the most.