Best Ever Slow Cooker Beef Stew is the absolute perfect comforting beef stew.  A thick and rich sauce filled with hearty and chunky potatoes, carrots, onions, and peas with the most amazing tender melt in your mouth beef!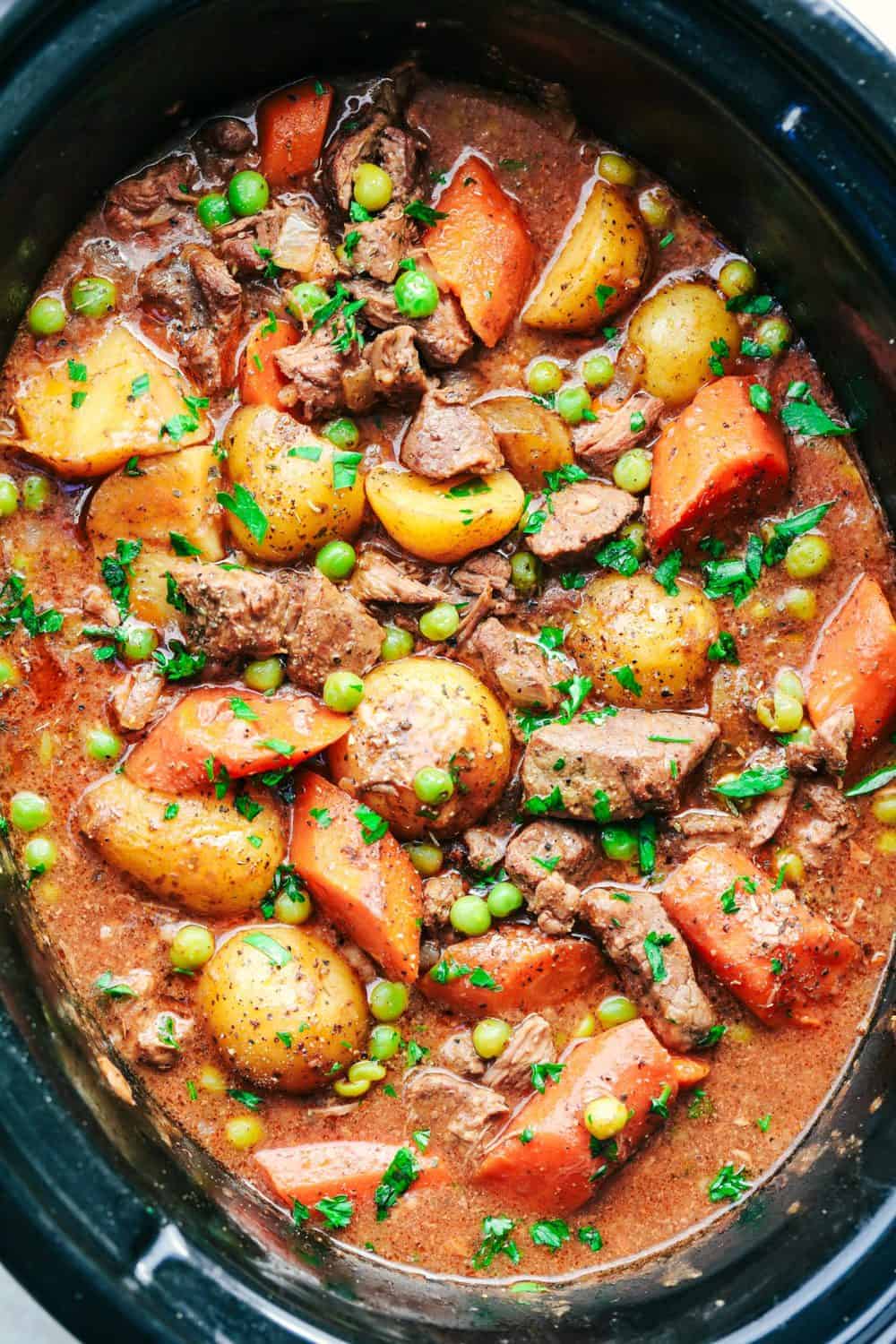 Best Ever Slow Cooker Beef Stew
There is nothing better to warm you up than a hearty bowl of beef stew.  I absolutely love a delicious beef stew when the cold weather starts to hit.  This Slow Cooker Beef Bourguignon is a reader favorite on the blog.  I have to say that it is one of my all time favorite beef stews.  But I knew that I wanted to make a more classic beef stew for the blog.  This beef stew is filled with a thick and rich tomato base sauce and chunky vegetables are inside.
My favorite way to make a stew is in the slow cooker.  I swear nothing can get that beef and veggies more tender than something that is slow cooked all day.  Not only is it perfectly cooked but it fills your house with the smell of a delicious dinner that is going to make its debut.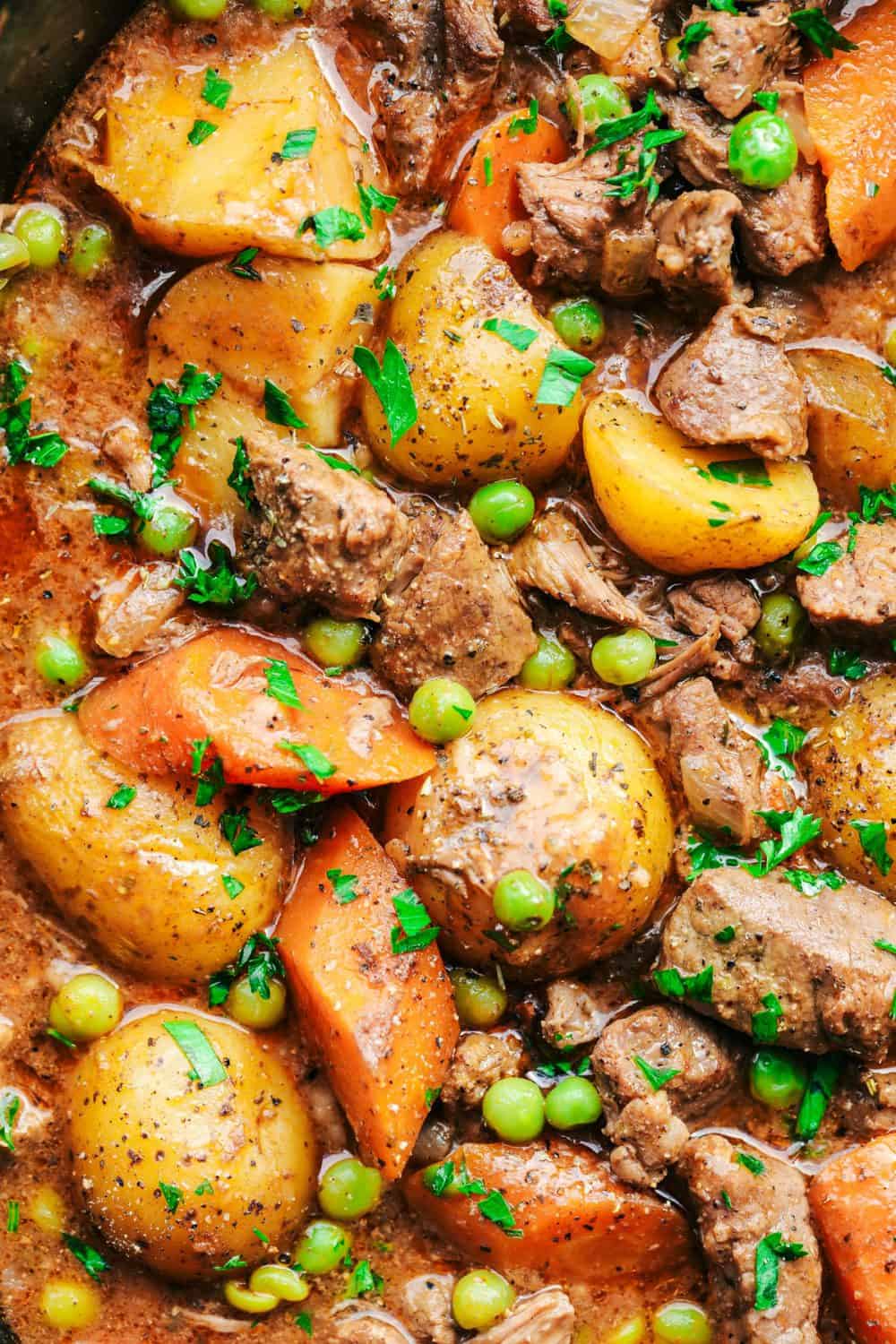 How do you make the best beef stew?
Start by pan searing the beef before it goes in.  This helps to seal the flavor into the beef while it cooks.  Cut your veggies nice and hearty and throw it all into the slow cooker with the beef broth, tomato paste and seasonings.
Let the beef and veggies cook on low for a good 8-10 hours.  This ensures the beef and the vegetables to be nice and tender.  The beef just melts in your mouth.
About an hour before serving the stew, you whisk flour with the stew broth.  This will help the sauce to thicken up and be nice and hearty and rich.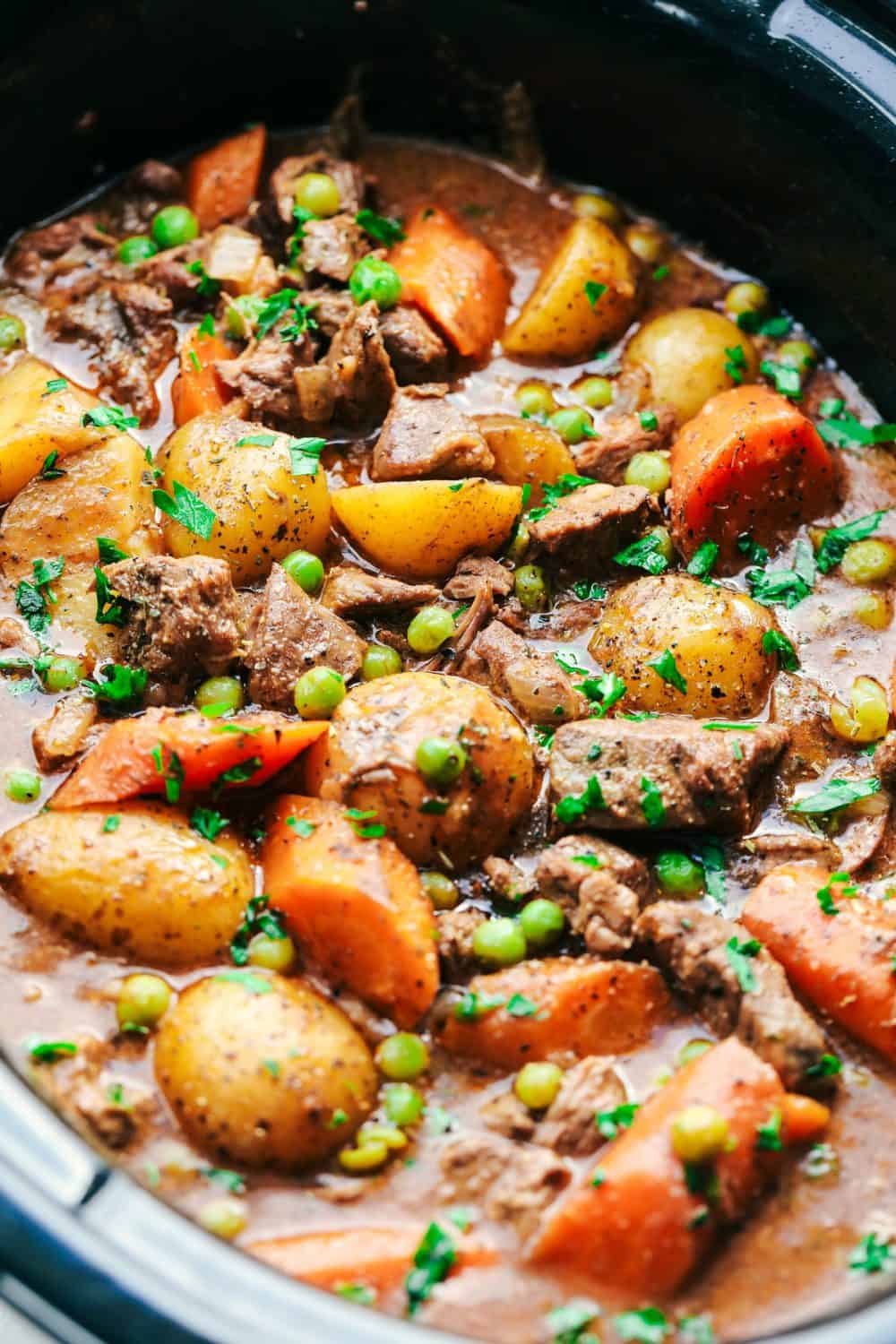 All of my requirements for the best beef stew are right in this meal.  A thick and rich sauce, big chunky tender hearty veggies, and melt in your mouth beef.  This stew has awesome flavor.  We loved everything about this stew and I know that you are going to agree that this is the best!
This makes the perfect comforting and cozy meal for the chilly weather!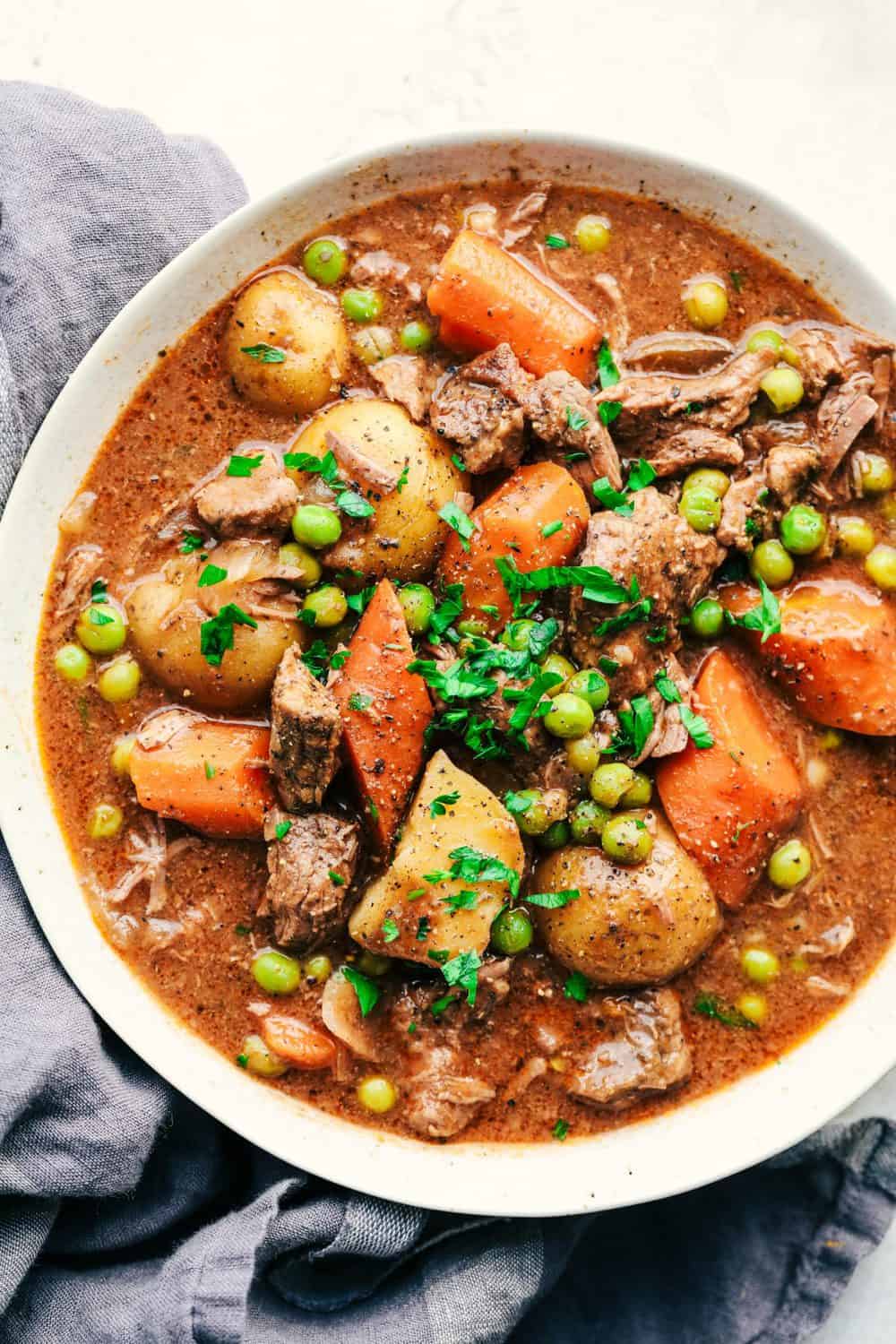 Best Beef Stew Recipe
Best Ever Slow Cooker Beef Stew
Ingredients
3 lbs. boneless beef chuck, cut to 1 inch cubes
5 medium carrots, sliced
1 pound baby potatoes
1 small white onion, diced
3 cloves garlic, minced
3 cups beef broth
½ cup tomato sauce
1 Tablespoon Worcestershire Sauce
1 Tablespoon Italian Seasoning
Salt and pepper to taste
¼ cup flour
2 cups frozen peas
Instructions
Salt and pepper the beef and add to the skillet and sear on each side for 2-3 minutes. Transfer beef to the slow cooker. Add carrots, potatoes, onion, and garlic.
Add the beef broth, tomato sauce, worcestershire, italian seasoning, and salt and pepper. Cook on low for 8-10 hours and high for 6-8 until beef and veggies are tender.
An hour before serving, take out 1 cup of the beef stew and whisk with ¼ cup flour. Stir into the stew along with the frozen peas.
Let the stew thicken and then serve with fresh chopped parsley on top.
Beef Stew with Bacon