This website may contain affiliate links and advertising so that we can provide recipes to you. Read my disclosure policy.
The Best Winter Fruit Salad is filled with clementines, kiwi, pears, apples, and pomegranate, then tossed in sweet tart honey lime poppy seed dressing. These are all fruits that are in season in the fall and winter and when tossed with the most delicious dressing it's a dinner winner for sure. This is a colorful healthy addition to any meal.
Serve this bright salad along with a hearty warm soup, like Copycat Zupas Wisconsin Cauliflower, or Minestrone. Then add some homemade bread, like Miracle No Knead Bread or Parker House Rolls for a light but satisfying meal.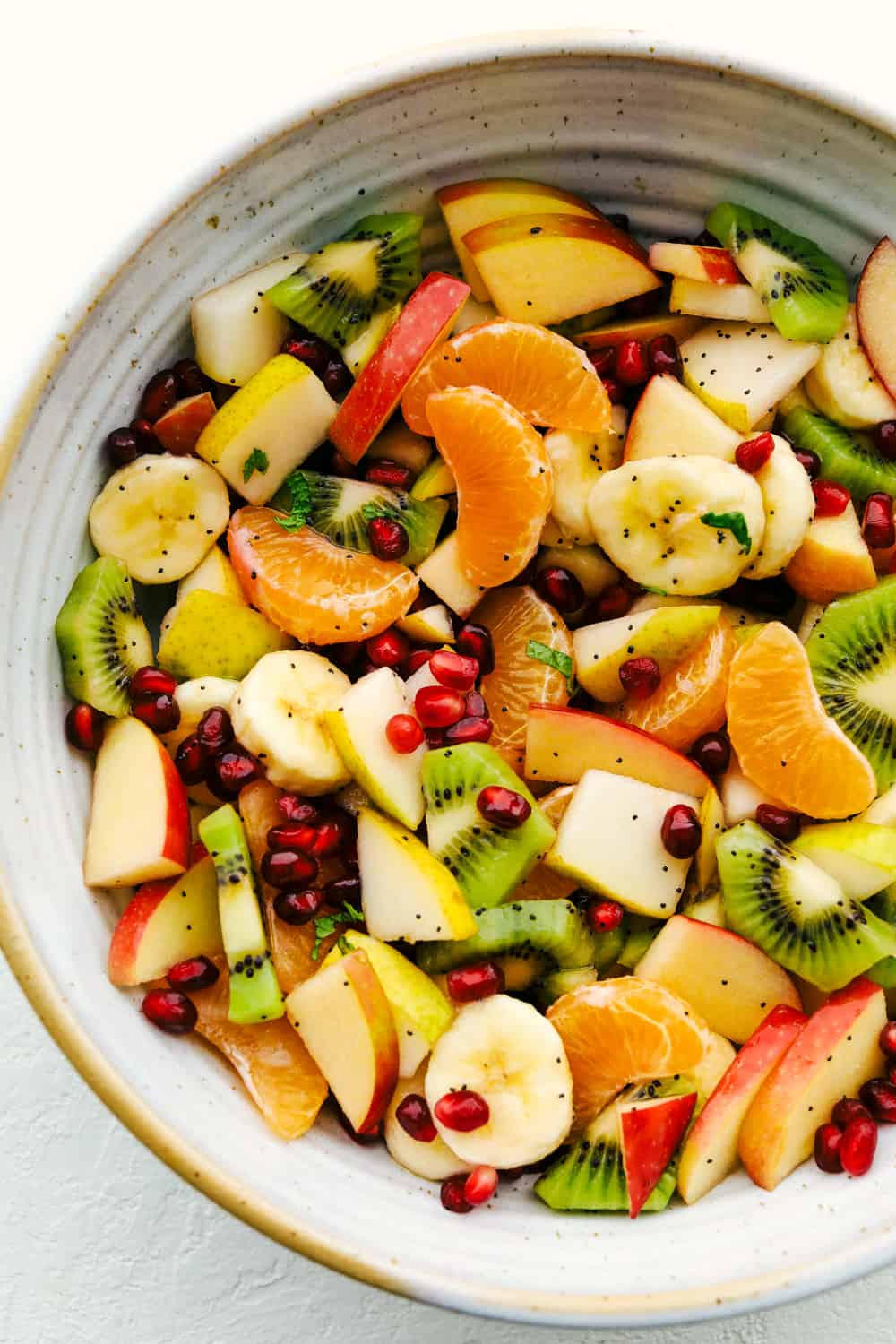 Christmas Fruit Salad
Fruit. I seriously can't get enough fruit. I have always loved having fruit in the house and my little girl loves fruit just as much as I do! Even though I love summer fruits and am totally a strawberry gal, some of my favorite fruits are winter fruits. Clementines for example are always at our house as soon as they start putting them in the grocery stores. And I am totally obsessed with kiwis. Apples, pears, pomegranate seeds, everything comes together so perfectly in this mouthwatering salad.
I made this winter fruit salad quite a few times during the holidays and it is so bright, vibrant and delicious. We love having a fruit salad at the dinner table when we eat with family, and this one is always requested! It's so simple and requires a little chopping and gets tossed in a honey lime poppy seed dressing. I love using honey lime in my fruit salads and it gives it a sweet and tangy coating on the fruit.
What to Put into Easy Winter Fruit Salad
Full of festive fruits and covered in a beautiful dressing.
Apple: sliced and chopped in bite sized.
Pear: Slice and chop
Bananas: Peeled and sliced
Kiwi: Peeled and cut into rounds
Clementines: Peeled and separated
Pomegranate Seeds: These are so yummy
Honey: Adds the sweet to the dressing
Lime Juice: Gives a nice zing to the salad.
Poppy Seeds: Crunch and eye appeal
Fresh Mint: Adds a nice hit of freshness to the dressing
How to Make Winter Salad
Comes together quickly.
Combine: In a large bowl place the apple, pear, bananas, kiwi, clementines and pomegranate seeds. Stir gently.
Whisk: In a small bowl whisk the honey, lime juice, poppy seeds and mint.
Toss: Drizzle the dressing over the fruit and toss gently to completely coat.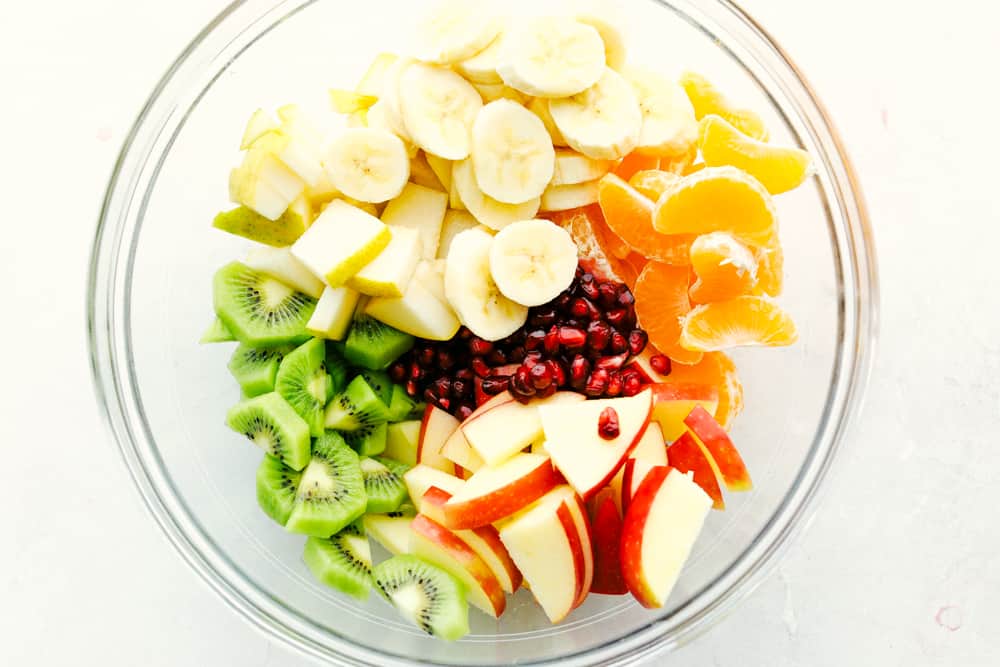 Pomegranate Hints
Pomegranates are a unique fruit, since you actually only eat the seeds. They are extremely healthy and taste so good. But getting your hands on them can be difficult. I love the color, flavor and crunch they add to this fruit salad. So here is one way to cut and deseed your pomegranates. Remember they can stain so take care about what you wear and use a plastic cutting board, as it can stain wood.
How to De-seed Pomegranates
Now if you don't want to deal with taking the time do this or the mess, you can buy the arils already deseeded.
Cut both ends off the fruit.
Score the fruit in half all the way around the biggest part off of the fruit. Cut into the skin about half an inch all the way around. Using the knife, or  your hand pry the two halves apart.
Over a large bowl, hold one half of the fruit, seed side down in your hand. Using the back of a large spoon whack the pomegranate on the skin side all the way around.
The seeds will fall through your hands into the bowl. Pry any arils left behind.
Repeat with the other half.
Variations and Tips
This is an easy fruit salad to make the way you love.
Bananas: Bananas tend to go brown quickly and are a very tender fruit. Don't add the bananas till right before serving to keep them fresh looking and to save them from getting crushed by the other fruit.
Apples:  Apples also go brown quickly so I don't usually add the apples or pears till I'm ready to add the dressing. The lime juice will keep them from turning brown.
Chop it: Keep everything bite sized for easy eating and serving.
Cold: Keep it chilled and cold so it doesn't go mushy.
Kiwis: Make sure your kiwis are ripe, if they aren't just omit them. It's better than having them bitter or super tart.
Fruit variety:  Use the variety of fruit you and your family like best. For instance we like fuji or honeycrisp apples and bartlett pears, but there are lots to choose from. Also feel free to omit or add fruit to your liking
How Long Does Fresh Fruit Salad Last?
If you have any leftovers I recommend taking out the bananas before putting in the fridge, they'll be really mushy as leftovers. The rest will be keep perfectly for 2 days. Freeze any leftovers to use in smoothies.
More Fruity Dishes to Try
These are incredible tasty ways to get more fruit in your diet! Try them today!
Pin this now to find it later
Pin It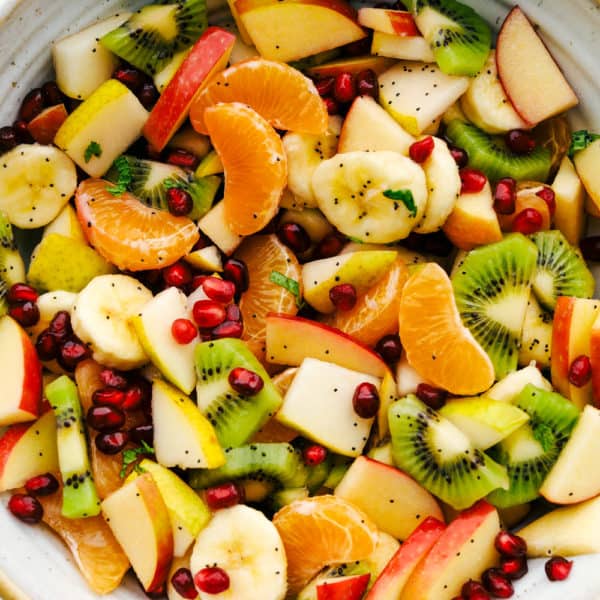 The Best Winter Fruit Salad
The Best Winter Fruit Salad is filled with clementines, kiwi, pears, apples, and pomegranate. It gets tossed in a delicious honey lime poppyseed dressing and you won't be able to get enough!
Ingredients
1

large

apple peeled and sliced

1

pear

sliced

2

large

bananas

peeled and sliced

3

kiwi fruit

peeled and sliced into rounds

3

clementines

peeled and separated

1/2

cup

pomegranate seeds
Instructions
In a large bowl, combine apple, pear, bananas, kiwi, clementines, and pomegranate seeds. Lightly toss.

In a small bowl whisk together honey, lime juice, poppy seeds, and mint. Drizzle over fruit and toss until coated. Serve.
Notes
Updated on December 2, 2020
Originally Posted on January 30, 2017
Nutrition
Calories:
67
kcal
Carbohydrates:
16
g
Protein:
1
g
Fat:
1
g
Saturated Fat:
1
g
Sodium:
2
mg
Potassium:
228
mg
Fiber:
2
g
Sugar:
10
g
Vitamin A:
52
IU
Vitamin C:
35
mg
Calcium:
28
mg
Iron:
1
mg
Nutrition information is automatically calculated, so should only be used as an approximation.