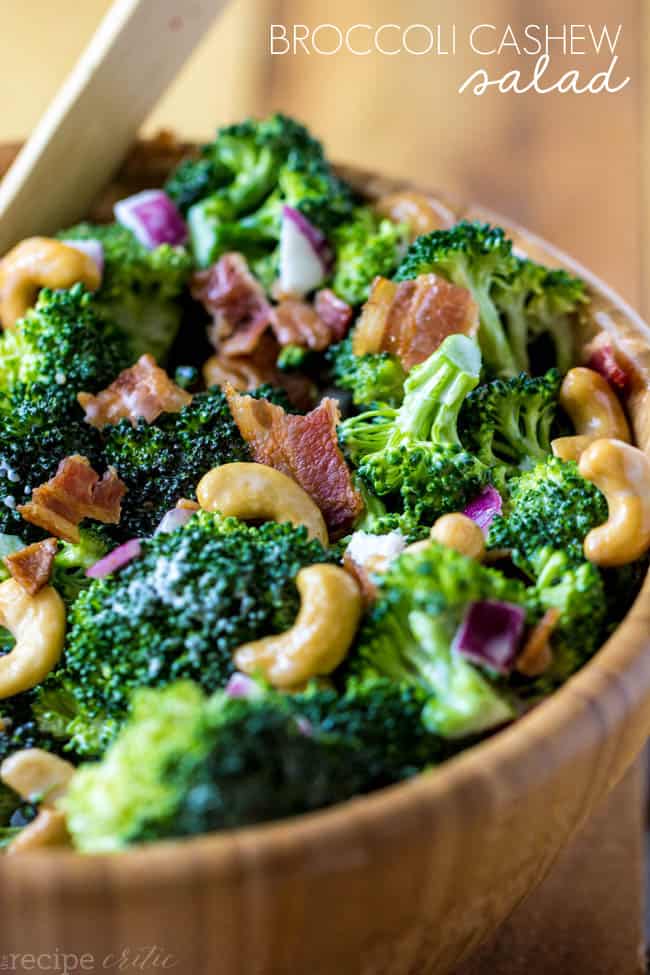 I am down to my last week of pregnancy.  This last little part has seemed longer than the entire nine months!  I just can't wait for this little girl to get here.  I got her crib today for her room and I can't wait for my hubby to assemble it.  I also can't wait to breathe like a normal person again and to not have huge and swollen elephant feet.  🙂
With Memorial Day coming up my family planned a big get together and barbecue.  I always love a delicious and fresh salad when we get together.  This salad was definitely amazing.  It had so many yummy textures and tastes combined.  I loved the crunch and flavor that the cashews added to this salad.  If you are looking for a delicious salad that combines fresh broccoli and yummy textures, you won't be disappointed by this one!

Broccoli Cashew Salad
A delicious broccoli salad combined with yummy flavors and textures and cashews!
Ingredients
1 pound bacon
1 cup mayonnaise
2 teaspoons cider vinegar
½ cup white sugar
2 pounds fresh broccoli, cut into florets
1 cup roasted cashews
¼ red onion, finely chopped
Instructions
Cook and crumble the bacon. Set aside. In a large mixing bowl, combine mayonnaise, cider vinegar, and sugar. Whisk together until sugar is dissolved.
Add the broccoli, bacon, and cashews. Mix together until the salad is coated well in the mayonnaise mixture. Chill for 2 hours and let stand for 15 minutes before serving.
Recipe Adapted from
All Recipes