This website may contain affiliate links and advertising so that we can provide recipes to you. Read my disclosure policy.
Broccoli Cashew Salad is a perfect cool and crunchy salad filled with savory bacon crumbles, cashews and broccoli, all covered in an amazing dressing.  You will be making this all the time once you see how easy and delicious it is!
The stand out ingredient in this broccoli salad recipe is the cashews.  I also love this Cashew Chicken Salad when I am craving their yummy crunch and texture.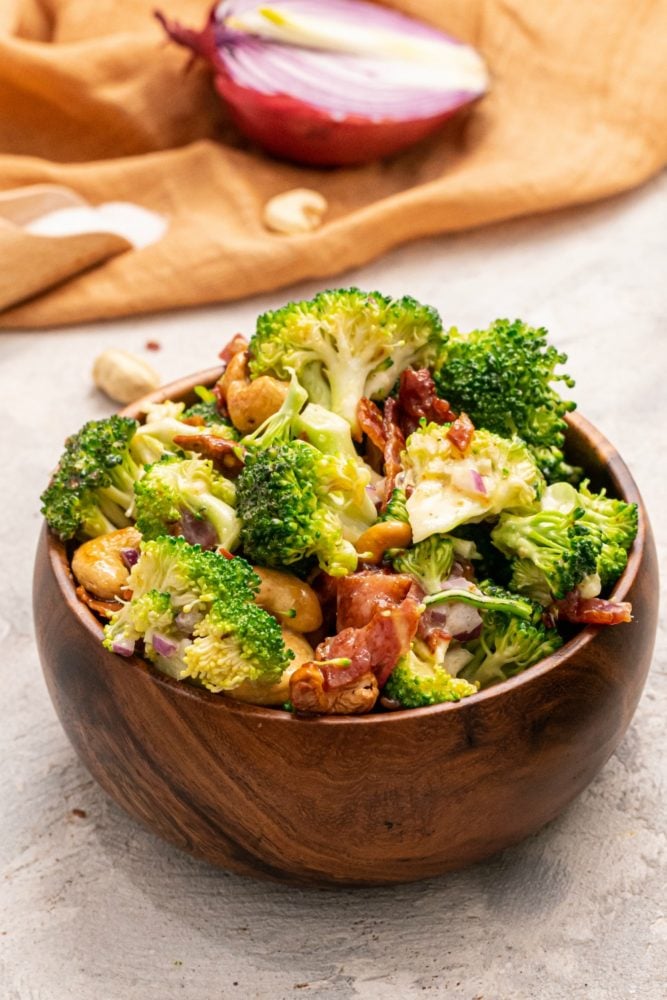 Broccoli Cashew Salad
I remember when I was down to my last week of pregnancy and how long that last little part seemed.  It felt longer than the entire nine months! I just couldn't wait for my little girl to get here. I was so excited about little things like getting her crib put together and breathing like a normal person again!  That Memorial Day weekend I planned a big get together and barbecue and I made this broccoli salad for the first time.  So, this salad has great memories tied to it for me.
I always love a delicious and fresh salad when we get together with friends and family. This salad was definitely amazing then, and still is years later! It has so many yummy textures and tastes combined. I love the crunch and flavor that the cashews add to this salad. If you are looking for a delicious salad that combines fresh broccoli and yummy textures, you won't be disappointed by this one!
Recipe Adapted from All Recipes.
What You Need for Broccoli Cashew Salad:
This short list of ingredients is filled with savory and sweet flavors.  They all come together so well and are a huge hit whenever I make this salad!
Bacon: Perfect salty crumbles in every bite!
Mayonnaise: Creamy and slightly sweet flavor covering the mixture.
Cider vinegar: Sweet and tart flavors that blend with the mayonnaise and sugar to make dressing.
White sugar: Adds sweetness!
Fresh broccoli: Cut into florets so they can be easily eaten in a bite.
Roasted cashews: Add great nutty flavor and a perfect crunch!
Red onion: Finely chopped.
How to Make an Easy Broccoli Salad:
In just a few minutes you can make this perfect salad.  The instructions are simple and easy to follow and result in big flavors and textures you will love!
Prepare Bacon: Cook and crumble the bacon. Set aside.
Make Sauce: In a large mixing bowl, combine mayonnaise, cider vinegar, and sugar. Whisk together until sugar is dissolved.
Combine all ingredients: Add the broccoli, bacon, and cashews. Mix together until the salad is coated well in the mayonnaise mixture.
Chill: Refrigerate for 2 hours and let stand for 15 minutes before serving.
Tips and Variations:
This salad is so versatile! Play around with the ingredients and flavors you love.  Some great add ins to try are dried cranberries & roasted almonds. Feta cheese and grapes (cut in half) are also amazing in this salad!  There really is no wrong way to make this salad so don't be afraid to try new things.
Storing Cold Salad:
This salad can be made ahead and frozen or stored in a refrigerator if you have leftovers.  It is best served chilled about an hour after you make it.  However, I know that is not always possible.  If you plan to make it ahead I would advise you to add in an extra step of blanching the broccoli.  Blanching will cause your salad to store better, it will have a brighter color, and will not effect the taste.
How to Blanch broccoli: Place broccoli in boiling water for 1-3 minutes.  Then drain and put in an ice bath or cold water to stop the cooking.
How long can I store broccoli in the refrigerator? This Broccoli Cashew salad will last 3-5 days in the fridge.
Can I freeze broccoli salad? Yes, store in an airtight container in the freezer for up to 6 months.  Do not freeze raw broccoli or it will be wilted when you thaw it.  To thaw your broccoli salad allow it to sit overnight in the refrigerator.
More Broccoli Salad Recipes:
Pin this now to find it later
Pin It
Broccoli Cashew Salad
A delicious broccoli salad combined with yummy flavors and textures and cashews!
Instructions
Add the broccoli, bacon, and cashews. Mix together until the salad is coated well in the mayonnaise mixture. Chill for 2 hours and let stand for 15 minutes before serving.
Notes
Updated on June 5, 2020
Originally Posted on May 25, 2014
Nutrition
Calories:
614
kcal
Carbohydrates:
27
g
Protein:
13
g
Fat:
52
g
Saturated Fat:
12
g
Cholesterol:
49
mg
Sodium:
594
mg
Potassium:
578
mg
Fiber:
4
g
Sugar:
16
g
Vitamin A:
746
IU
Vitamin C:
101
mg
Calcium:
66
mg
Iron:
2
mg
Nutrition information is automatically calculated, so should only be used as an approximation.