Easy Teriyaki Meatballs come together fast and make such an amazing meal with the sweet teriyaki sauce.  This will become a family favorite!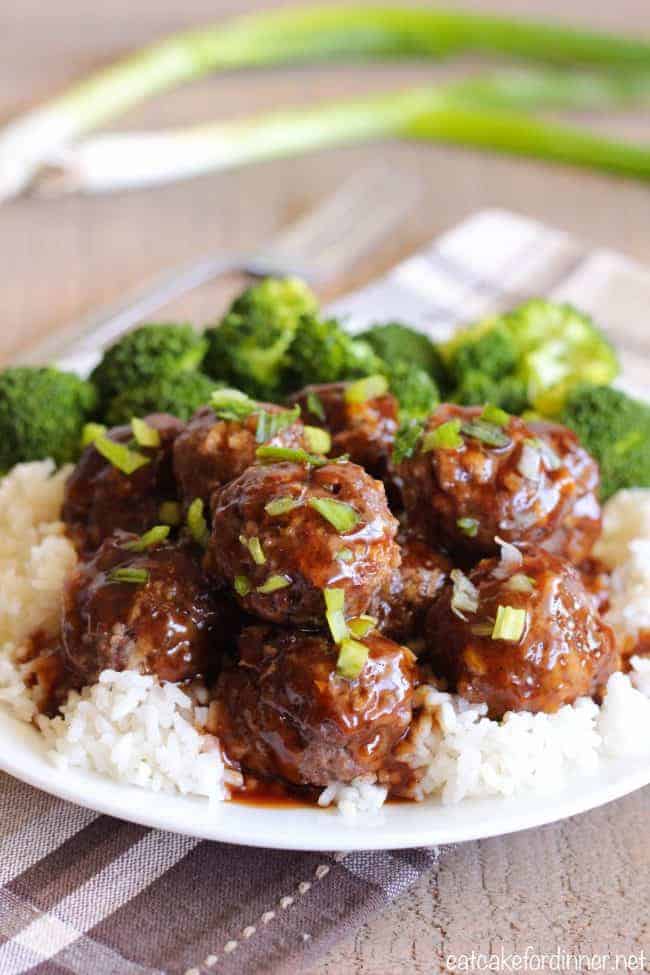 Hi, it's Jenn, from Eat Cake For Dinner.  Ever since I tried Sweet and Sour Meatballs, I have been obsessed with meatballs.  This has now become my new go-to base recipe for meatballs and I have been trying them with all different kinds of sauces.
My latest version are these Teriyaki Meatballs.  This recipe is so so yummy.  The meatballs come together super fast and while those bake, you can prepare the sauce and cook the rice (I use Minute Rice) and broccoli.  In less than 30 minutes total, you can have this super delicious dinner on the table.  I highly recommend using a cookie scoop for the meatballs.  It is so much easier and faster than trying to roll them by hand.
The flavorful meatballs mixed with the sweet teriyaki sauce is a perfect pair.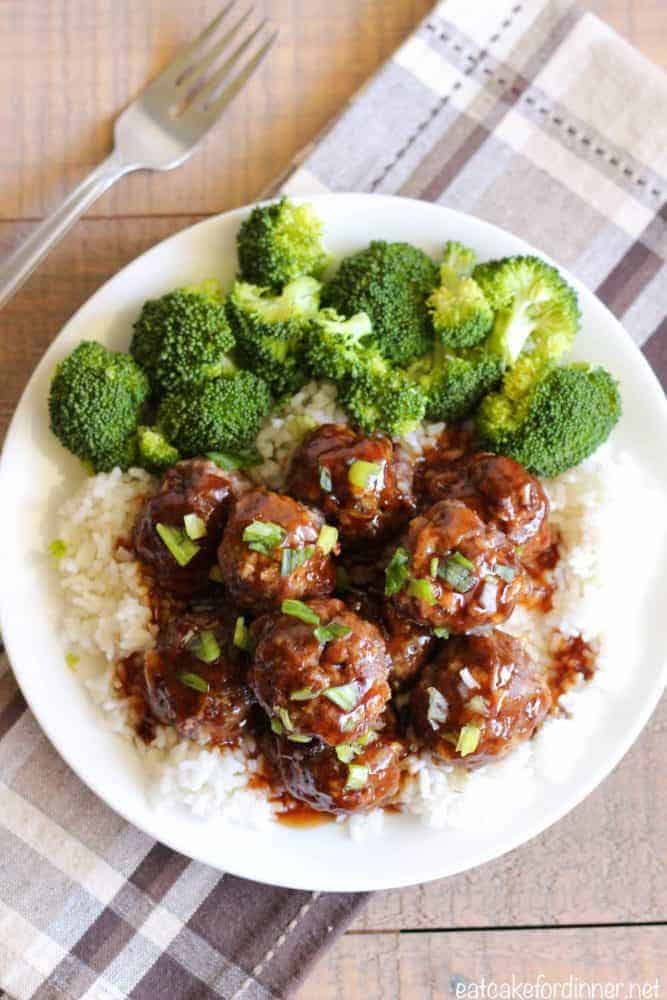 Easy Teriyaki Meatballs
Flavorful homemade meatballs smothered in sweet teriyaki sauce.
Author:
Jenn@eatcakefordinner
Ingredients
2 Lbs. ground beef (85/15 works best)
⅔ c. panko bread crumbs
2 Tbl. dry minced onion
1 large egg
¼ c. milk
1½ tsp. ground ginger
2 tsp. salt
¼ tsp. ground black pepper
Teriyaki Sauce:
1½ c. cold water
¾ c. packed light brown sugar
½ c. low-sodium soy sauce
1 tsp. garlic powder
3 Tbl. cornstarch
1 tsp. sesame oil
For serving:
chopped green onions, opt.
cooked white or brown rice
cooked broccoli florets
Instructions
Preheat oven to 400 degrees. Grease a 9x13-inch baking pan; set aside. To a large bowl, add ground beef, bread crumbs, onion, egg, milk, ginger, salt and pepper. Mix with your hands until just combined. Use a 1½ Tablespoon cookie scoop and scoop meat mixture into balls and place in prepared pan. Or, rub a little oil on your hands and then roll the meat mixture into roughly 1-inch balls. Bake, uncovered, for 20 minutes. Makes around 35 meatballs.
To prepare the teriyaki sauce: Pour all of the sauce ingredients into a medium saucepan. Whisk together until no lumps remain. Heat over medium heat until it thickens, whisking occasionally. This should only take 3-5 minutes.
When meatballs are done baking, dunk them in the teriyaki sauce and serve over cooked rice. Garnish with chopped green onions and serve with broccoli florets on the side.
You might also like these other recipes from Eat Cake For Dinner:
Stroganoff Spaghetti and Meatballs