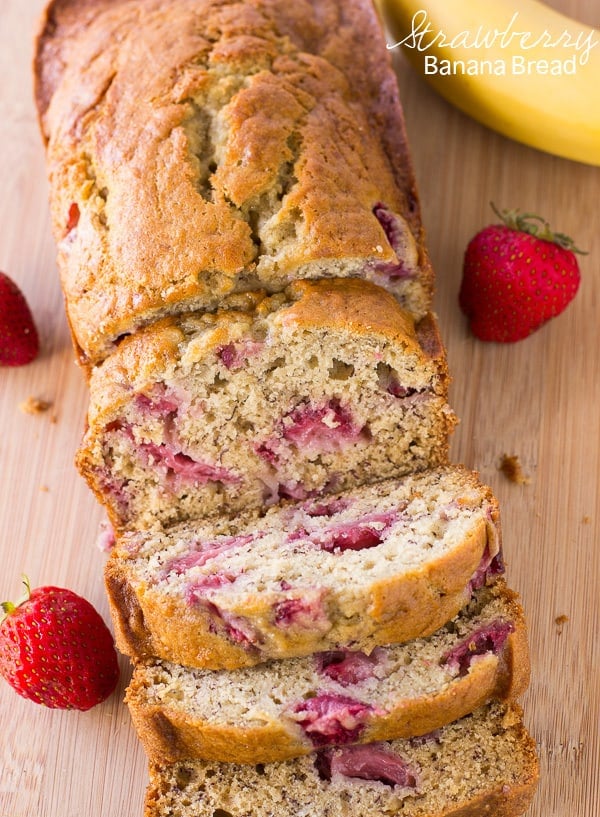 Hi everyone! Jenn back from Deliciously Sprinkled!
I hope you are all having a great summer so far, I know I have been enjoying my summer so far and I especially love to visit our local farmers market to stock up on all the delicious, fresh vegetables and fruits, like these strawberries I used in today's Strawberry Banana Bread.
This bread is a simple to make quick bread perfect for breakfast or as a snack! I love banana bread but when you add fresh strawberries it takes this bread to a whole new level of deliciousness! And when this bread is baking in the oven, it makes your house smell amazing.
So the next time your at your local farmers market or store, don't forget to pick up some fresh strawberries and bananas so you can make this delicious bread. I know your going to love it!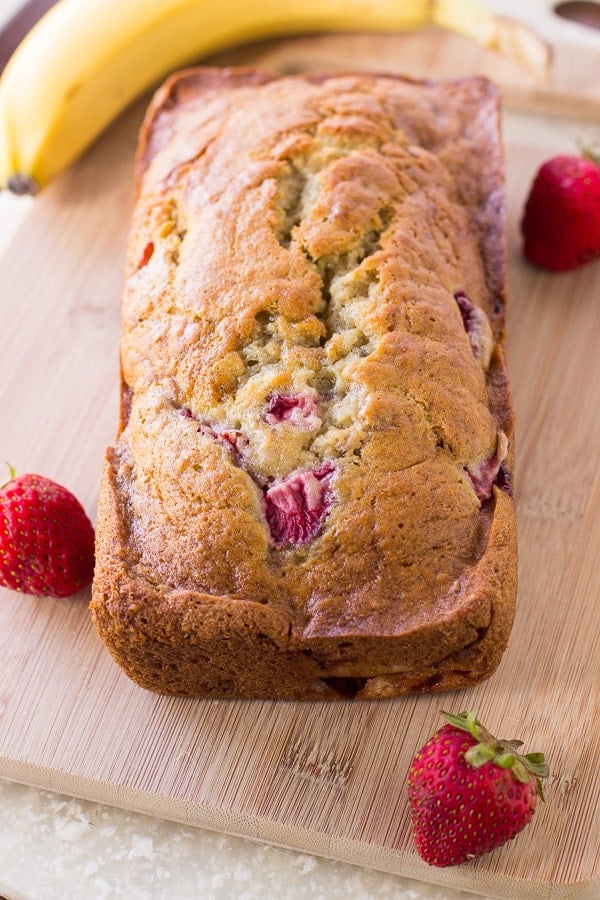 Strawberry Banana Bread
Ingredients
½ cup (1 stick) butter, softened
1 cup granulated sugar
2 large eggs, beaten
3 ripe bananas, mashed
2 cups flour
1 teaspoon baking soda
½ teaspoon salt
1½ cups fresh strawberries chopped & tossed in 1 Tablespoon of flour
Instructions
Preheat oven to 375F degrees. Spray two 9x5 loaf pan with nonstick spray. Set aside.
In a large bowl, using a KitchenAid Stand Mixer with paddle attachment cream butter and sugar together until light and fluffy.
In a small bowl, beat eggs using a fork. Add eggs to sugar mixture and beat until combined. Add mashed bananas and mix until combined.
Sift all dry ingredients: flour, baking soda, and salt. Slowly add sifted dry ingredients to banana mixture and mix until flour is just combined. DO NOT OVERMIX! Fold in floured covered strawberries.
Pour batter into prepared loaf pans and bake at 375F for 15 minutes. REDUCE heat to 350F and bake for an additional 30 minutes until edges are slightly brown or until toothpick inserted into center comes out clean. Let cool completely before removing from loaf pans.
 More delicious quick bread recipe from Deliciously Sprinkled: