I absolutely love casseroles because they are delicious and feed a lot of people.  Casseroles and enchiladas are the hardest thing for me to photograph.  You kind of just scoop them up and a lot of the time they aren't very pretty.    We have Taco Tuesday at our house and I always make this taco casserole, but it was time to switch things up!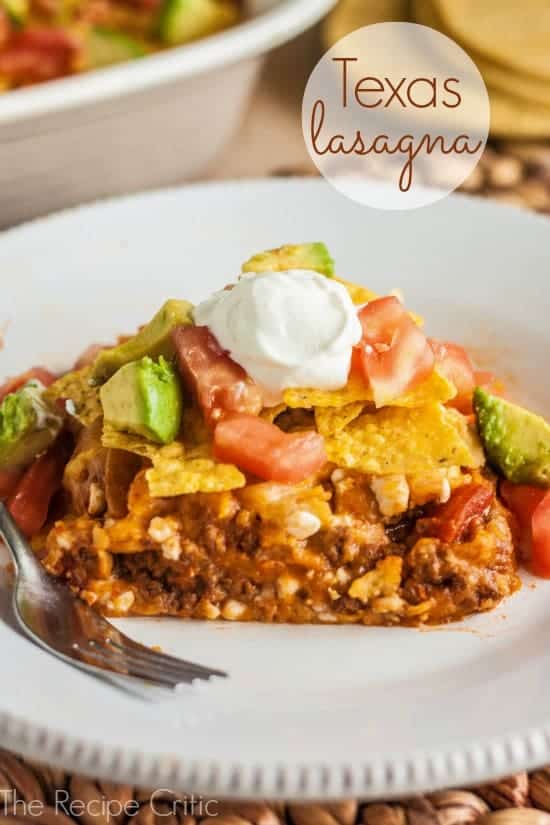 This casserole was fantastic!  It was hearty and the layers are amazing.  The best part is that you can top it with your favorite things.  Fresh avocado, tomatoes, sour cream and corn tortilla chips made this delicious casserole even better and this makes the perfect weeknight meal!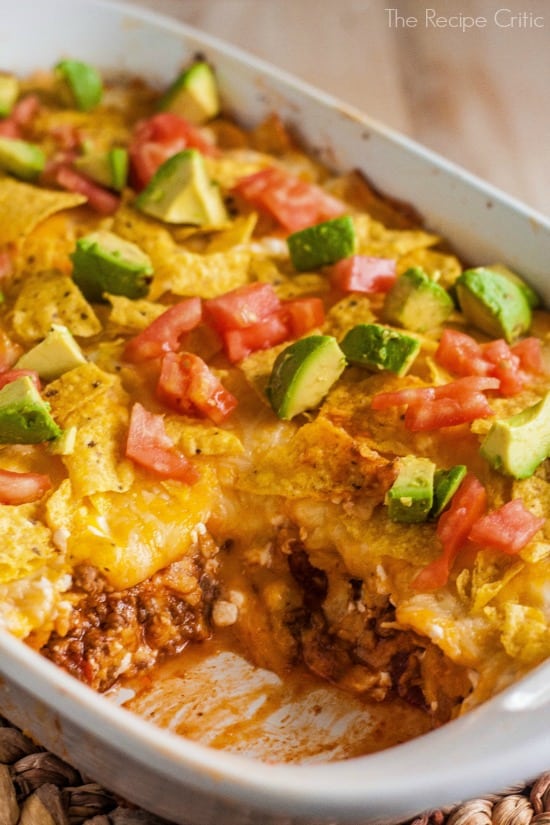 Texas Lasagna
A delicious texas style casserole that can be spiced up with your favorite toppings!
Ingredients
1½ pounds ground beef
1 tsp. seasoned salt
1 package taco seasoning
1 (14½ oz) diced tomatoes, undrained
1 can (15 oz) tomato sauce
1 can (4 oz) chopped green chilis
2 cups (16 oz) cottage cheese
2 eggs lightly beaten
12 corn tortillas (6 inch) torn
4 cups shredded monterey jack cheese
crushed tortillas (optional)
salsa (optional)
cubed avocados (optional)
Instructions
In a large skillet cook ground beef until no longer pink. Add seasoned salt, taco seasoning mix, tomatoes, tomato sauce, and chilis. Reduce heat and simmer, uncovered for about 15-20 minutes.
In a small bowl combine the cottage cheese and eggs. Grease a 9x13 inch pan.
Layer half of the meat sauce in the bottom of the 9x13 pan. Next, layer half of the torillas, them cottage cheese, and half of the cheese. Repeat layers ending with cheese.
Bake uncovered at 350 for 30 minutes or until bubbly. Let stand 10 minutes before serving. Garnish with optional toppings.
Serve immediately or before baking, cover and freeze up to 3 months.
Notes
Recipe Adapted from Taste of Home