Perfectly moist and fudgy brownies swirled with pumpkin cheesecake.  These are so rich and delicious and they make an amazing fall treat!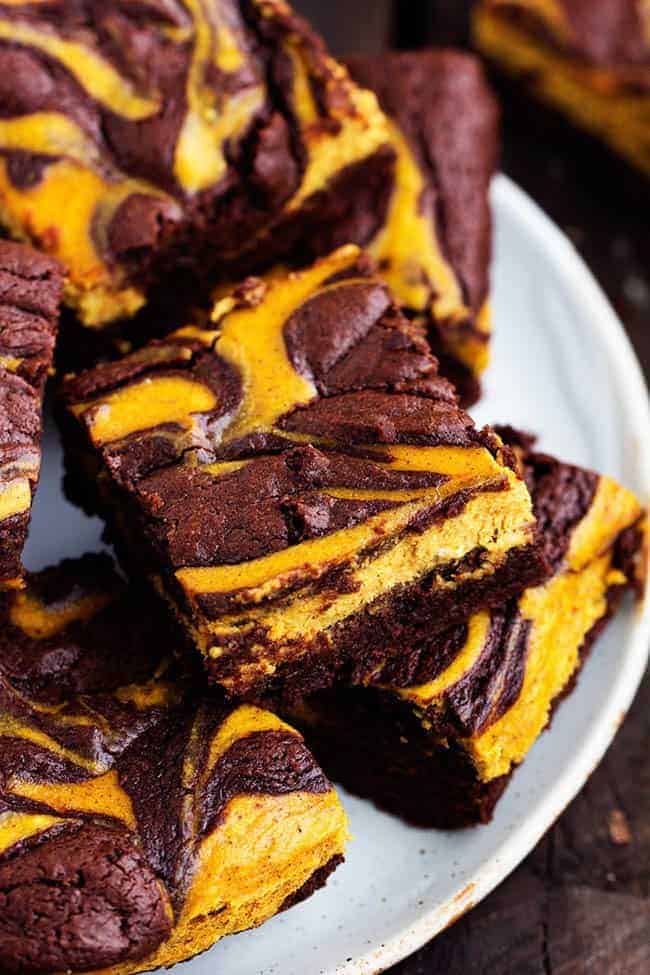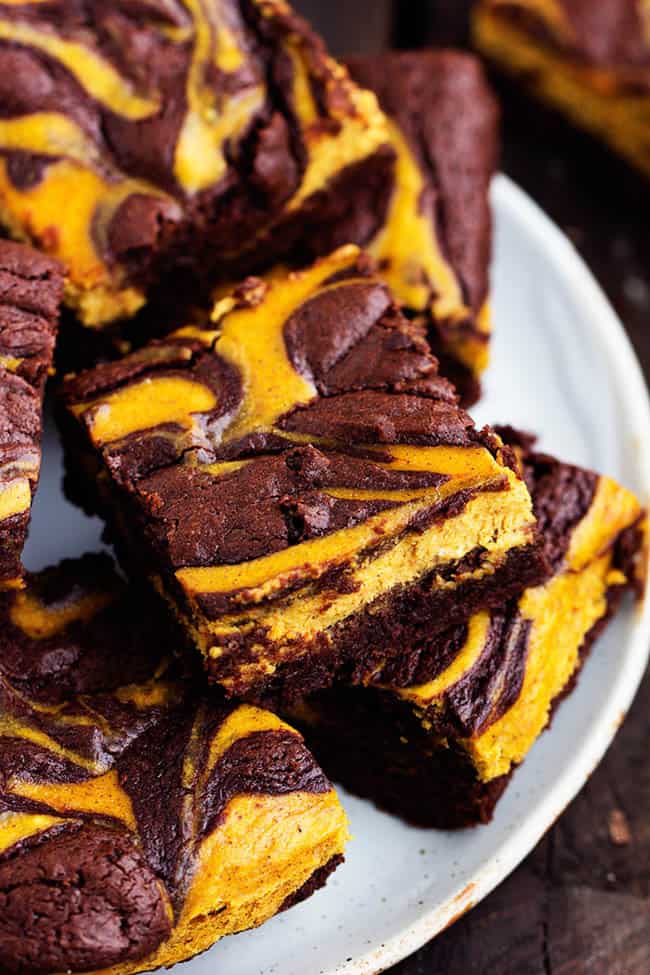 Remember that one time that I told you I didn't like chocolate?
Yeah I have no idea what was wrong with me.  Luckily I came around but it took me 16 years.  It was the Snickers Candy Bar that did it for me.  But still to this day I don't prefer eating chocolate by itself.  So when I make brownies I always like them to have something else to them.  Like caramel oozing inside or cheesecake swirled throughout.  I wanted to make my family some Sunday brownies and these Pumpkin Cheesecake Brownies were the best of both worlds. 🙂
The brownie base is absolutely amazing.  Rich, fudgy and moist.   And since I can't get enough of pumpkin this time of the year I wanted to have pumpkin cheesecake swirled throughout.  The result was absolutely incredible!
I promise that your family is going to love these brownies!  They combine two of my favorite things in one and are incredibly moist and delicious with the first bite.  Put these on your list of treats to bake this fall.  You won't regret it!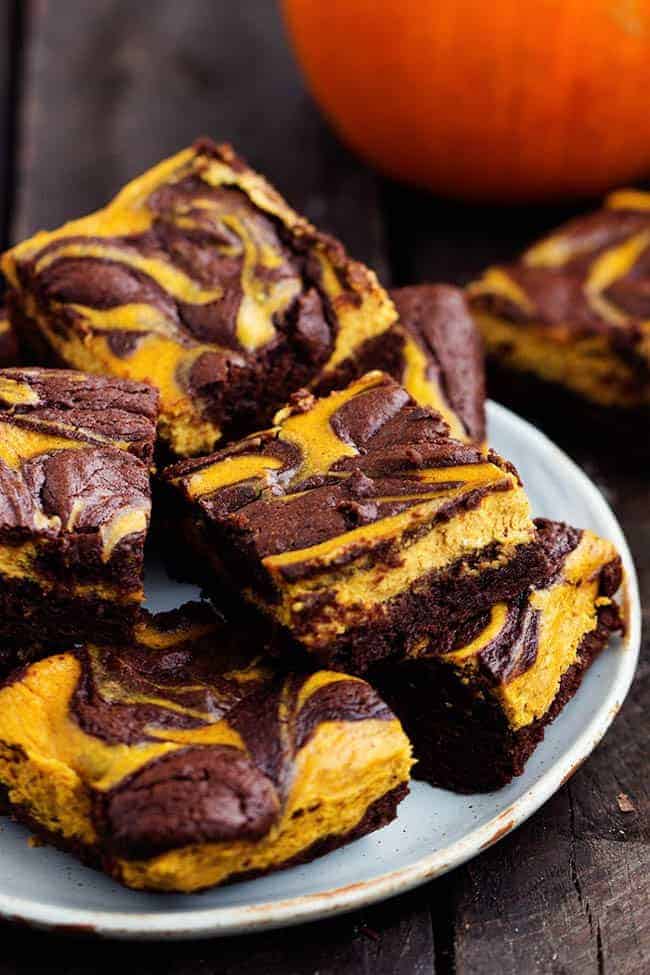 Pumpkin Cheesecake Brownies
Perfectly moist and fudgy brownies swirled with pumpkin cheesecake. These are so rich and delicious and they make an amazing fall treat!
Ingredients
Pumpkin Cheesecake:
4 oz cream cheese, softened
½ cup canned pumpkin
1 egg
3 tablespoons sugar
1 teaspoon ground cinnamon
¼ teaspoon ground nutmeg
Brownies:
⅔ cup flour
½ teaspoon baking powder
1 teaspoon cinnamon
4 ounces unsweetened chocolate, chopped
½ cup butter
1¼ cups sugar
2 large eggs
1 teaspoon vanilla
Instructions
To make the Pumpkin Cheesecake Layer: Beat together cream cheese , pumpkin, egg, sugar, cinnamon and nutmeg until smooth and creamy. Set aside.
To make the brownies: Preheat oven to 325 degrees. Line an 8x8 inch pan with foil and spray with cooking spray. In a large mixing bowl combine flour, baking powder and cinnamon.
In a microwave safe bowl combine butter and chocolate. At 50% power microwave 30 seconds at a time stirring until it is smooth and melted.
In a medium mixing bowl, whisk sugar, eggs, and vanilla. Add melted chocolate and continue to stir until incorporated. Add the flour mixture and fold until combined.
Pour half of the batter into the 8x8 inch pan. Spread the pumpkin cream cheese evenly on top of the brownie batter. Drop remaining batter by spoonfuls on top of the cheesecake layer. Marble with a knife. Bake for 35-40 minutes or until a toothpick inserted in the center comes out clean. Cool for an hour before cutting.
Subscribe to the Recipe Critic Blog and get family friendly recipes via e-mail.
I am Alyssa and the blogger behind The Recipe Critic. I started my blog in June of 2012 as a place to share my passion for cooking. I love trying new things and testing them out with my family.
Latest posts by Alyssa Rivers (see all)