This website may contain affiliate links and advertising so that we can provide recipes to you. Read my disclosure policy.
Rich, creamy, and luscious Buttermilk Syrup is so good, it's literally to Die for! This will be worth waking up for in the morning!
Serve this up on Belgian Waffles, Grandma's Perfect Fluffy Pancakes or The Best Ever German Oven Pancakes and a side of fruit and breakfast is done! Trust me you'll be eating twice as many pancakes or waffles just to soak up this ultimate syrup.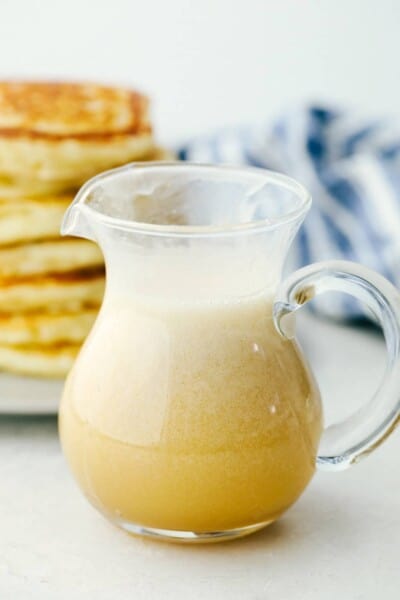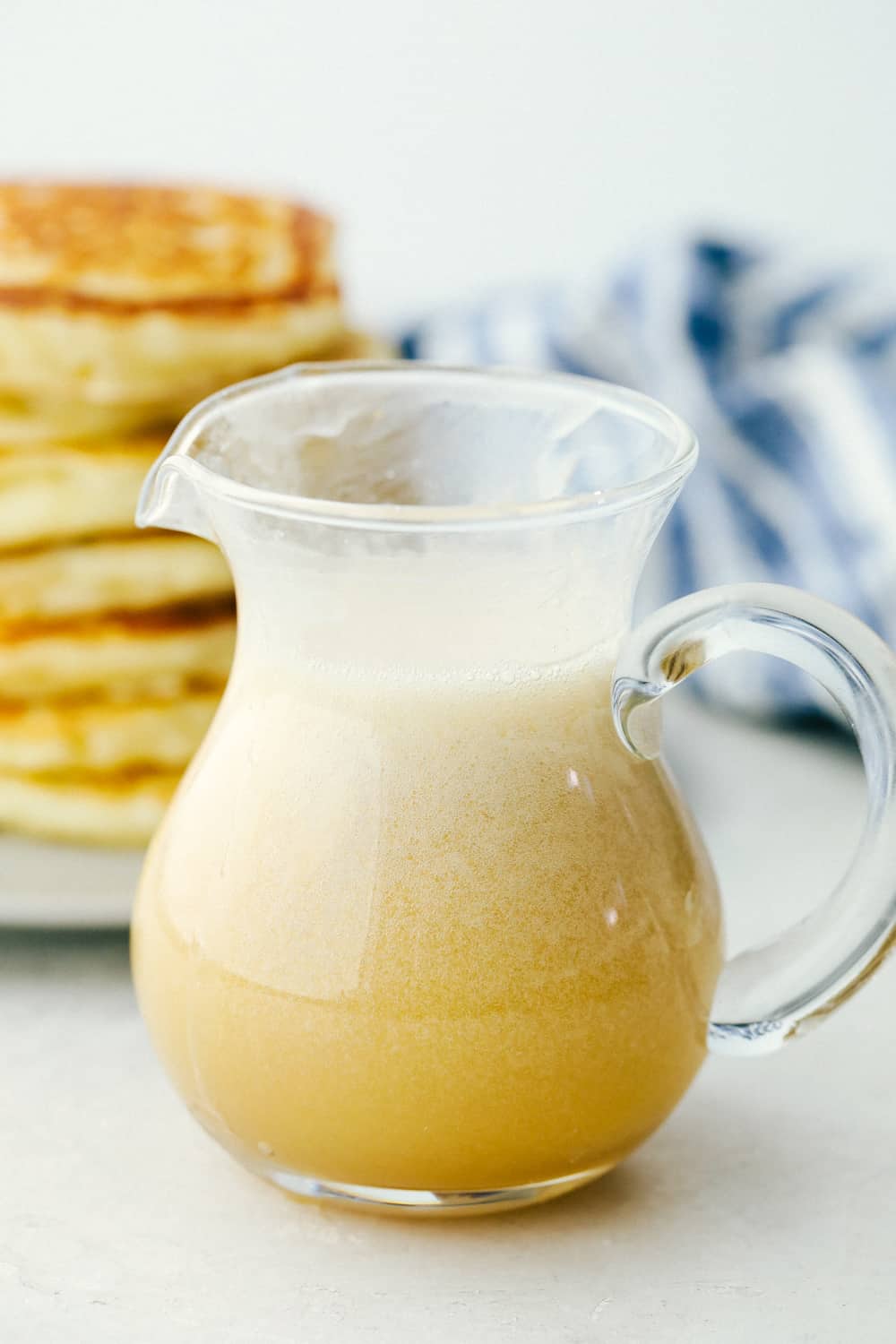 Homemade Buttermilk Syrup
Creamy, buttery, sweet and rich, this Buttermilk Syrup is similar to one I have had from a local restaurant, but better! Now instead of getting dressed up to have this yumminess you can have it in the comfort of your own home, in your pajamas, complete with bed head if you wish! No judgement here! This will take your breakfast to a whole new level without a lot of effort. This is such an easy recipe. Five ingredients is all it takes for your breakfast to become a masterpiece.
Be prepared to make twice as much French Toast or whatever your serving it with, because your loved ones are going to want to eat this up, or maybe just drink it up. Why not  indulge and give give your family something special for breakfast? They are going to love it, you may never buy Maple syrup again.
Buttermilk Syrup Ingredients
This syrup is made from pantry staples and some buttermilk. It only takes 5 ingredients to make this incredible stuff. I love it because I can make it the morning and I always have the ingredients on hand. If you don't have buttermilk see below and I'll tell you how you can make your own sour milk to substitute for the buttermilk. That way you'll never be deprived of this goodness.
Butter: This is the basis of the sauce that creates a caramel like flavor
Sugar: Combines with the butter for amazing flavor, make sure you use granulated sugar.
Buttermilk: Creates the creamy tang of the syrup
Vanilla: Flavor enhancer
Baking Soda: This is the secret ingredient to make it divine. Trust me! Don't leave it out.
Making to Die For Syrup
This 5 ingredient syrup is quick to make, which is also a plus in the morning. I don't have to worry about making it in advance. I'm usually a fly by the seat of my pants in the mornings, so this is perfect. I can whip this up with pancakes and have a decadent breakfast that seems like I slaved over it. Seriously you need to try this today.
Melt: In an oversized saucepan melt the butter over medium high heat.
Whisk:  Whisk in the sugar and buttermilk and bring it to a boil.
Add: Remove from heat stir in the vanilla and baking soda. The syrup will foam so be sure the pan is big enough to compensate for the rise.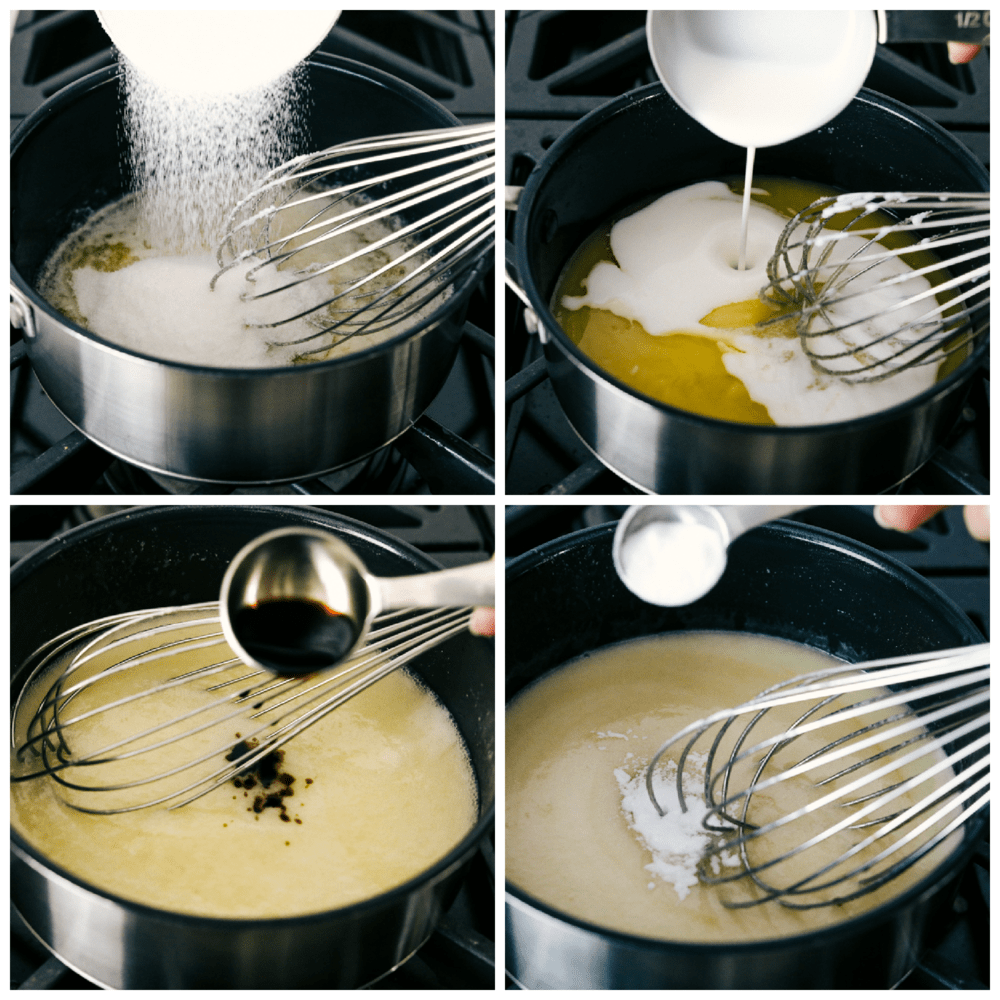 The Magic of Buttermilk
Buttermilk is an ingredient I love to cook with. It makes the most excellent biscuits and cakes It's extremely versatile and can be used in a variety of recipes from dressings to marinades. It has a distinct tangy flavor adding richness to every dish. It's thick, rich texture adds moisture and volume. It's definitely an ingredient you'll want to have around. But sometimes you want something with buttermilk and you don't have any. I hate that. But there is a quick fix for that. You'll never be without buttermilk with this quick trick.
Substituting for Buttermilk: Mix 1 cup of milk (whole or 2%) with 1 Tablespoon vinegar or lemon juice. Let it sit for about 10 min. Once it starts to curdle stir it up and use it as you would buttermilk. Super simple, right?! This will work for any recipe that calls for buttermilk. Now you'll always have it when you need it.
Why Does it Foam? So this is a bit scientific but hear me out, it's kind of fascinating. Buttermilk is very acidic, the acid is what makes it taste tangy and bitter. Baking Soda is a base, it'll neutralize the acid in the buttermilk. Mixing the baking soda into the buttermilk causes a chemical reaction that reduces that bitter tang. As a result carbon dioxide bubbles form and it foams. This is why you need a pot bigger than you think you'll need. You may notice that in many of your buttermilk recipes you'll add baking soda to it. This is so it'll create that wonderful chemical reaction which is what creates your tender biscuits and fluffy pancakes. This is another reason you don't to over mix buttermilk once you add the soda, it'll kill the bubbles. So now you know!
Tips and Variations
Buttermilk Syrup can be played with and it'll still taste amazing. It's such a fun syrup to use and even more fun to eat. You'll want to make pancakes or waffles for every meal, just so you can pour this decadent syrup over the top. Your kids will fight over licking the bowl. Serve this syrup and you will be the hero of the morning! It's just so delicious!
Caramel Version:  To get more of a caramel version add two tablespoons of Karo Syrup with the buttermilk and let it cook to a nice golden color. Then you may remove from heat and add the vanilla and baking soda.
Spice it up: Add spice to your syrup when you add the buttermilk. For example half of a teaspoon of cinnamon or pumpkin spice. This will give it an original flavor.
Flavor: You can use a different flavored extract to give it a unique taste. For example, coconut or almond flavoring works great. So delicious!
What Else Can You Serve This On: This is quite an exquisite syrup and it can go on just about anything you want to. Serve it over ice cream, cakes, cinnamon rolls, crepes , etc.
Double it: You can make a double batch and save the leftovers, if you have them. It's a great recipe to double. Just remember you need a larger pot than you think you'll need because it will foam up. You don't want it to make a mess all over.
Storing Your Syrup
If you have leftovers this keeps really well in the fridge. Place leftovers in a jar or airtight container. It will keep for up to 2 weeks. You might want to warm it up before serving it. Microwave the syrup in 30 sec intervals to prevent burning.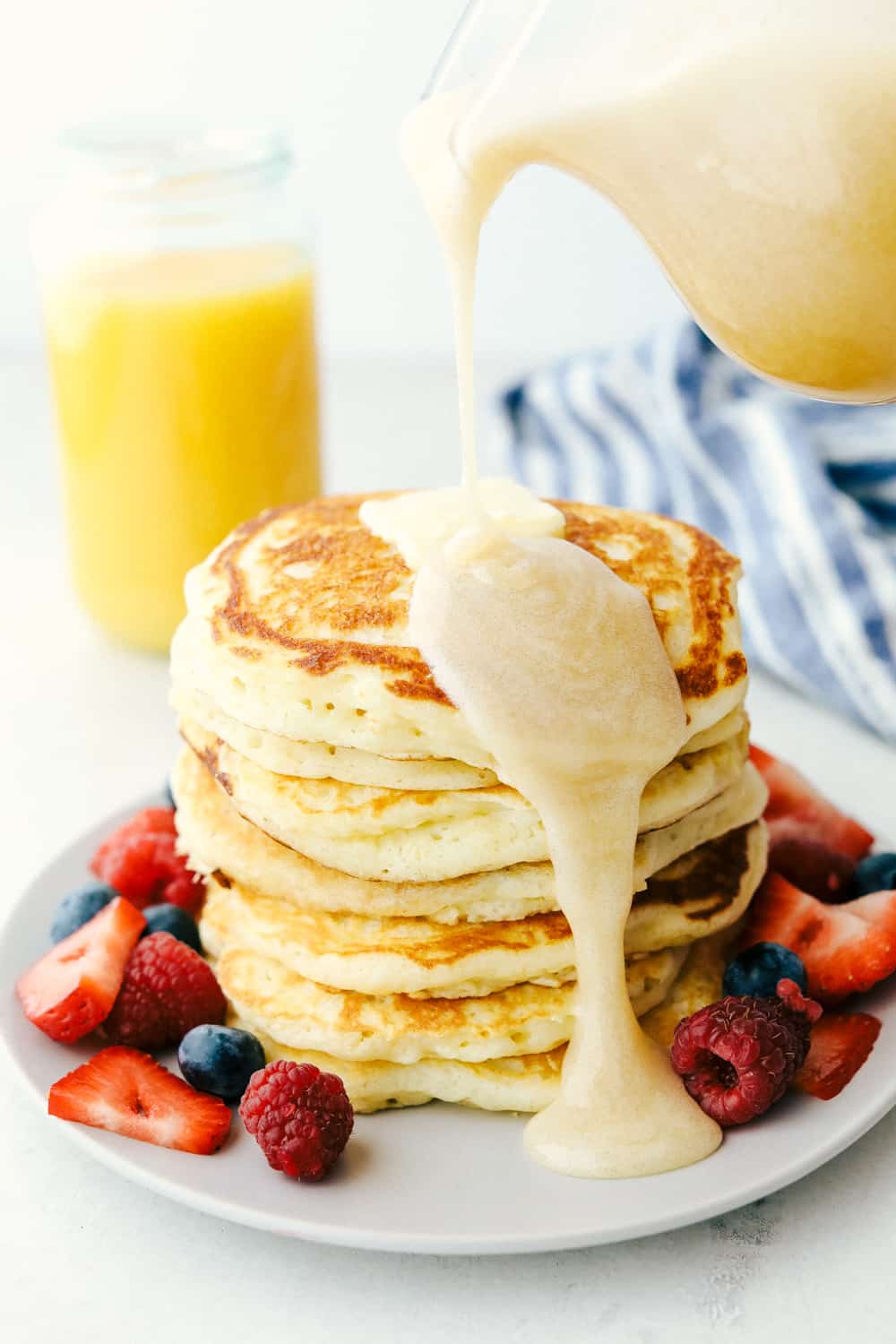 More Saucy Recipes to Dress up Your Meals
Adding a sauce to your meal can change the whole taste and texture. It can dress it up and sometimes in those rare instances save a meal that didn't quite turn out. Pouring some tasty sauce can take your dish from good to divine!
Pin this now to find it later
Pin It
Buttermilk Syrup
Rich, creamy, and luscious Buttermilk Syrup is so good, it's literally to Die for! This will be worth waking up for in the morning! 
Instructions
Nutrition
Calories:
52
kcal
Carbohydrates:
6
g
Protein:
1
g
Fat:
3
g
Saturated Fat:
2
g
Cholesterol:
8
mg
Sodium:
64
mg
Potassium:
5
mg
Sugar:
6
g
Vitamin A:
95
IU
Calcium:
5
mg
Nutrition information is automatically calculated, so should only be used as an approximation.