This website may contain affiliate links and advertising so that we can provide recipes to you. Read my disclosure policy.
Perfect Belgian Waffles that are crisp on the outside and light and fluffy in the middle. This tried and true recipe is our family's favorite!
Waffles make a fabulous breakfast on their own for sure. But add it to Eggs, Bacon or the Best Breakfast Casserole for an amazing breakfast or brunch.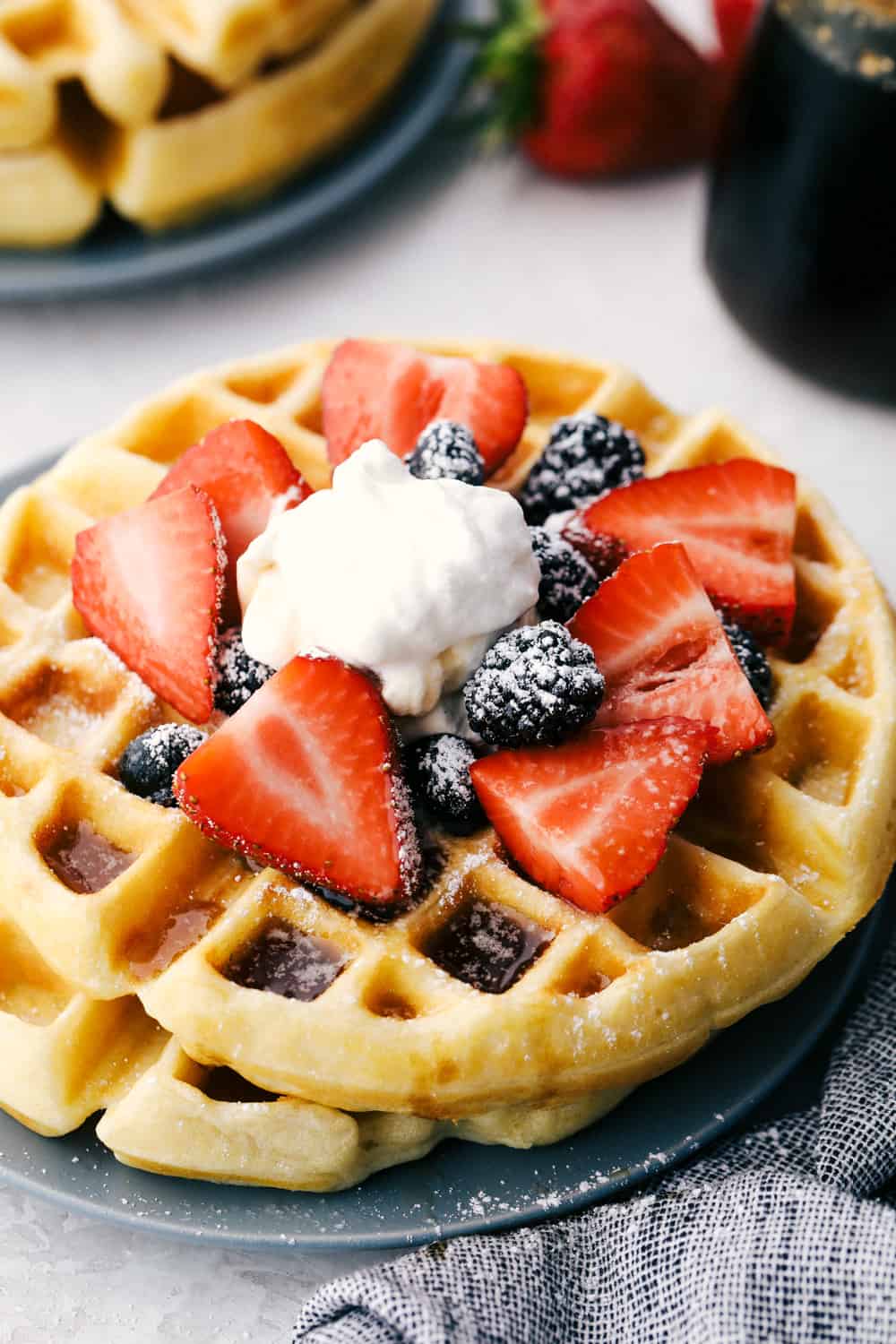 Authentic Belgian Waffles Recipe
I've tried many other homemade waffle recipes over the years—ones I've made myself, or eaten at friends' houses, and I've never found a recipe that compares to this one! I've made them a thousand times, and I love that they're now a favorite with my own family.
The trick to making light and fluffy waffles is in separating the egg yolks and whites. The egg whites get beaten separately, till they form stiff peaks. You will then fold into the batter at the end. This creates the fabulous crispy outside and super cloud like inside.  The deep pockets are all ready and waiting to hold your favorite toppings.
What Is The Difference Between a Regular Waffle and a Belgian Waffle?
Belgian waffles are thicker and often larger than regular waffles because they are made with a waffle iron that has deeper grids. These deep pockets are perfect for holding delicious pools of syrup! The Belgian waffle batter is also made a little differently than regular waffles, often with a leavening agent or egg whites (as used in this recipe) to make the batter light and fluffy. Different Belgian waffle pans cook square, rectangular, or round waffles. Whatever the shape you will fine these absolutely luscious.
Ingredients For the Best Belgian Waffles Ever!
Basic ingredients that you can find in your pantry probably right now! So let's get going
Flour: All purpose or unbleached flour both will work.
Baking Powder: This is the leavening agent that will help them give a rise.
Salt: You need the salt to add flavor.
Eggs: You will be separating the egg whites from the yolks.
Milk: Adds the moisture and a bit of flavor.
Oil: You need oil for waffles to create a nice crisp crust and moisture inside.
How to Make Belgian Waffles from Scratch
Making the waffles is simple and with the extra step of separating the eggs will make all the difference.
Dry Ingredients: Mix the flour, baking powder, and salt together in small bowl.
Eggs: Separate the eggs, dividing the whites and yolks into two different large mixing bowls. Be careful not to get any yellow egg yolk in with the egg whites or they wont beat properly.
Wet Ingredients: Add milk and oil to the bowl with the egg yolks and mix to combine.
Egg Whites: Use a hand mixer to beat the egg whites on high speed until they form stiff peaks.
Combine: Add the dry ingredients to the bowl with the egg and milk mixture and stir well to combine.
Fold: Gently fold the egg whites into the batter.
Cook: Use a measuring cup to pour the batter onto your hot waffle iron.
Tips For Fluffy Belgian Waffles
These are simply scrumptious because they are so fluffy and crispy all at the same time.
Egg Separating: This is a crucial step, you do not want your yolks getting into your whites, they can affect the way the whites whip up. Cold eggs separate easier but then let them sit till room temperature because they will mix in the batter better.
Mixing the Eggs: When folding in the egg whites, do so very gently. Do not over-mix. It is ok if they are not mixed perfectly and has a few lumps. They will cook out.
Milk: For more flavor and tang substitute the milk for buttermilk, It's delicious.
Crispier: If you want even more crispiness add a half a cup of cornstarch. You may have to add a bit more milk if it isn't thin enough.
Top Your Waffles!
The best part of eating the Belgian waffles is filling up those holes with amazing toppings.
Syrup: The holes are perfect for holding Homemade Maple Syrup, Buttermilk Syrup, Cinnamon Syrup, Caramel Syrup, and even Roasted Strawberry Syrup.
Fruit: Bananas, berries, peaches, pineapple with coconut shavings.
Spreads: Peanut butter, Nutella, Almond butter, Cinnamon Honey Butter, and Apple Butter.
Sweet Stuff: Powdered sugar, and of course whip cream.
How to Freeze and Reheat Homemade Waffles
Allow waffles to cool completely, and then store them in a freezer-safe ziplock bag for up to 3 months. To reheat, warm in the microwave for 15 seconds, and then add to the toaster for 1-2 minutes, until crisp.
More Breakfast Recipes To Enjoy
Breakfast is the most important meal of the day, or so they say.  I just know it is one of my most favorite meals to eat! There are so many yummy flavors, textures and combinations to eat. Whether you get up early or sleep in, these tried and true recipes will be sure to get you out of bed in the morning.
Pin this now to find it later
Pin It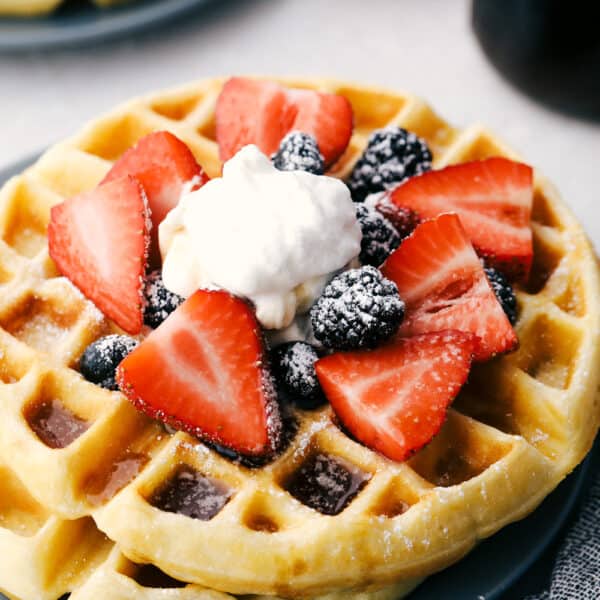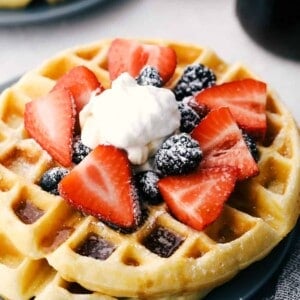 Belgian Waffles
Perfect Belgian Waffles that are crisp on the outside and light and fluffy in the middle. This tried and true recipe is our family's favorite!
Instructions
In a bowl, stir together flour, baking powder, and salt.

Separate the egg yolks and whites into two different mixing bowls.

Add the milk and oil to the bowl with the yolks and mix well to combine. Add the dry ingredients and stir, just until incorporated.

Beat the egg whites with a mixer until stiff peaks form. Add the egg whites to the batter and then use a spatula to gently fold (don't "stir" them into the batter. Be careful not to over-mix.

Use a measuring spoon to scoop the batter into a hot, nonstick (or spray lightly with cooking spray if needed) waffle iron. Cook until golden.
Notes
Updated on April 12, 2021
Originally Posted on August 5, 2018
Nutrition
Calories:
364
kcal
Carbohydrates:
32
g
Protein:
8
g
Fat:
23
g
Saturated Fat:
3
g
Cholesterol:
62
mg
Sodium:
248
mg
Potassium:
355
mg
Fiber:
1
g
Sugar:
4
g
Vitamin A:
195
IU
Calcium:
181
mg
Iron:
2.1
mg
Nutrition information is automatically calculated, so should only be used as an approximation.