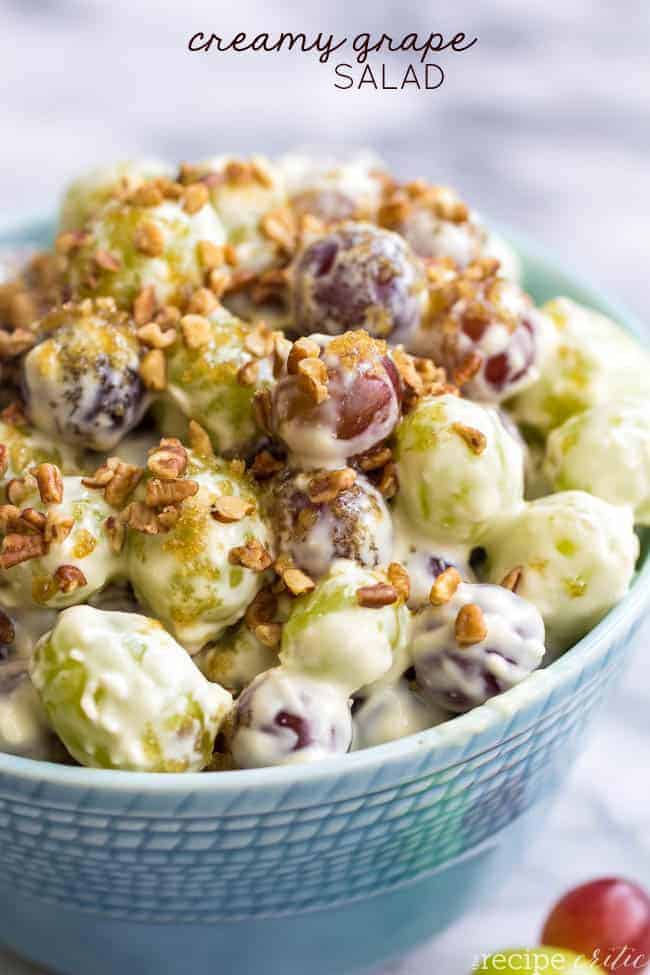 I am obsessed with fruit.  I could probably live off of fruit.  Whenever I go to the store, I have to buy some kind of fruit.  When the big, juicy, crisp grapes come into season, I am in heaven.  I totally stocked up on grapes the last time I went to the store and made this amazing creamy grape salad.
Just imagine big, juicy crisp grapes surrounded by a creamy goodness.  This salad was quick and easy to make.  It comes together in just a few minutes and is the perfect amount of sweetness.  The top is sprinkled with brown sugar and chopped pecans for the perfect finishing touch.  How can this grape salad not be a huge hit?   Everyone that I served it to absolutely loved it.  Take this to your next get together and it is sure to be a hit as well!
Grape Salad Recipe
Creamy Grape Salad
A delicious and creamy grape salad that is topped with brown sugar and chopped pecans!
Ingredients
2 lbs seedless green grapes
2 lbs seedless red grapes
1 (8 oz) package cream cheese, softened
1 cup sour cream
3 Tablespoons sugar
2 teaspoons vanilla extract
Topping:
3 Tablespoons brown sugar
3 Tablespoons chopped pecans
Instructions
In a large mixing bowl, beat together the cream cheese and sour cream until smooth. Add sugar and vanilla until blended.
Add grapes and toss to coat. Refrigerate until serving. Top with brown sugar and pecans before serving.
Recipe from Taste of Home Cookbook
MY LATEST VIDEOS
MY LATEST VIDEOS